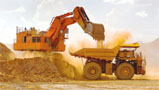 The Vancouver Sun, Gordon Hamilton
Junior mining companies are going through the toughest bear market since the 2008 financial meltdown, according to the Association for Mineral Exploration British Columbia.
In a quarterly letter to members posted on the association's website, AME B.C. president Gavin Dirom said tough economic conditions have hit the sector again, prompted by worries about Europe's sovereign debt crisis and China's slowing demand for copper.
"Although the global mineral exploration and development sector may still be in a multi-year commodity super-cycle, very challenging equity financing and bear market conditions were the reality during the second quarter of 2012," Dirom said in the open letter to members. "Members of AME B.C., especially prospectors and junior explorers, are experiencing the impact of these tough economic conditions."
Dirom noted that equity capital raised on Toronto's venture capital exchange, the TSX-Venture, was down 62% in the period January to May over the same period of 2011. . .View Full Article