After more than a century of gold mining in the country, South Africa features in number one spot in terms of gold grades with Canada close on its heels in terms of a report drawn up by Natural Resource Holdings' Roy Sebag.
South Africa is shown as having six deposits with grades over 10g/t and fourteen deposits with over 5g/t.
Notably, of the top 50 producing mines by grade, Great Basin Gold's Hollister deposit in Nevada came in at number one with a grade of 32.81g/t for its 2.5moz deposit.
AngloGold Ashanti then takes up spots two to four with its TauTona, Moab Khotsong and Savuka mines in South Africa with grades between 18.96g/t and 23g/t.
Amplifying the need to crack the technological advancement necessary for deep level mining, Sebag said: "While we still have serious reservations relating to what portion of delineated resources can actually be extracted in the South African deposits we felt that they warranted incluŽsion in order to provide readers with an all-encompassing database".
Interestingly in the list of undeveloped deposits over 1moz owned by independent juniors the only South African deposits identified were those owned by Gold One.
The report, says its author, confirmed both the scarcity of gold deposits as well as the lower-grade production trends facing the industry as only 439 mines or deposits were identified as containing over 1 million ounces of gold even given the inclusion of the less certain category of inferred resources.
As can be seen from one of the many visual interpretations of the data provided by the folks at Visual Capitalist and reproduced below, the declining quality of resources was also confirmed in that a 37% drop in grade was reported between that of producing mines as compared to undeveloped deposits. This will undoubtedly have a detrimental impact on costs going forward.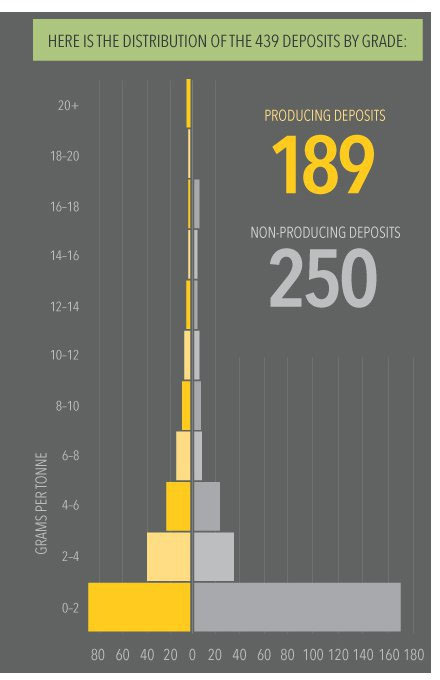 From an initial list of 1896 companies, 212 public, private and government sponsored corporations were identified as the owners of 439 gold deposits hosting over 1 million ounces in all categories. This represents a total of over 3 billion ounces of gold said the report.
Of the 439 mines or deposits identified, 189 were identified as producing mines owned by companies with an average market capitalization of US$1.8 billion. This leaves only 250 undeveloped deposits with over 1 million ounces wrote Sebag.
Freeport-McMoRan's Grasberg mine in Indonesia undoubtedly headed up the list of producing mines by global in-situ resources.
Another copper-gold porphyry, the Pebble deposit in Alaska, owned by Northern Dynasty and Anglo American was the leading undeveloped deposit by global in-situ resources.
As with any research, there were constraints that have to be recognized as size and grade are not the only items to be taken into consideration when ranking deposits.
Sebag urged investors to consider geopolitical risk, permitting challenges, and most importantly infrastructure when ranking deposits for investment.
"Even high grade deposŽits with no infrastructure are inferior to easily mined bulk tonnage deposits with close proximity to infrastructure in stable geopolitical jurisdictions" said Sebag.
Cut-off grades recommended by a geological consultancy were relied upon unless the report was outdated and the authors felt a lower cut-off grade was warranted. No economic pit outlines or metallurgical recovery rates were applied to the data.
Taking some of the factors mentioned above as well as attractiveness and financing ability into account Sebag said that realistically 50% or more of the deposits in the database would likely remain deposits 25 years from now.
The full report and infographics supplied by Visual Capitalist can be found here.
Christy Filen
Mineweb