MLPs 5 week streak ends, MLPs down 1.2% on a total return basis this week, compared with +1.7% for the S&P 500, and +2.8% for gold. MLPs were dragged down by oil, natural gas and NGL price declines. The MLP Index has returned a total of 4.4% year to date and 16.0% year over year, compared with 11.5% (YTD) and 8.6% (year over year) for the S&P 500. Even with its decline this week, natural gas prices have actually increased this year, compared with -9.7% for oil, -35.8%for propane and -52.9% for ethane.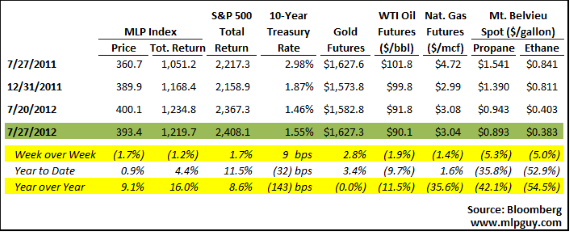 Related Articles:


Play US Energy Independence with Income-Generating MLPs: Stephen Maresca

Quality Oil and Gas Stocks Are On Sale: Joel Musante

Play Defense and Offense with MLPs: John Edwards


I'm way behind this week, so will just stick with the news. Lots of earnings coming this week. Good luck out there.
News of the (MLP) World
Northern Tier Energy LP (NTI) prices IPO at $14.00 per unit, well below the $19.00 to $21.00 price range
NTI is a variable distribution MLP
NTI finished the week up 4.6%

Busy week for CMLP
$90mm acquisition of Barnett Shale gathering and processing assets from Devon for $90mm (press release)
20-year fixed-fee gathering, processing and compression agreement with 20,500 acre dedication with Devon
Assets in western portion of Johnson County in Texas

Follow on equity offering raises $104mm, to reduce borrowings on revolving credit facility, which will then be used to borrow funds to fund acquisition above (press release)
2Q Earnings pre-announcement (press release)
EBITDA guidance for 2Q between $28 to $29mm compared with estimates of around $30.3mm
Lower 2Q EBITDA a result of lower gathering volumes quarter over quarter, which was a result of combination of production related factors

Updated full year guidance (press release)
Now expects $125mm to $130mm in EBITDA for 2012, compared with prior guidance of $135mm to $140mm
Lower EBITDA result of delays in well completions and moderated drilling activity in dry gas areas

OKS announces $1.0bn in new growth projects (press release)
Projects announced last week include: new NGL fractionator at Mt. Belvieu, new natural gas processing facility in Bakken Shale, expansion of Bakken NGL Pipeline, and new Ethane / Propane splitter at Mt. Belvieu
Announced growth projects through 2015 now total $5.7bn to $6.6bn for OKS, including:
$1.8-$1.9bn for natural gas gathering and processing projects
$2.4-$2.9bn for NGL projects
$1.5-$1.8bn for crude oil projects

EBITDA multiples expected to be 5x to 7x
$2.0+ bn of additional unannounced growth projects currently being evaluated by OKS

CVR Energy Corporate News
CVR Energy, Inc. (CVI), parent of UAN, finds no buyer after searching for 60 days, Carl Icahn to maintain his stake (press release)
CFO Frank Pici resigns and is replaced by internal promotion of assistant treasurer and chief accounting officer Susan Bell (press release)

Notable Earnings
LINE disappoints on lower NGL realizations, coverage at 0.97x in 2Q, expected to increase through the end of the year
PVR earnings disappoint on weaker coal results, despite strong growth from midstream segment
ARLP earnings beat expectations, but cuts guidance on weaker met coal demand
NS earnings disappoint, EBITDA lower than expected, asphalt loss weighs on results, better 2H expected
Hinds Howard
MLP HINDSight