It's tough to be bullish on the stock market right now.
Recent economic data suggests that the U.S. economy is slowing and close to stall speed. And while companies have managed to deliver a decent number of positive earnings surprises this quarter, revenue growth—which is harder to manipulate than EPS—has been anemic.
The picture isn't any prettier overseas either. Bond rates are near bailout-levels in both Spain and Italy. And economic growth in the emerging markets is slowing considerably.
Don't Sell Everything Just Yet
Investors looking for some safety amid a potential market storm may be tempted to flee stocks altogether. But not all stocks will get beaten down during a bear market. In fact, during 2008—the 3rd worst year for the stock market in its history—6% of the S&P 500 finished in the green for the year.
That's not spectacular, but it does show that there are pockets of safety during a market pullback. So rather than stuffing your money under the mattress or into ultra-low yielding bonds or savings accounts, consider this area of the stock market instead:
Master Limited Partnerships
For investors wanting to add some defense to their portfolio while also generating solid income, MLPs can be a great addition. Most MLPs operate in the midstream sector which gathers, processes, transports and stores oil, natural gas, and refined petroleum products.
The midstream subsector is particularly attractive because it generates fee-based income that doesn't fluctuate with volatile commodity prices. This allows the partnership to provide steady cash flows to its partners. In fact, no midstream MLP was forced to cut its distribution during the financial crisis, even as commodity prices plummeted.
That's stability.
MLP: Enterprise Products Partners
Enterprise Products Partners is the largest publicly traded energy partnership. It provides midstream energy services to producers and consumers of natural gas, natural gas liquids (NGLs), crude oil, refined products and petrochemicals. Its 50,000 miles of pipelines link producers from some of the largest supply basins in North America with domestic consumers and international markets.
Enterprise Products Partners has increased its distribution a remarkable 32 consecutive quarters—even throughout the Great Recession. Since 2000, it has raised it at a compound annual growth rate of 8%. It currently yields 4.6%: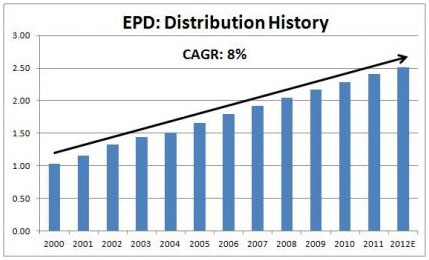 The Bottom Line
While the stock market is facing many headwinds, not all stocks will get clobbered if there is a selloff. This stock should hold up relatively well if we are headed for some increased turbulence.