Just under two weeks ago I updated my subscribers with a chart pattern on the GLD ETF, and in that update we discussed what to look for to find clues in this GOLD consolidation that has continued from last August-September highs. My theory all along has been that we peaked in a Wave 3 top at $1,900–1,920/oz last fall after a Fibonacci 34-month rally from $681/oz. The ensuing corrective patterns are part of a normal Wave 4 consolidation that works off the sentiment and overbought nature of that Wave 3 updraft. Following this consolidation, I fully expect gold to continue past the $1,900/oz area and run to $2,300/oz or higher in a Wave 5 rally into the summer of 2013.
What can we continue to watch for clues though as to when this new uptrend begins? Specifically, a close over 158 on the GLD ETF (About $1,630 on the Gold Charts) would confirm that the Wave 4 lows are in at the $1,520/oz area, and the early stages of primary Wave 5 to the upside have begun. The only downside risk I have near-term between now and October is if we drop below 153 on the GLD ETF, it would likely point to gold dropping to the $1,445–1455/oz area, the same low target I have had for nine-plus months now as the worst case downside.
Advice would be to start scaling into long positions on a break over 158 on the GLD ETF and adding on pullbacks along the way up. If we can't break 158, then the advice is to sit back and watch before acting.
Below is the chart I completed for my subscribers about 14 or so days ago, and we continue to use it as our short-term indicator for the next leg up or down. Eventually, gold will run to all-time highs, we simply would like to time our entry and reduce our risk as much as possible.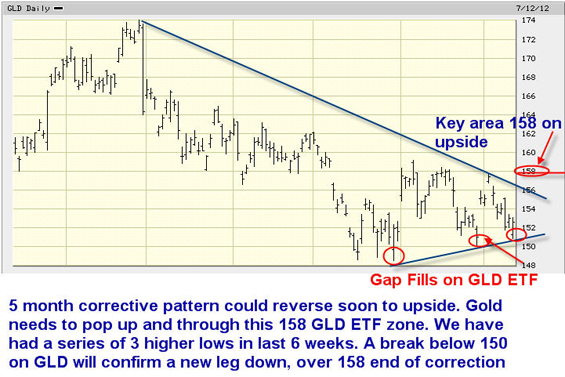 David Banister
Market Trend Forecast