Anyone familiar with rare earth elements knows that China has a stranglehold on the business. It controls 90% of worldwide supplies and manufactures most of the high-tech products that require them.
Other nations are slowly building production, but the real action is on the other side of the supply-and-demand equation. China is now consuming 65% of worldwide output versus just 25% a decade ago.
Pretty soon, China may become a net importer for some of the rarest of the 17 elements, such as neodymium, europium, terbium, dysprosium and erbium.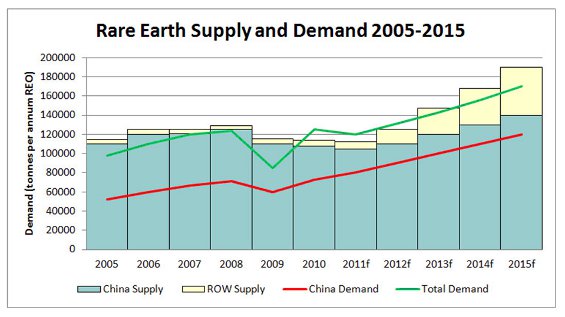 Domestic consumption will grow at least 10% per year for several years. If that growth is sustained, China will have to import some of the elements by 2014 or 2015.
It is welcome news for companies such as Molycorp (MCP:NYSE) that have suffered through low prices in 2011 and early 2012.
The company recently reopened a massive mine in California. It also just completed its acquisition of Neo Material Technologies, which was pulling in 64% of its business from China and Japan.
Molycorp will soon see a massive increase in production—8,000 to 10,000 tonnes of rare earth products will be produced in 2012. Once the California mine overhaul is complete, it could produce 19,050 tonnes a year. Total production could swell to 40,000 tonnes based on demand by the end of next year.
The Chinese imports should take several years to manifest, which could be good for us. It may be too early to enter into any rare earth miner positions.
There is way too much government interference on both sides of the Pacific. Uncertainties about export quotas and tariffs on finished goods could easily shatter the current trend.
Needless to say, we're keeping an eye on the reversal in rare earth elements.
Adam English
Resource Investor