The future for uranium miners is now. Uranium will grow in increasing demand. At the top of the list are China's fourteen reactors, which are already in service. Indeed, the China National Nuclear Power Company is going forward with an IPO to raise capital for the building of five additional nuclear power projects. China hopes to raise at least $5 billion in the biggest IPO to date.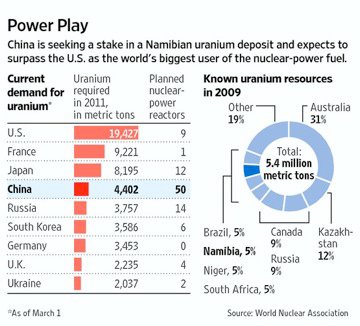 After Fukushima, China slowed the building of nuclear reactors. This detente did not last long as the Chinese government made sure to approve the successful inspection of the existing nuclear reactors and so they did. The IPO plans to construct at least five new nuclear power projects which have been already approved.
China is progressing rapidly to a major expansion of nuclear energy. In fact, they are on record for planning the building of at least one-hundred reactors over the next 20 years, surpassing the U.S. as world's biggest user of nuclear energy. Coal and natural gas as a source of energy is taking a backseat as China advances into the building of nuclear power reactors.
Even Japan which has been facing internal opposition announced the reopening of two stalled nuclear projects. This is just the beginning of the restarting of the closed nuclear plants. Perhaps this is why Tokyo rejected Cameco's offer to buy Japan's store of uranium even during the height of anti-nuclear sentiment. Japan's leaders may have concluded that nuclear power is vital for Japan's growth as a major industrial power.
What does this all mean for Gold Stock Trades subscribers?
We have advocated the purchase of well-chosen U.S. uranium miners. Particularly significant is the expiration of the agreement between Russia and the U.S. involving the sale of uranium from nuclear warheads. This agreement has an increasingly growing short fuse as it will terminate by the end of 2013.
It may well be that China and Japan and other nuclear nations, especially in the Asian Rim, will come searching for productive uranium facilities right here in North America. They may conclude that the United States and Canada are safer and more reliable sources than remote African miners.
As a side note, China is entering the U.S. real estate market with the deal with Lennar. Note that China already has received approval from the American government to open banks in the U.S. that may expedite the financing and development of North American uranium mines as represented on our select list.
This may well be a harbinger for China, which is awash with American dollars and treasuries to buy undervalued uranium miners in Wyoming. Stay tuned as the sleeping beauty awakens and becomes an awakening giant. We look forward to propitious news as China and Japan enlarge their global search for sources of uranium.
This panic-driven market is providing excellent buying opportunities to purchase the highest quality resources possibly on the verge of being taken over by major companies such as Cameco, Uranium One, Rio Tinto or BHP. Uranerz is priced at bargain-basement valuations at multiyear lows even though it controls strategic assets to satisfy the hunger of the major uranium producers who increasingly on the hunt for uranium growth in mining friendly jurisdictions.
We have mentioned the growing geopolitical risks in Africa and Australia and the rise of resource nationalism worldwide. Our uranium selections may be prime candidates for a takeover due to their strategic locations and their high-quality assets.
Uranerz could be the next major U.S. uranium producer at a time when new uranium supply for the United States is critical as the U.S. depends on foreign uranium from Russia and Canada. Uranerz may be the U.S. solution as they are in construction of their Nichols Ranch Project in the Powder River Basin, Wyoming, surrounded by Cameco and Uranium One.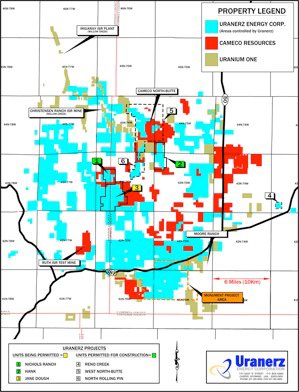 If it was not for the generosity of other countries, the U.S. would be already experiencing major blackouts. The U.S. has been warned that it is critical to start producing its own uranium mined from the earth. Uranerz may be part of the solution to solve the United States current supply shortfall.
Uranium supply in the U.S. must increase exponentially over the next few years, as over 20% of U.S. energy comes from nuclear sources. We can't rely solely on Kazakistan and Africa. U.S. utilities are already looking to URZ as they have already signed two major off-take agreements with large utilities. This means the utilities want a secure supply of uranium coming from U.S. miners rather than deal with geopolitical risk and resource nationalism in other parts of the world.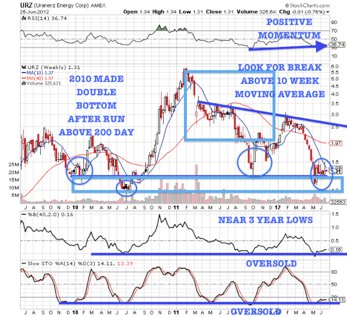 Uranerz has a strong treasury, a partnership with Cameco and offtake agreements with some of the largest U.S. utilities. This support from the largest publicly traded producer of uranium(Cameco) and #1 energy provider in the U.S. (Exelon) indicates that Uranerz may be the highest quality near-term U.S. uranium producer. Uranerz just announced a major discovery of a whole new uranium trend and continues to explore one of the best land positions in the Powder River Basin. The company has been quite successful in comparison to their peers in expanding resources through exploration. With their large land position highlighted by the map above we expect continued resource expansion. They have an experienced and highly skilled technical team who are experts in insitu mining operations, permitting, construction and exploration.
Uranerz is trading near three year lows but has made huge advances in the permitting and construction of its Nichols Ranch In Situ Mine in the Powder River Basin. One is able to acquire shares at historic oversold levels. Monitor for a potential double bottom similar to July 2010 when URZ bottomed at $1 and made a move to $6 over the next 6 months.
Read the full press release on the Uranerz discovery of the new uranium trend in the Powder River Basin by clicking here.
Jeb Handwerger
GoldStockTrades
Legal Disclaimer
We are offering ideas for your consideration, entertainment and education. We are not offering financial advice. Jeb Handwerger is not a financial or investment advisor just a simple guy who is trying to tell it the way he sees it. You must do your own due diligence and research on any companies or products highlighted as we are not registered investment advisors. Please do your own due diligence before making any investment decision. Companies may become paid sponsors on our free website to distribute news and interviews. By reading this disclaimer you will not hold responsible me or any person associated with http://goldstocktrades.com responsible for any losses that may occur from trading based on these recommendations. This information is solely entertainment and not intended to offer any financial advice whatsoever. Performance returns cited are derived from estimates. The returns must be considered hypothetical. This article may contain forward-looking statements. Forward-looking statements include, but are not limited to, statements with respect to the timing and amount of estimated future exploration, success of exploration activities, expenditures, permitting, and requirements for additional capital and access to data. Forward-looking statements involve known and unknown risks, uncertainties, and other factors which may cause the actual results, performance or achievements of the company to be materially different from any future results, performance or achievements expressed or implied by the forward-looking statements. Such factors include, among others, risks related to actual results of current exploration activities; changes in project parameters as plans continue to be refined; the ability to enter into joint ventures or to acquire or dispose of properties; future prices of mineral resources; accidents, labor disputes and other risks of the mining industry; ability to obtain financing; and delays in obtaining governmental approvals of financing.