Modern technology depends on rare earth metals, but their extraction is inflicting an all-too-common cost on shared resources. Rare earth metals, known as "industrial gold," are still being illegally mined across the mountainous areas of Guangdong Province, despite a recent crackdown.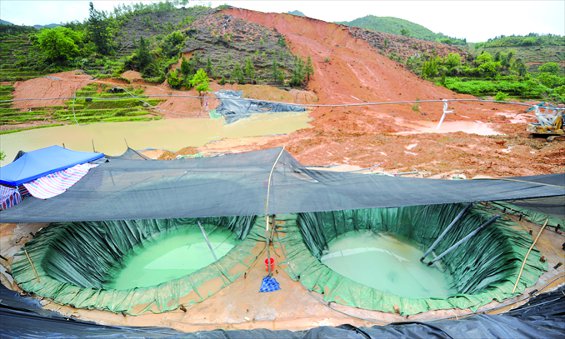 Illegal mining of rare earth triggered a landslide in Ningde, Fujian Province, on April 24. Photo: CFP
Guangdong is at the center of illegal mining of rare earth, which destroyed local environment and undermined revenue when smuggled to foreign countries. In order to curb the trend, seven rare earth-producing cities in Guangdong signed a contract with the provincial government-backed Guangdong Rare Earth Industry Group on July 7, with one of the aims of protecting the precious resources.
It takes over three hours by coach to travel from Guangzhou, the capital city of Guangdong, to Xinfeng county in Shaoguan, known for its deposits of heavy rare earth metals. Shatian and Yaotian, the county's chief towns, are notorious for their illegal mining. More than 30 illegal mining sites were found in February in the so-called "capital of the underground rare earth trade," according to Guangzhou-based Nanfang Daily.
According to the report, illegal exploitation is an "open secret" in the area, and even local officials and farmers are involved. . .View Full Article