MLPs finished the week up 3.7%, but finished the quarter with a negative 2.3% total return, slightly better than the S&P 500. MLPs are roughly flat year to date, compared with +5.2% through 2 quarters last year. The first 6 months for the MLP space were the worst since the first 6 months of 2008. But for now, we'll focus on the trend, and for this week (actually really only for Friday) that trend is positive.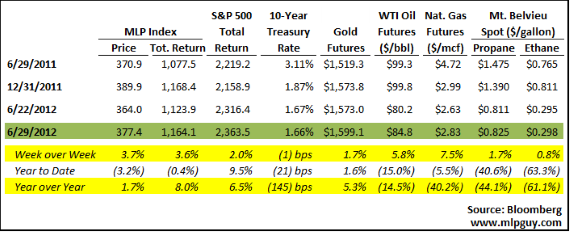 The second quarter finished with $6.0 billion of equity issued, including more than $1.0 billion this week. There was $1.1 billion in equity issued this week in the form of a $301.9 million IPO for EQT Midstream (counting the overallotment option), and a $601.7 million follow on offering from ETP (its 9th since the beginning of 2009), and a $177.4 million PIPE. That $6.0 billion in equity this quarter eclipses the first quarter of this year and the fourth quarter of last year, and puts the sector on a $23 billion pace for equity issuance this year, which would surpass last year for another record. And that doesn't include all the at-the-market equity that got issued this quarter, as those programs start to ramp up. So, for all that talk of equity overhang here a few weeks ago, MLPs have found a way to continue to raise the equity necessary to continue to grow.
LINE Deals
With its $1.0 billion acquisition this week, LINE has now announced nearly $3 billion in acquisitions this year to date. That represents more than 65% of all announced M&A in the E&P MLP subsector so far this year, and more than 10% of the M&A of the entire MLP sector so far this year. LINE is just an acquisition machine, rolling up the mature properties of the U.S. systematically layering on extensive hedges as they go.
Also, this week LINE set in motion a plan to launch a corporate holding company with its filing of an IPO prospectus to raise up to $1.0 billion to buy and hold LINE units. The holding company will provide direct access to those investors that prefer not to own MLPs directly (pension funds, foreign institutions, etc.), but it will also (as R.W. Baird's Ethan Bellamy pointed out in his take on the news) make it easier for LINE to acquire small and mid-cap corporate E&P companies. [Sidenote: Ethan reiterated his street-high EVEP price target of $105 this week (roughly 100% above its current price), which helped that stock break out of its slump of late.]
For the acquisition announcement and financial ingenuity this week, it makes sense to point out the similarities between LINE CFO Kolja Rockov and Gordon Gekko. They both do big deals, are whales in their industries, have 2 K's in their names, and they both wear expensive clothes and slicked back hair. The similarities pretty much end there, as Kolja is certainly not out there to destroy the companies LINE acquires like Gekko, but LINE is certainly out there to get as much as they can in the M&A markets. In this case, for LINE unitholders, greed is good (I have no position in LINE).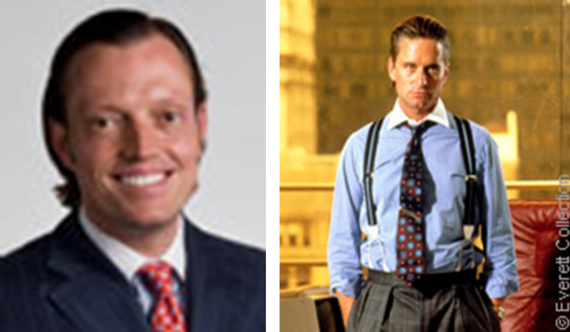 Have a happy 4th of July everyone, I'll wrap up the news for the week below and call it a night.

News of the (MLP) World
NGLS Announces Distribution Coverage Outlook (press release)
NGL price declines have had a material negative impact on Targa's expected distributable cash flow
Expects more than 1.0x coverage for full year 2012, and maintains distribution growth outlook for 2012 at 10%-15% vs. 2011
However, distribution coverage may be lower than 1.0x for one of the next 2 quarters
NGLS coverage last quarter was 1.5x, and the difference in total distributable cash flow and distributions was $36.1mm, so NGL prices are having a substantial quarterly impact
DCP Midstream (DPM) Announces $200mm Drop Down Acquisition and$177mm PIPE (press release)
DPM to acquire minority interests in two non-operated Mt. Belvieu fractionators for$200mm from parent DCP Midstream LLC
Brings total co-investments to more than $500mm for 2012, supports 6% to 8% distribution guidance growth
$177.4mm PIPE at $35.55 per unit placed with 5 institutional investors, an 8% discount to the 10 day average trading price, and a 3.4% discount to the closing price that day
DPM traded up 4.5% the next day, and was up 9.9% for the week, proving the M&A / PIPE announcement model circa 2007 still works (press release)
Energy Transfer Partners (ETP) Prices $601.7 million Overnight Equity Deal(press release)
Priced at 3.1% discount to last close, a bit tight, but ETP had run up 3.7% in the day leading up to the deal announcement
EQT Midstream (EQM) Priced at High End of the Range, Trades Well
$262.5 million raised, $301.8 with the greenshoe
Traded up 13.1% on first day of trading, held gains for the week
Strong first IPO after the Facebook debacle, read more about the pop here
ClearBridge Energy MLP Total Return Fund Inc. Raises $700 million (press release)
$700 million base deal, but with the overallotment it would be almost $800 million
80% will be invested in MLPs, with a focus on high distribution growth MLPs
Holly Energy Partners (HEP) Announces $315mm Drop Down Acquisition (press release)
HEP to acquire 75% of UNEV Pipeline, LLC for $315mm
UNEV owns a 400-mile 12-inch refined products pipeline that crosses from Utah to Las Vegas
Funded with $260mm cash and approximately 1.0mm units issued to HFC
HFC to forego $1.25mm in cash from IDRs for at least 12 quarters, but will retain upside on the performance of UNEV whereby HFC will receive 50% of HEP's EBITDA from UNEV above $30mm
SunCoke Energy (SXC) is looking at forming an MLP, adding to the list of potential MLP filers (Updated 7/2)
Others that have discussed it that I know of (please add if you know more that have publicly stated it) include: CNP, SRE, D, DK, MHR, NFG, NI, NOG, PSX, SDRL, SXC, TNP (Tsakos Energy), UNT
Current list of MLPs on file (again please tell me if I am missing someone):
MPLX LP – Marathon's MLP filed today (7/2)
Susser Petroleum Partners
Southcross Energy Partners
USA Compression
Sprague Resources
Armstrong Resource Partners
Foresight Energy Partners
Quicksilver Production Partners
Maxum Energy Partners
Northern Tier Energy
Lehigh Gas Partners
Disclosure: The information in this article is not meant to be financial advice, I am not your financial advisor and I am posting my comments for informational purposes only.
Hinds Howard
MLP HINDSight