MLPs outperformed most things, on average, this week, even with lower oil prices (as discussed here in my Winners & Losers post). If I had to attribute the outperformance to anything, it would be the reminder we got from the Fed Reserve that it is doing everything it can to keep rates as low as possible for the next few years. The Fed did not release the QE3 just yet, but did announce $267 billion (B) more for Operation Twist, which may have helped MLPs outperform despite oil price and S&P 500 declines for the week. According to Bianco Research, the $267B announced happens to be roughly equal to the amount of zero to 3-year maturity securities that the Fed will have outstanding by the end of 2012. This is the final round of Operation Twist, because there will be nothing more to twist.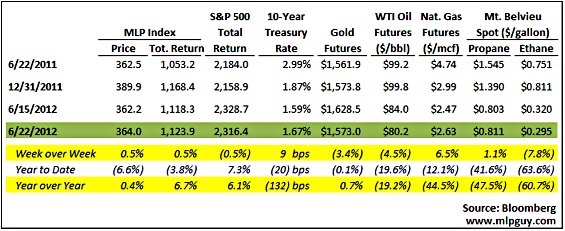 ETN Cap Goes Mainstream
The press release (discussed here last week) about AMJ (via J.P. Morgan) capping new issuance has drawn quite a bit of attention this week. Barron's has an article about it in this week's paper, but I saw several other mainstream stories about it, and several Seeking Alpha-type posts about it.
While the folks at J.P. Morgan aren't saying publicly why they capped AMJ shares, they are willing to say what the reason wasn't. Morningstar this week published a note saying they believed the decision was related to the widely-publicized losses in the bank's chief investment office in London. That, says J.P. Morgan, is "wrong."
"Our decision to cap the issuance of the Alerian MLP Index ETN is unrelated to recent losses in a portfolio held by the chief investment office," a J.P. Morgan spokeswoman said.
The primary questions in these articles: Will AMJ trade at a premium, because clueless retail investors will keep buying? Will other MLP exchange traded vehicles benefit from this decision? From my perspective, the answers are an emphatic yes and yes.
One such ETF that may benefit is the first ever actively-traded MLP ETF launched by First Trust this week. The First Trust North American Energy Infrastructure Fund (EMLP) will be run by Energy Income Partners (i.e. industry veteran Jim Murchie). The fund will invest in MLPs, but also utilities and Canadian energy infrastructure companies (Read more here and here).
Anyway, MLPs showed some grit this week and performed well in the face of big drops for most energy companies (XLE was down more than 3%) and small drops for the S&P 500. It will be interesting to see if oil prices bounce at some point, which would add some tailwinds behind an MLP recovery that is already happening with Fed easing and relative calm out of Europe.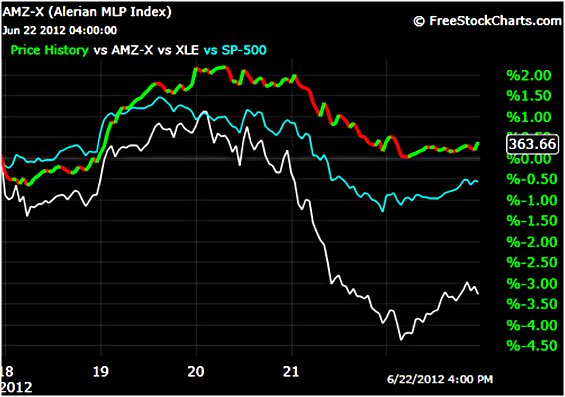 News of the (MLP) World
After last week, when there was virtually no news, MLPs went bananas with the press releases this week:
With MLPs down quite a bit, particularly the NGL-focused names like MWE and NGLS, Jim Cramer did his best this week to help MLP CEOs go on the offensive against low unit prices. MWE's Frank Semple was on Monday, and ETP's Kelcy Warren was on with Cramer on Thursday to downplay natural gas storage and explain again how there are no basis differentials for natural gas. MWE was down 1.8% and ETP was up 2.8% on the week.
Hinds Howard
MLP HINDSight
Disclosure: The information in this article is not meant to be financial advice, I am not your financial advisor and I am posting my comments for informational purposes only.