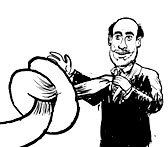 MarketWatch, Greg Robb
The Federal Reserve is likely to extend its Operation Twist program at the end of its two-day meeting on Wednesday, a growing number of Fed watchers said over the weekend.
"We now expect the Fed to ease policy further at next week's meeting," Barclays Capital economist Dean Maki said in a note to clients. "We see a short-term extension of Operation Twist as the most likely outcome."
Michael Gregory, senior economist at BMO Capital Markets, said more and more economists were jumping on the "bandwagon" of an extended Twist.
The move would serve several purposes, but would mainly show the Fed's resolve to act and help shore up confidence, said Millan Mulraine, economist at TD Securities.
The current $400 billion Twist program is set to expire at the end of June. It gets its name from the Fed trying to twist the yield curve by selling short-term securities that it holds while buying longer-term securities.
Analysts said the Fed has about $180 billion of short-term Treasuries left to sell. There was some speculation that the Fed might buy mortgage-backed securities in the new round. . .View Full Article