Natural gas is a favorite topic around the ISG office. Quite often, we focus on unconventional plays on the low price of domestic gas. Sometimes it is the changing nature of the worldwide market.
Today, though, I want to look at a global bottleneck.
First, let's take a look at our chart of the day. . .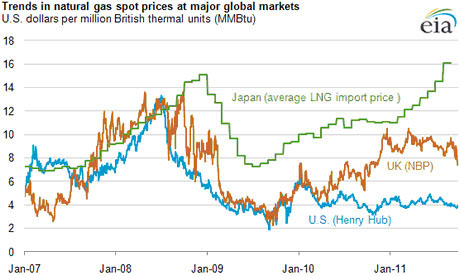 The opportunity is obvious when we glance at the chart. Energy companies want to get liquefied natural gas (LNG) on ships and into Asia, where they can take advantage of higher prices.
The problem is moving the natural gas. It's not easy. There is a severe lack of LNG tankers and it is going to get worse. The spot market has been limited to as few as three tankers over the past year and a half.
There are 372 LNG tankers in operation today. Another 140 LNG tankers are expected to be ordered over the next five years, according to the American Bureau of Shipping. At about $200 million per ship, that is about $28 billion in potential revenue on the table.
Chinese shipyards, supported by the state, have dumped container and freight ships on the market and driven shipping rates down by 18%. They lack the expertise to make the more complex LNG ships though. But companies in South Korea and Japan are picking up the lion's share of the business.
South Korean shipyards have won all 13 of the new LNG tankers ordered this year through April. Samsung Heavy Industries Co. and Daewoo Shipbuilding & Marine Engineering Co. have already seen an earnings boost this year as a result.
The bottleneck for worldwide LNG exports is in shipping, and it will take years for shipyards to work through backlogs and fulfill new orders. It is an opportunity we can't afford to overlook.
Adam English
Resource Investor