May was quite simply a nightmare month for investors.
The ASX200 lost 7.3% in a month—its worst result in two years. Half the market is still shell shocked. So this Queen's birthday long weekend gives us a welcome breather.
With the good ship China creaking and groaning as it decelerates, resource stocks were some of the worst effected. The ASX300 Metals and Mining index (XMM) lost 12%.
Most hedge funds lost money. Despite clever trading strategies, the average hedge fund lost 1.6% in May according to analysts Hedge Fund Research Inc.
So with this backdrop, it was a very unlikely time for my latest Diggers & Drillers tip to gain 154% during the month. . .
Those readers who bought this stock saw the share price more than double in just two days, on the back of incredible drilling results. And this happened just as the market was going through its worst few days of the month.
Frankly there are very few places to make money in this market right now.
So it's very satisfying to help readers more than double their money—particularly when the rest of the market is going down in flames. Putting opportunities like this in front of my readers is what gets me out of bed every morning.
This sector, which is still making investors money now, is graphite.
After May, the ASX200 is now right back to where it started the year.
That's a big fat ZERO percent gain for the Aussie market.
In stark contrast, graphite stocks have had an incredible 2012 so far: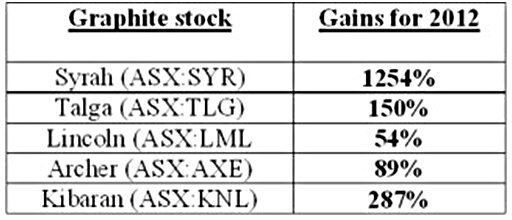 The ranks are growing too. In just the last month, we've seen stocks like Kibaran appear on the radar.
This is what happened on the Canadian resource market. There is so much money to be made in graphite that the number of graphite stocks tripled in the space of a year. Some huge gains are being made by jumping on the stories at the very start.
But why is the graphite sector booming at a time like this?
In short—the opportunity has been quietly building for a few years. But the market only spotted it this year.
The graphite price has been rising strongly for a while. In fact, between 2008 and 2012, high quality graphite tripled in price. The price is still rising now as demand increases faster than supply.
Graphite Price Quietly Tripled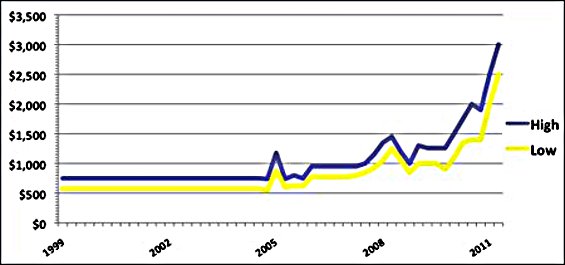 Source: Northern Graphite Company
But the whole time the price was rising, no one seemed to be watching.
Then word got out a few months ago, and travelled quickly around the market. The price of graphite stocks are now making up for lost time.
It's not simply a supply and demand story though.
Graphite is a "strategic mineral," which means the supply is unreliable and prone to disruptions. . .
Graphite—Nearly All of it Comes From China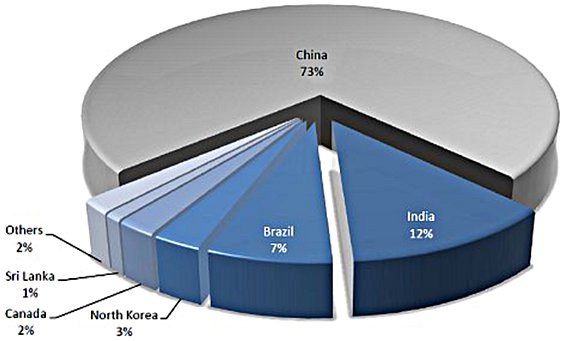 Source: Libertas
People are being very quick to brush graphite off as a bubble. The quick assumption is that it is "the new rare earths." Some similarities are there: Both are obscure strategic minerals, both are controlled by China and both sectors went off like a rocket.
There is one very important difference.
There are different types of graphite, and the type of graphite investors are after is "flake graphite." This makes up about a third of the market, and has the highest demand growth.
And when it comes to flake graphite—China has very little of it. China is, in fact, an importer of the stuff.
Rare earths prices have soared and then crashed as China kept changing its rare earths export policies.
But flake graphite's current price rally has nothing to do with Chinese policies.
This is important because it means China hasn't got the power to bring the price back down again, as it did with rare earths.
China's power over rare earths prices was the key reason I sidestepped the whole rare earths frenzy a few years ago, and never tipped any rare earths stocks in Diggers and Drillers.
In direct comparison, the flake graphite price rise is not at the mercy of Chinese policy, and so is far more sustainable.
So I think those dismissing graphite as the latest hot commodity will be very surprised at just how long this graphite stock rally will run for.
And also just how much money savvy investors will make from investing in the right graphite stocks.
Alex Cowie
Money Morning