Initial public offerings in the junior sphere in recent months have not exactly been gangbuster. While IPOs on the TSX Venture Exchange are up number-wise this year over last year, so far, the amount of cash on the table is down heavily. According to the TSX back in early May, IPOs are up 21% as of the end of April, but down cash-wise by some 61% to CA$44 million.
In other words, there are fewer scraps of meat being fought over by a greater volume of new blood. Exploration success for new juniors must now come on more modest cash resources than might have been available a year or two ago.
That the junior space is a vacuum devoid of much happiness is a fairly well trodden theme at the keyboard by now. There is a dearth of cash for IPOs, or financings for that matter, and juniors can do nothing about it except wait and hope a market turn comes sometime sooner rather than later with greater investor appetite for resource stocks.
Few among juniors have been rewarded on the market of late and recent IPOs on the Venture suggest no different. Of the selection outlined in the chart below (accounting for most 2012 listings on the Venture) almost half are trading at all time lows and most of others are somewhere near that.
Selected IPOs on the Toronto Venture exchange that listed in early 2012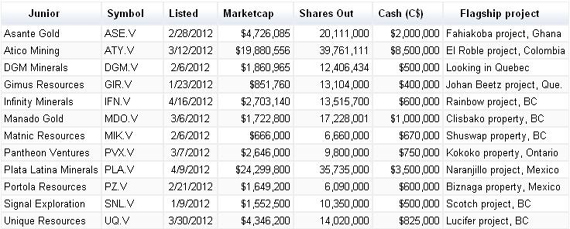 But share price hardly serves as a litmus test to intriguing junior stories. And a few juniors stand out among the latest mineral exploration IPOs in terms of exploration and exploration teams behind them.
Most notable is the junior with the largest market cap in the recent IPO batch, Plata Latina Minerals (TSX-V: PLA; C$0.68; 52-week low C$0.60, high C$1.10). It has had early success in Mexico at its Naranjillo silver-gold project in Guanajuato state.
Pre-listing it drilled a bonanza silver-gold discovery there with as much as 3,181 g/t silver and 13.28 g/t gold over 11 metres on a blind vein target. Subsequent to listing in Apri— it raised about CA$3.5 million, one of the larger amounts in this selection of Venture IPOs—Plata Latina hit more bonanza silver in deeper step outs with as much as 2,040 g/t Ag and 15.40 g/t Au over 2 meters.
The driving force behind this junior is Michael Clarke, an experienced Mexico-focused geologist with numerous silver deposit discovery credits who was most recently the vice president of exploration at Augusta Resource. Plata Latina now has two drill rigs turning, with a third on the way to Naranjillo, a 13,000 hectare property that it fully owns.
Also of note management-wise is Atico Mining (TSX-V: ATY; C$0.50; 52-week low C$0.47, high C$75). Those who follow Fortuna Silver Mines (TSX: FVI, NYSE: FSM), a silver producer with mines in Mexico and Peru, will recognize the Ganoza names leading Atico.
Fernando Ganoza, Atico's CEO, was a Fortuna project manager, and Jorge Ganoza A., Atico's president, was vice president of operations at Fortuna. This Ganoza team is now putting their experience to work in Colombia, where Atico is advancing the El Roble project, a past producing copper-gold mine. The goal, Atico has said, is to find more "nearfield" resources and get the mine back in operation somewhere in the 2,000 tonne per day range. Drilling is underway.
To round out notable mentions here are Asante Gold (TSX-V: ASE; C$0.24; 52-week low C$0.21, high C$0.65 ) and Unique Resources (TSX-V: UQC$0.31; 52-week low C$0.20, high C$.31). Asante is looking for gold adjacent to and northeast of Perseus Mining's (TSX: PRU) Edikan mine in Ghana and to that end it recently intersected a half meter @ 289.5 g/t Au. Asante takes this as a sign the shear zones hosting Edikan gold continue onto its property, where it has around 20 kilometers of strike to explore.
As for Unique Resources, it is hunting in copper-gold porphyry country in BC under the direction of Gary Freeman who also heads up Ethos Gold (TSX-V: ECC), which just kicked off a drill program in the White Gold district in the Yukon. Unique holds title to the Lucifer project, around 3,900 hectares of land about 50 kilometres east of NovaGold and Teck's massive Galore Creek project.
And a final note: as recent IPOs all these names have cash—if modest amounts—to spend at the drillbit or otherwise, which is nothing to sniff at given the depressing state of financing markets these days.
Kip Keen

Mineweb