My friend and his parent company, UBS, are now bullish on coal stocks.
He's of the opinion natural gas prices will drift back up to $3.00/Mcf or higher, making the black stuff much more attractive than it is now.
Natural gas prices at a decade low coupled with environmentalist opposition has left domestic coal stocks at their lowest levels in years.
Peabody (BTU:NYSE) is at a three-year low; Arch Coal (ACI:NYSE) hasn't traded at current levels since December 2000.
Add in a May where the dow lost over 6% of its value—the worst month in two years—and you have a sector that's been beaten down further than most others.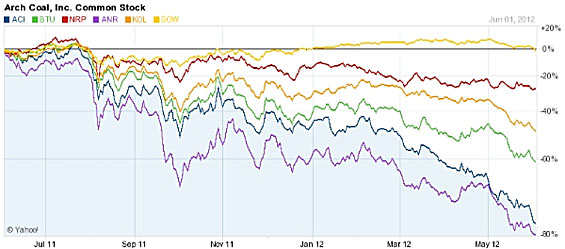 While we'll only start using more coal in the U.S. if natural gas prices rise, the rest of the world will be using more either way.
You see, the rest of the world hasn't undergone a shale gas boom.
And so natural gas, on average, is trading three times higher in most areas than it is here.
The U.S. will burn less than a billion tons (Bt) this year.
But the rest of the world will burn 6Bt—and that's expected to rise to 10Bt by 2030, which could create a robust export market for U.S. coal.
These are all reasons why, yes, it's time to start buying coal stocks.
Which One?
I've been following two related plays closely: Arch Coal and Natural Resource Partners.
At the crab table, my UBS buddy told me they just upgraded Arch to a Buy with an $11.00 price target, which implies +75% upside from today's levels.
And as the Small Cap Network reported yesterday:
The price-to-book ratio for Arch Coal is 0.37 and the price-to-sales ratio is 0.30. That should please even the most discriminating value investor. For growth investors, earnings-per-share are expected to soar more than 100% over the next year for Arch Coal.
Forbes noted last week that Arch was reaching oversold territory based on the Relative Strength Index, which is a technical indicator used to measure momentum.
Natural Resource Partners is kicking off a 9.5% dividend.
This company is interesting because it isn't a miner. It owns land and leases it to miners in exchange for royalty payments, which it distributes to shareholders. It also has exposure to coking coal.
Of course, the broader economy is still ugly, as evidenced by the most recent hiring and factory numbers.
Even bullish coal analysts note these broader sentiments could continue to weigh on the coal sector. . .
But if you think coal stocks are severely undervalued—as I do—it should be a great time to start and build a position.
Call it like you see it.
Nick Hodge
Energy & Capital