There are some weeks when having a bunch of screens with stock price numbers flashing is fun…this was not one of them.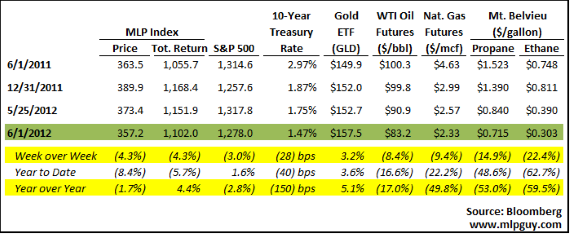 A couple of times during the week, I was reminded of the TV show 30 Rock, which did a fake movie making fun of the movie "Precious". That movie's full title that was read at the Academy Awards is "Precious: Based on the Novel Push by Saphire". I never saw it, but apparently it was not pleasing to the eye. So, in 30 Rock, they had character Tracy Jordan create an academy award winning movie called: "Hard to Watch: Based on the novel Stone Cold Bummer by Manipulate".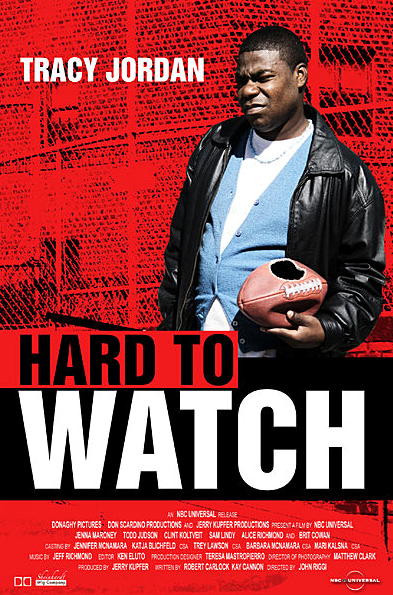 This week was indeed hard to watch, but so were the 3 weeks prior to that. In fact, when the dust cleared on the month of May last Thursday, it turns out 2012 was the worst May ever for the Alerian MLP Index (data goes back to 1996).
Worst of the Worst stats for the MLP Index in May 2012:
Worst May ever (since 1996)
Worst single month since November 2008
8th worst week of all time (data back to 1996), see chart below
3rd straight year of 5%+ declines in May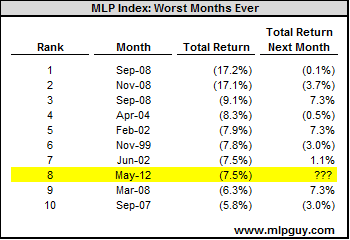 The MLP Index has averaged 1.1% positive returns in the month following these large negative months listed, but you can see it varies quite a bit.
None of these stats will help you cope with the carnage in your MLP portfolio or help you recover that lost value, but it might help you put this month into context. This is not the worst month ever, and the decline does not approach late 2008 declines, but it's pretty bad. Not many MLPs were immune to this value destruction (on paper), so these stats might help you realize that if your portfolio was only down 5% including distributions, you have chosen wisely. A month like this may also help you gauge your intestinal fortitude and help you make decisions in the future. Did the declines this month affect you to the point where you might want to take some of your yield and buy protection against commodity price or market shocks? Were you ok with the declines, or did you get more excited about the potential to buy MLPs at these levels? Some introspection at times like this can help you become a better investor and make changes to your strategy to suit your risk tolerance.
Interest Rates
This week is a good example of how interest rates don't matter for MLPs until the rate on the U.S. 10-year gets to 3.5% or higher. Also, it's a good example of how reverse interest rate shocks don't cause MLPs to rise, because interest rates usually drop when the world is seemingly falling apart, and so risk assets get sold off in favor of U.S. Treasuries.
Rates were down sharply this week, and MLPs did not rally as a result. MLPs are equities. MLP distributions, while historically safer than most REITs and high dividend stocks, are not preferred (except over sponsor-owned subordinated units (for the first few years after IPO before those units convert). MLP unitholders get paid last just like stock holders, so their valuations are much more influenced by the broad stock market these days than by interest rates.
Not Much MLP News
There was very little in the way of marketed capital transactions this week, with no equity or debt offerings. There were, however, 2 at-the-market equity deals filed: EROC for up to $100mm (with 2 underwriters) and EPD for up to $1.0 billion (with 10 underwriters!). The EPD deal is not surprising at all, given the $1.0 billion shelf EPD filed in March. The market was expecting an equity deal out of EROC at some point this summer, after the last of the warrant exercise dates passed in early May. The ATM structure for some of EROC's equity needs was a bit surprising.
The surprising part of the deals were the number of underwriters on each deal. ATM deals for MLPs to date have included one agent bank to execute the deals. This week's deals, which include more than one underwriter, I would view more favorable as an investor, because competition should tend to result in better execution for the issuer.
In terms of the coming weeks, I would expect less MLP equity to be issued in the next few months compared with the YTD run rate, given the current market malaise. Expect MLPs to focus on issuing debt to take advantage of low rates.
Hinds Howard
MLP HINDSight