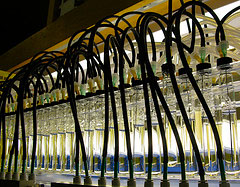 An Arizona-based algae technology company says it's on to something big: harnessing the growth of algae at a commercial scale so that it can ultimately be used as a transportation fuel. "Heliae" broke ground Friday on its new plant. Now, all it needs is an abundance of sunshine, water and carbon dioxide.
But while the ingredients to make algae may be simple, it is still an open question as to whether current pilot facilities can attract private investors that will enable the industry to gear up. Beyond the financial concerns, environmental worries persist. It can involve taking carbon emissions from power plants to grow the algae before converting it to something that would run cars, trucks and airplanes.
In a phone interview, Heliae's Chief Executive, Dan Simon, explained to this writer that the company's ultimate goal is to produce transportation fuels. To get to that point, though, it will focus on near-term aims that are more attainable: chemicals, cosmetics and healthy foods. As it develops, the enterprise will then expand overseas and into the Asia Pacific region.
"We will never take our eyes off the transportation fuels," says Simon. "But there are stepping stones to get us there. Production costs have to come down. Right now, the economics don't work. It will be 5 to 10 years before all of this will affect the price at the pump."
Simon continues, saying "good science takes time" and that by first picking the "low hanging fruit" the company will drive revenues and efficiencies, and bring down production costs. Among the key goals the company is working towards: Ensuring that the process has a "positive energy impact," meaning that it can't take more energy to grow the algae than the amount of carbon dioxide that the algae would absorb. . .View Full Article