On Thursday the Chinese Ministry of Commerce announced an update to the 2012 allocations of rare-earth export quotas that were first issued in December 2011 (you can see my original article on this topic here). This follows a number of other recent announcements from China, of relevance to the export quotas. The following article summarizes the quota situation as of May 17, 2012, and provides updated numbers and allocation information.
In the original first round of allocations, a total of 24,904 t of export quotas were allocated to companies that were divided into two groups. The first received confirmed quota allocations, while the second received only provisional allocations. Companies were placed into one of these groups based on their progress towards the implementation of new pollution-control measures, with the latter group being told that they would get their allocated quotas if they met the various requirements by July 2012. They were further told that failure to meet the new requirements by this date would result in their quotas being re-allocated to other companies.
On May 10, 2012, the Chinese Ministry of Environmental Protection published a list of 41 rare-earth companies that had passed the pollution-control inspections mandated by that ministry last year. Included on that list were most (but not all) of the companies previously allocated provisional export quotas, by the Ministry of Commerce.
Thursday's announcement from the Chinese Ministry of Commerce included some minor adjustments to the quotas allocated in this second batch of confirmed allocations, resulting from the subsequent inclusion of data relating to the last two months of 2011, that was not included in the original calculations for quota allocations. In addition, the ministry announced the consolidation of the quota allocations for three separate companies (Changshu Shengchang Rare Earth Smelting Co., Funing Rare Earth Industry Co. and Jiangsu Geo Quin Nano Rare Earth Co.) into a single allocation for their parent company (Chalco Rare Earth (Jiangsu) Co.).
So as it stands today, the updated first round of quota allocations totals 25,150 t. Assuming that the Ministry of Commerce sticks with its December 2011 plan for the first round of allocations to represent 80% of the quota allocations for 2012, then the total for 2012 will be an estimated 31,438 t of rare earths, slightly higher than last year.
Here's how the three groups of allocations break down, as of Thursday:




Let's now break this down further – first, here are the companies that have received confirmed quota allocations, either in the first batch issued on Dec. 27, 2011, or the second batch issued on May 17, 2012. They are further divided into sub-lists for Chinese and Chinese/non-Chinese joint-venture (JV) companies. The two sublists are sorted from highest-to-lowest total allocation:
First set of confirmed allocations of rare-earth export quotas, issued in two batches to individual companies for 2012. Source: Chinese Ministry of Commerce (1, 2)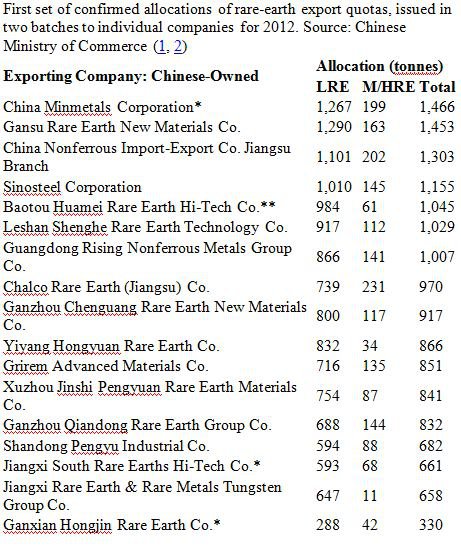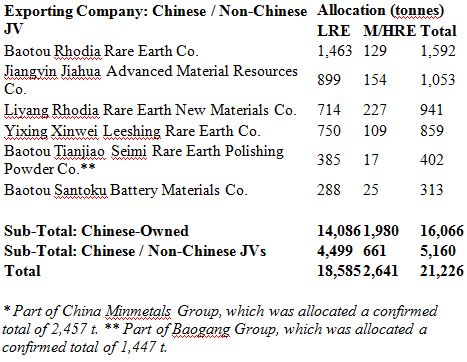 Next are the companies that received quota allocations on Dec. 27, 2011, which were provisional on them meeting the new pollution-control standards, and which were not converted to confirmed quotas in the May 17, 2012 announcement. The list is again divided into sublists for Chinese and Chinese/non-Chinese JV companies, which are sorted from highest-to-lowest total allocation: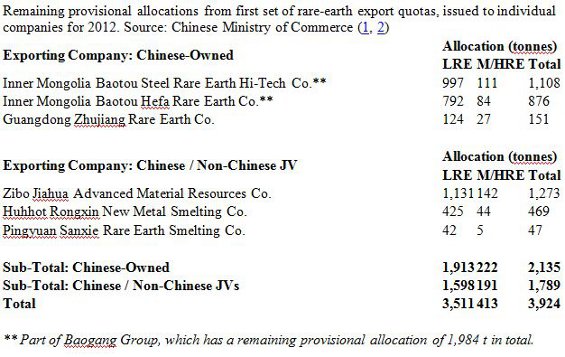 Finally, here is a comparison of the quota allocations for the past three years (compare to the projected total of 31,438 t of quota for 2012):



The most prominent companies still in the provisional category are two rare earth enterprises that are part of the Baogang Group (Inner Mongolia Baotou Steel Rare Earth Hi-Tech Co and Inner Mongolia Baotou Hefa Rare Earth Co.) and one of the enterprises operated by Neo Material Technologies (Zibo Jiahua Advanced Material Resources Co.)
Given the individual adjustments made when converting provisional to confirmed quota allocations, we might expect to see slight changes to the remaining provisional quota allocations, if and when these companies are approved by the Ministries of Environmental Protection and Commerce, and finally receive their allocated quotas.
Gareth Hatch
Resource Investor