All around ugly week for the MLP sector…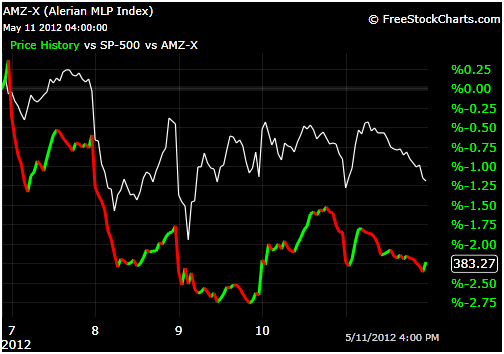 As they used to say at the syndicate desk when an offering was trading poorly, lots of market headwinds. Risk off week, with oil, gold and stocks all down. Natural gas was up a bit, but is still 40% cheaper than a year ago. Also, the MLP ETF AMLP had its ex-date Monday, which added to the sector pressure.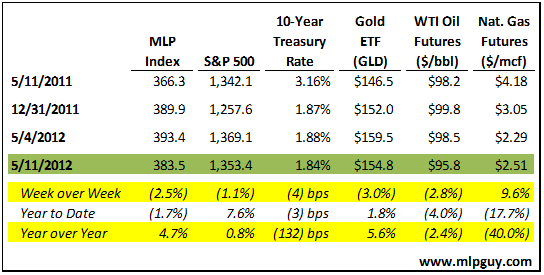 In addition to the headwinds, MLPs did themselves no favors by pricing $1.6 billion in MLP capital markets transactions this week. Counting the $500 mm equity LNG plans to invest in CQP (see below). Add in the $800 million of At-the-market equity distribution deals filed this week ($500 by KMR and $300 by PAA), and it turns out more than $2.8 billion in combined debt and equity was raised by MLPs this week. That's a huge number, and it seemed to clog the drain a little on the way down.
Let's say the MLP capital market is this guy in the video below: the world record holder for most thrown grapes caught in his mouth in 3 minutes. Normally, he chugs along catching 2 grapes a second, no problem. This week was like what would happen if the grape throwers starting throwing more grapes faster, while backing up. The backing up part (market headwinds) would have been hard enough, but adding in the additional grapes, and this guy might get overwhelmed and start missing some, or maybe his mouth would start to fill up with grapes… you get the idea. I'm also reminded in this analogy of the concept of marginal utility, grape 1200 is not as tasty as grape 5 or 10.
Sidenote: its great having 3 kids too young to be coordinated enough to throw a grape up in the air and catch it in their mouth. My ability to do so puts me on par with the greatest athletes in the world in their heads.
Pending MLP IPOs:
Oh, and there are more MLPs to come. By my crude count, there are currently 10 MLPs in various stages of IPO registration, including 3 new names this month so far. Josh Davidson at Baker Botts is very busy, with his name on the cover of 5 of the 10. Here is the full list:
Armstrong Resource Partners (Amendment 5 filed 5/4)
Sprague Resources (Amendment 4 filed 3/23)
USA Compression (Amendment 1 filed 5/10)
Foresight Energy Partners (Amendment 1 filed 4/12)
Quicksilver Production Partners (Amendment 1 filed 5/11)
EQT Midstream Partners (Amendment 2 filed 5/10)
Maxum Energy Partners (Initial S-1 filed 5/4)
Northern Tier Energy LP (Amendment 2 changed this corporation into MLP on 5/7)
Lehigh Gas Partners (Initial S-1 5/11)
Southcross Energy Partners (Initial S-1 4/20)
It makes you wonder who will buy all these incremental MLP units? The MLPs that are currently trading can't catch a bid, like we saw with CLMT this week on a relatively small equity issue (see below). Who is out there that doesn't own MLPs or hasn't heard about MLPs and is going to support this sector's massive paper addiction? I guess like any supply and demand equation, if there is truly no demand, then MLPs would stop issuing so much equity….right?
News of the (MLP) World
Markwest buys Keystone Midstream, Expanding Marcellus and Utica Footprint, Then Issues $442 mm In Equity (press release)
$512 mm consideration
Keystone was owned by Rex Energy, Stonehenge Energy and Sumitomo Corp
MWE will need to invest $500 mm in growth capex to support Rex's drilling program and to achieve target $130 mm EBITDA by 2016
Another high multiple purchase in the Marcellus with hockey stick growth expectations, betting on the come starting to become the norm in the Marcellus (like with WPZ's high multiple purchase of Caiman)
8.0 mm unit equity offering at $55.28 per unit, raising $442 in gross proceeds (press release)
MWE's 10th equity offering since beginning of 2009, most in the MLP sector, and 4th offering in last 12 months
Last equity offering was in March, at a per unit price 8% higher than this one
All that growth has to be funded, MWE's distribution per unit is up 18% year over year, but its 3 year distribution CAGR is only 7.3%
$250 mm senior notes due 2022, priced at 7.125%
$143 mm equity at 3.5% re-offer discount, trades well in after market, closing above issue in negative week
Use of proceeds Cajun-Sibon NGL pipeline and Riverside expansion
XTEX will expand Riverside fractionation facility in Louisiana (press release)
Capacity increases 10,000 bbls/d, from 4,500 to 14,500
Underwritten by long-term supply contract
Cost of $16mm, to be in service 1Q13

BreitBurn Announces Acquisition (press release)
$220 mm purchase price, 56% oil, 13 year reserve life, 9.5 mmboe proved reserves, 160 drilling locations, 49 existing wells
First acquisition for BBEP in Permian Basin

Oiltanking to Acquire United Bulk Terminal (press release)
This is OILT's parent company making the acquisition, terms of the deal undisclosed
OILT traded well on the news, I guess on outlook for future potential dropdown, OILT was up 3.7% on the week

PVR Prices Upsized Bonds (press release)
8.375% yield, 2020 maturity
Deal was upsized from $450 mm to $600 mm
Use of proceeds to fund portion of Chief acquisition, rest to term out some of credit facility

Copano Announces Fresh Expansion at Houston Central (press release)
400 mmcf/d additional processing capacity
$190 mm cost to be in-service by 2014
5x cash flow multiple, very solid
Announcement does nothing to stop alleviate the beat down CPNO unit price took this week after earnings and indications that the richness of the gas from the Eagle Ford was causing operational issues
Distribution growth won't happen in 2012, its as if CPNO and ETP have a bet as to who can go the most consecutive quarters without a distribution increase (FGP at 66 quarters is the Dimaggio of this particular stat)

Calumet Specialty Products (CLMT) Equity Offering (press release)
6.0 million units, priced at $25.50 per unit, $153mm in gross proceeds
CLMT priced at a 4.6% discount, second highest this year
Traded down another 5.7% the next day, for total of 10% decline in one day, finished the week down 9.6%

LNG gets $468mm equity infusion from Asian Partners (press release)
Temasek and RRJ Capital to invest in Cheniere Energy ($LNG)
Temasek and RRJ are asia-based and focused investment firms, which are now in discussions with LNG on a strategic relationship to help Cheniere tap the Asia market
LNG will use the proceeds plus cash on hand to purchase $500mm of equity in Cheniere Energy Partners ($CQP)
Parties are working on strategic partnership for LNG sales, marketing and trading
Disclosure: The information in this article is not meant to be financial advice, I am not your financial advisor and I am posting my comments for informational purposes only.
Hinds Howard
MLP HINDSight