There was a movie released back in 1998 that (when combined with the Internet) launched a nationwide phenomenon that revolved around a 100 year old card game. The movie was Rounders and the game was Texas Hold 'em poker. Almost immediately after seeing Rounders, my buddies and I started playing poker on the weekends.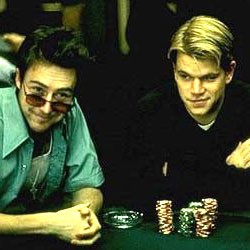 Poker was an excuse to drink beers and smoke cigars without the usual high school driving around risks. Rounders was quoted incessantly at the table. One of the quotes from Matt Damon's character that sticks in my head regarding poker:
There's no other game in which fortunes can change so much from hand to hand. A brilliant player can get a strong hand cracked, go on tilt and lose his mind along with every single chip in front of him. This is why the World Series of Poker is decided over a No-Limit Hold 'Em table. Some people, pros even, won't play No-Limit. They can't handle the swings.
Anyway, that quote pops into my head on weeks like this when stocks of all kind are falling (and people run around like the sky is falling). But, the sky is not falling, and MLPs held their own this week, with the MLP Index down 0.6% this week, with the big drop coming Thursday (-1.2%). The S&P 500 dropped Friday by 1.6% and 2.4% for the week, the worst week for the benchmark index so far this year.
Oil futures had their worst week so far this year as well, down 6.0%. Weak jobs, concern over weakness in European demand, continued growth in oil inventories were the culprits. Natural gas had another strong week, and is now up more than 20% from its bottom a few weeks ago. If natural gas and oil start moving towards each other and the oil to gas ratio starts to normalize, the NGL business will start to look much less attractive than it has the last few years when NGL growth has made up for weakness in other areas of the midstream space.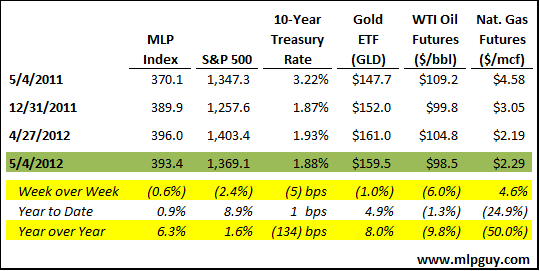 MLP news and earnings releases were overwhelming this week. Very quick recap:
35+ MLPs reported earnings this week, some good, some bad, some really bad (like $RNO, unfortunately)
Largest ever MLP IPO Petrologistics ($PDH) priced and started trading
ETP announced agreement to acquire SUN, the GP of SXL for $5.3 billion
23% premium, no sign of competing bids yet
Announcement comes a month after its GP completed its merger with SUG
Org chart will be BANANASafter this deal closes
ETE owns GPs of ETP and RGP
ETP will own GP of SXL
2 layers of IDRs (SXL to ETP to ETE)

Long ETE on all of the equity that will get issued at ETP and RGP in the next few years as the family of companies attempts to digest this never-ending acquisition spree.

NMM equity offering raises $62.7 million
MWE announces agreements with CHK and Antero
LGCY acquires around $90 million in oil properties
Buckeye hit a 52 week low
Dropped 5.2% on Friday after earnings were released in the morning.
Since it went public in 1986, and not including September 2008 through March 2009 (which we'd all like to forget), BPL has only had 9 trading days when BPL was down more than 5.2%, including 2 days in October 1987 and 1 in September 2001.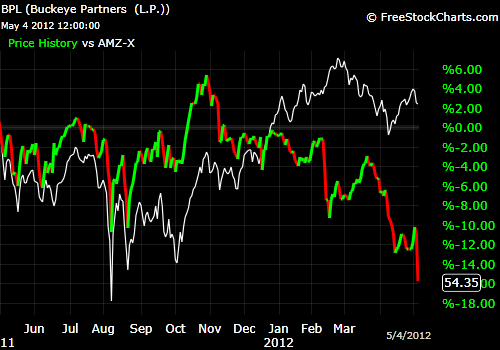 Winners & Losers
The bigger moves were clearly on the downside, as most MLPs not in the Alerian MLP Index were down sharply last week, including all the bottom 5 performing MLPs this week. RNO was the big loser, finally breaking down like the rest of the coal industry. Higher natural gas price is bad news for CQP, which was down 4.2% after Friday's earnings release and 9.6% for the week. The top 5 were led by NGLS with strong earnings. OKS also reported strong earnings on NGL strength.
MLPs are still up this year, S&P 500 still up, but from the looks of the futures tonight, we are in for another weak May Monday.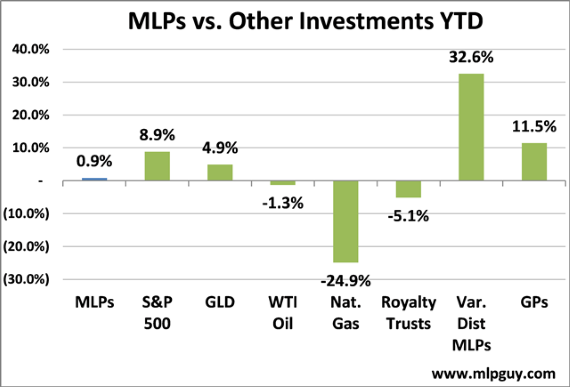 Coal, NRGY and natural gas leveraged gathering dominate the bottom 5 for the year. A grab bag of small caps dominate the top 5 for the year.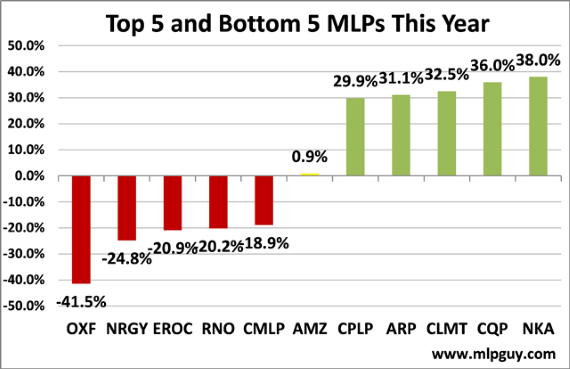 Have a good week, stay focused and don't go on tilt…
Disclosure: The information in this article is not meant to be financial advice, I am not your financial advisor and I am posting my comments for informational purposes only.
Hinds Howard
MLP HINDSight