For Thomson Reuters GFMS, there is a danger that the surpluses now present in the platinum sector could become hardwired into the system.
Unless there is a real, game-changing shift in South African production, there is a danger of the structural surpluses now present in the platinum market becoming "hardwired" into the system.
This is the view of Paul Walker, head of precious metals at Thomson Reuters GFMS, who says there is a degree of rigidity on the supply side that is likely to persist while there is nothing to denote a game changer in terms of demand.
Speaking at the launch of the metals consultancy's annual platinum and palladium survey, Walker said, "This is no longer a statistical blip that we could have ignored, say three or four years ago. In 2009/2010 we saw these surpluses increasing. At the time a lot of people would have made the point that this was all about the decline in industrial activity. . .and it was a period we could pretend was just a function of the crisis in 2008."
According to the survey, platinum's gross surplus has narrowed by 12% in 2011 mainly due to a 7% increase in fabrication demand.
The boost behind the demand upswing was a 14% jump in jewelery demand while auto catalysts saw a modest 4% increase from 2010. GFMS said there was a marked recovery in Chinese jewelery off-take as prices declined sharply in the latter part of 2011.
Supply of platinum was up 5% year on year mainly driven by increased mine supply from Canada, Zimbabwe, Russia and the U.S., with South African supply largely flat. Old jewelery scrap supply jumped 11% over the same period.
While the narrowing of the surplus is positive, GFMS points out that the gross surplus of 735,000 ounces (oz) is still substantial by historical standards with the market showing regular, large surpluses since 2005.
A situation Walker expects to persist for at least the next three years.
Walker also pointed to the rise of platinum stock levels to roughly 4.5 million ounces (Moz) at the end of 2011, volumes similar to total South African mine production.
The expectation with these continuing surpluses is that inventory will continue to rise and, although industrial use will take up some of the excess stocks as economic conditions improve, he intimated that it is unlikely this will hardly be able to absorb all of the platinum that has accumulated in inventory over the years.
Derek Engelbrecht, the group marketing executive for beleaguered miner Impala Platinum. believes that this change that Walker referred to is going to become a reality in the South African platinum sector.
"Although there is no doubt that the market is well supplied I believe that structural change is imminent," said Engelbrecht.
Pointing to mining cost inflation of between 12 and 15% as well as recent poor results by some of the country's platinum miners, Engelbrecht believes that some of the marginal producers will be shutting up shop soon.
"Big pieces of those [costs] are labor and power and what can you do about it? Very little. High cost operations, what do you do about them? Maybe you shut them down" said Engelbrecht.
"Clearly the smaller producers that don't have the economies of scale are going to battle to survive in this market and I don't see anything in the short term that is going to change demand fundamentals so that will keep pressure on the price and the smaller producers which I think will invite some kind of structural adjustment."
The cost pressures in South Africa are likely to buoy the platinum price in the short term, said GFMS, and depending on what happens with the ongoing Eurozone crisis expectations are that platinum will trade in a range of US$1,475–$1,775/oz over the remainder of this year.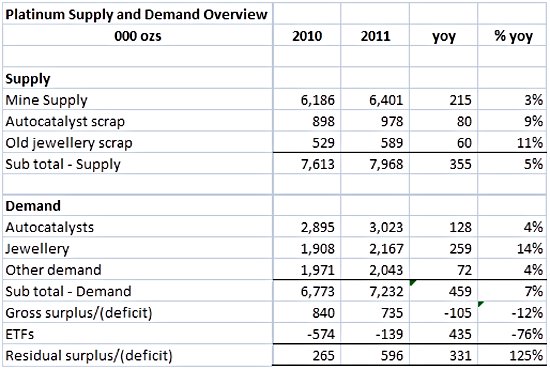 Christy Filen
Mineweb