Gold has been one of the most volatile markets.
But gold is bullish and the major trend is up, despite the volatility. In fact, gold has held firmly above its $1,600/oz major support, which has become increasingly important.
Whenever gold sells off, big buyers come in to take advantage of lower prices. This is a pattern we've seen consistently and we expect it will continue.
Negative Impacts
Meanwhile, there are several reasons for gold's volatility. . .
First, gold has also become addicted to the Fed's actions. It's been rising like the other markets when the Fed suggests easy money is coming. And gold's been falling sharply when QE hopes dim.
This influence on gold tends to occur during downward corrections or consolidation periods, like we've seen since September. Gold often gets pushed around during weakness.
Gold's strength dominates, however, during bull market rises. Nothing gets in its way and safe haven buying has been one valid reason for this.
Also important has been the slowing Chinese economy. Since China has become the engine of global growth, its slowdown has hurt all of the commodities and metals in general, because slowdowns mean less demand.
The higher dollar has also had a negative impact, but now sentiment is changing somewhat.
Gold's Bullish Factors
As Q2 gets underway, stocks declined. With tensions in the euro zone resurfacing, uncertainty is coming back. This is helping to build a good foundation.
In Europe, for instance, Spain is becoming a real worry and it's much larger than Greece. Concerns the euro zone may be unable to handle the brewing potential problem as easily as it did in Greece is weighing on stocks and pushing up gold.
At the same time, demand is also an ongoing factor that is keeping a solid floor under the gold price.
Central banks have been steady buyers as they grow weary of the Fed's monetary actions and build their gold reserves, and China remains at the forefront. Not only is China the world's biggest gold producer, it's also the world's biggest gold buyer.
Like the central banks, big successful investors have also been buying all along. This too is a sign that gold is likely near a bottom.
Plus, don't forget that inflation is brewing due to the Fed's policies while real interest rates are below zero. Both are very bullish signs for gold.
These are the main reasons why we believe gold's bull market will continue on its upward path.
Gold's Calm for 7 Months Creates More Bears
After a steady consistent rise in gold for 11 years, we can understand why some feel the bull market is over.
But don't be fooled, a trend is in motion until it's over. This is a simple yet powerful phrase, and it tells us to stay invested until the move is over.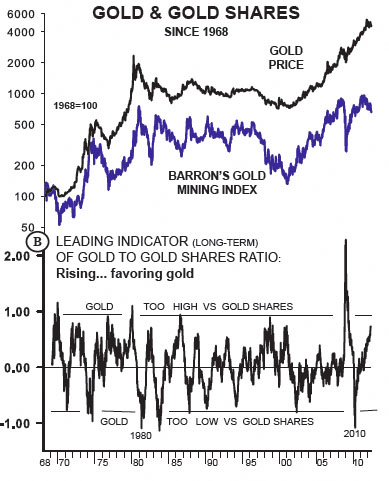 It's amazing to think that gold has risen 660% since 2001, or even better, it rose 170% from the 2008 low to last September's record high near $1,900/oz, without much of a decline along the way.
Yet the decline from its September peak has so far been less than 20%. And even if gold were to decline below $1,600/oz to last December's low near $1,540/oz, it would still be a mild decline compared to the rise.
This is where you want to keep your focus during these sluggish times because they could last a bit longer.
Gold: Best Asset Class
The big picture on Chart 1 provides an example. It shows gold compared to stocks, bonds and a strong currency since 1979.
Note the clear change in the mega trend starting with the new century. Gold has steadily outperformed the stock market, bonds and the Swiss franc since early 2000. And this too will likely continue.
What Happened to Gold Shares?
Many scratch their heads and wonder about the gold shares. Why are they so weak?
Gold shares lost their super strength following the 2008 plunge.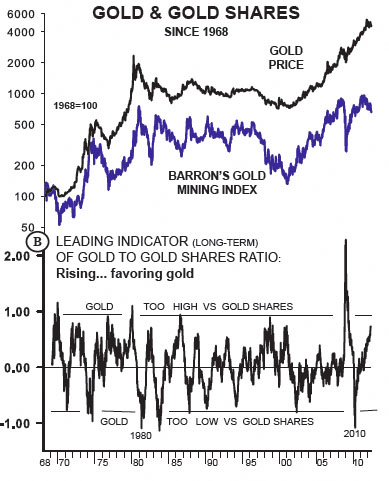 Chart 2 shows gold and gold shares indexed to 100 starting in 1968. Here you can see gold's ongoing strength compared to gold shares over the last 40 years.
But looking at the indicator, B, note the clear times when gold was super cheap versus gold shares. This proved to be true in 2010 and gold has outperformed gold shares since then.
The indicator, however, is now approaching a gold high area, which means gold is getting too high versus gold shares, and their time is coming right up. In other words, gold shares are near a bottom.
Overall, we don't think gold shares are leading the way for gold. On the contrary, it looks like it's just a matter of time until gold shares catch up to the gold price.
Pamela Aden will present "A Hands on Look at the Markets" and an expert view on "What's Hot, What's Not" in two appearances on Monday, May 14, during the New York Hard Assets Investment Conference.
Pamela Aden
Resource Investor