After remaining quiet for much of the day, gold and silver received a sharp pullback on Wednesday after the Federal Open Market Committee released its latest statement. The Fed's April minutes closely resembled the March minutes, but precious metals still experienced a very brief and sell-off.
Members of the Federal Reserve's policy-making committee once again held its key interest rate near zero percent, citing lingering concerns about significant downside risks and deflation. The FOMC statement explained, "To support a stronger economic recovery and to help ensure that inflation, over time, is at the rate most consistent with its dual mandate, the Committee expects to maintain a highly accommodative stance for monetary policy. In particular, the Committee decided today to keep the target range for the federal funds rate at 0 to 0.25% and currently anticipates that economic conditions-including low rates of resource utilization and a subdued outlook for inflation over the medium run-are likely to warrant exceptionally low levels for the federal funds rate at least through late 2014." Nine out of 10 Fed officials voted to keep the current easing measures in place, but with no indication of further easing programs.
The FOMC also held relatively steady on its inflation outlook. The March statement said, "inflation has been subdued in recent months, although prices of crude oil and gasoline have increased lately." Compared to the April statement that said, "Inflation has picked up somewhat, mainly reflecting higher prices of crude oil and gasoline." Both statements expect longer term inflation to remain stable.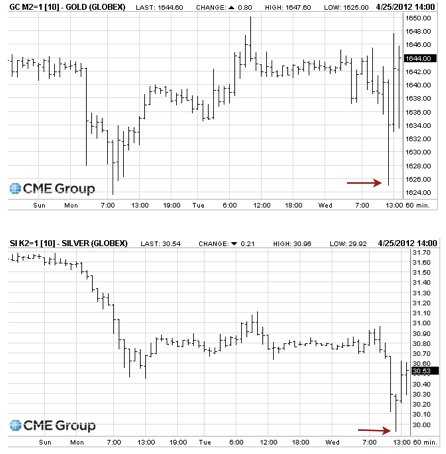 While keeping interest rates at record low levels sounds bullish for precious metals to most rational investors, as it prolongs a negative real interest rate environment, gold and silver immediately spiked lower after the FOMC statement. As the charts above show, gold futures fell to as low as $1,625 per ounce, while silver futures dropped to $29.93 per ounce. Some may attribute the stable inflation outlook as a bearish signal for precious metals, but this could actually provide the Federal Reserve with more room to provide further easing, despite the option being labeled as "off the table" by some observers.

Although the FOMC minutes did not announce any QE3, Ben Bernanke has clearly not taken the option off the table. In a press conference after the FOMC statement, the Fed chairman explained, "If appropriate and depending also on assessment of the costs and risks of additional policy actions, we remain entirely prepared to take additional balance sheet actions if necessary to achieve our objectives. So those tools remain very much on the table and we will not hesitate to use them, should the economy require that additional support." The knee-jerk reaction seen in precious metals to the downside after the FOMC statement was overshadowed by Bernanke's comments, as gold and silver both rebounded from intra-day lows.

In today's headline and stimulus driven market, it is becoming increasingly important for investors to recognize certain events that can cause short-term volatility in precious metals. On Monday, we warned our premium subscribers that the FOMC meeting could cause a sell-off in gold and push silver down to $30 or even lower. Subscribers who heeded our warning received a lower entry-point into both precious metals and are in a better position to protect their portfolios from ongoing currency devaluations.

Eric McWhinnie

If you would like to receive professional analysis on equity miners and other precious metal investments, we invite you to try our premium service free for 14 days.

Disclosure: Long EXK, AG, HL, PHYS