The start of earnings season was in focus this week, and while AAPL had a rough week (down 5.3%, second straight down week), the rest of the S&P 500 did fine, up 0.6% on the week. MLP performance was varied this week, but the large caps did very well, so the MLP index was up 1.8%, gaining on the S&P 500 slowly. Its a race to the bottom between interest rates and natural gas prices. Both were down this week, natural gas is down to $1.93 and the 10-year is down to 1.97%.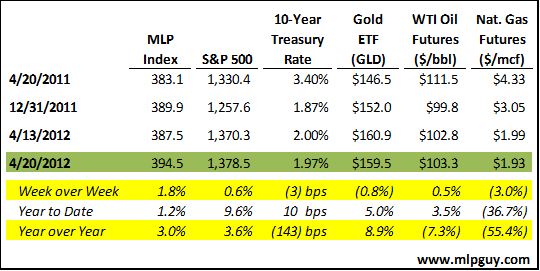 MLPs separated from the S&P 500 and the energy industry on Thursday and Friday, as the broader market rally slowed as the week progressed. That could have been a result of decent earnings for KMP and the implications for earnings upcoming this week.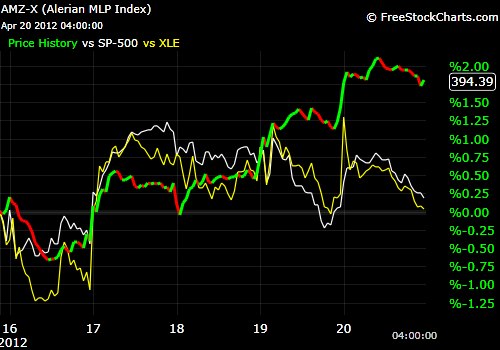 How Good Will Earnings Be?
Earnings season will kick into full gear after we got warmed up with KMP earning Wednesday of last week. For a sense of how earnings will go, letís review how some market forces have trended and how that might impact certain types of MLPs. Certain MLPs will have very good earnings, others will have scary earnings, and of course, at least one MLP (NRGY) will cut its distribution. Active, careful MLP selection is more important than ever.
Natural gas prices remain very unattractive

Bad for gathering companies with percent of proceeds (POP) contracts
Bad for gathering volumes in predominantly dry gas plays (like Barnett and Haynesville)
Bad for natural gas storage players
Bad for Texas intra-state natural gas system owners (ETP and KMP)
Bad for E&P MLPs with heavy concentration of natural gas production
Good for fertilizer producers
Good for LNG export facility developers
Bad for compression providers

Oil prices remain high, Oil drilling activity remains high

Good for oil focused pipeline MLPs with assets located near heavy activity areas (like Bakken and Eagle Ford)
Good for E&P MLPs with heavy concentration of oil production

Processing margins and NGL prices remain very attractive

Good for MLPs with processing capacity close to Mt. Belvieu
Good for gathering MLPs with fee-based contracts in liquids-rich plays
Good for gathering MLPs with percent of liquids (POL) or keep whole contracts in liquids-rich plays
Good for NGL pipeline operators debottlenecking Conway to Mt. Belvieu
Good for E&P MLPs with heavy concentration of liquids production
High propane prices relative to natural gas causing volume declines for propane MLPs

Coal prices and demand are very weak, but exports of met coal are in high demand

Bad for coal royalty players and coal producers
Good for coal export terminal operators (like KMP)

Refined products demand remains weak

Bad for refined products pipeline operators (but rate increases are coming next quarter)

Much warmer than average weather

Bad for propane MLPs
Bad for heating oil
Bad for natural gas prices
Kinder Earnings
KMP earnings came in ok, roughly inline with analyst expectations. High oil and liquids prices helped KMPís CO2 business outperform expectations again, and coal export growth helped boost terminals results. Those segments combated weaker results in natural gas pipeline and refined products pipeline segments. There are many moving pieces in the KMP/KMI/KMR/EP/EPB puzzle right now, but a Kinder offered some clarity and guidance on drop downs. KMI will drop down all of Tennesse Gas Pipeline and portion of El Paso Natural Gas Pipeline to KMP in 3Q12. KMP will fund a portion of those drop downs with concurrent agreed-upon sales of assets like KMPís 50% stake in Rockies Express. Also, EP has offered to sell the remaining 14% of the Colorado Interstate Gas and all of Cheyenne Plains Pipeline to EPB. Other notes:
Terminals organic capex was increased by $350 million, most of it related to build out of coal export facilities. As discussed here, coal exports were higher in 2011 than any year since 1991. This is another case when owning the infrastructure is better than owning the producers.
1.1x coverage for the quarter. This is enough for KMP, which (differently from EPD) chooses to pay out almost all of its cash flow and externally finance growth. Management expects that KMPís coverage will dip below 1.0x for the next 2 quarters, but will be above 1.0x for the 4th quarter and full year.
News of the (MLP) World
Despite no capital markets transactions and minimal M&A announcements, it was a really busy week for MLP news. There were 21 distribution announcements (details below on those), 1 earnings announcement (discussed above), a new MLP filed, a new MLP ETF launched, several expansion projects announced and 1 LNG terminal authorization announcement.
NRGY Credit Facility Cut Ė NRGY released 8k stating itís credit facility decreased to$550mm from $700mm. The amended credit agreement allows for NRGY to sell up to 5mm NRGM common units. It also allows for NRGY to sell all of the assets related to U.S. Salt.
Still no clarity on how much the distribution will be cut, but I expect another sell off to happen when the distribution does get announced. NRGY wonít bottom until that final big sell off, in my opinion.
New MLP Filed Ė From Charlesbank, the private equity group behind Regency Gas Services (before they sold it to another private equity group, HM Capital), comes another gathering and processing MLP called Southcross Energy Partners, L.P. (SXE). According to the initial S-1, SXE is expected to earn EBITDA of $61.5 million in the next 12 months, and $48.0 million in distributable cash flow. That implies around a $650 million enterprise company, which is pretty big for an MLP just going public. SXE expects to generate around 63% of its gross margin from fixed-fee or fixed-spread contracts. 20.8% of its 2011 revenue came from Formosa Hydrocarbons Company (S-1 Filing)
Positive LNG Developments
Sempra Energy (SRE) signed development agreement with Mitsubishi and Mitsui for its Louisiana LNG facility. Construction is expected to start late 2013 with operations starting in late 2016 (press release)
Cheniere (LNG / CQP) received FERC authorization to construct and operate liquefaction facilities at Sabine pass in Louisiana. This comes on the heels of CQP taking the steps to arrange up to $4B in financing yesterday (press release)
Another OKS Growth Project - OKS announced plans to invest $350mm in Cana-Woodford Shale. Organic capex budget is now expected to be $1.5 billion in 2013 and $1.0 billion in 2014.
Memorial Productions Partners Acquisition Ė MEMPís second acquisition in 2 months, this one ($38 million) a bit more than twice the size of the first ($18 million). Properties purchased are in East Texas and North Louisiana. Sponsor support is clearly there, but an acquisition every month until gas prices rebound is probably asking too much.
6-6.5x EBITDA range, paid around $1.70 per mcfe of proved reserves
Acquisition will be paid for with revolving credit facility, which still has $100+ million available
MEMP remains the MLP with the most concentration of natural gas production (95%+)
New MLP ETF Launched - ticker MLPA, sponsored by Global X, will track the Solactive MLP Index (please let me know if you have heard of either Global X or Solactive MLP Index before right now). Big selling point for MLPA is the lower expense ratio of 0.45%. (read more)
Distribution Announcements This Week
21 Distribution / Dividend Announcements this week for an average quarter over quarter change of 2.1%:
XTXI ups 9.1%, 33.3% year over year
CLMT ups 5.7% qoq, 17.9% yoy
WES ups 4.5% qoq, 17.9% yoy
TLLP ups 4.1%, 11.9% since IPO
OKS ups 4.1% qoq, 10.4% yoy
KMP ups 3.4% qoq, 5.3% yoy
KMI ups 3.2% qoq, 10.3% since IPO
XTEX ups 3.1%, 13.8% yoy
EPB ups 2.0%, 10.9% year over year
CMLP ups 2.0% qoq, 13.6% yoy
SEP ups 1.1% qoq, 4.3% yoy
BBEP ups 1.1% qoq, 9.0% yoy
LGCY ups 0.9% qoq, 4.7% yoy
CQP, GSJK, MEMP, GLP, NRP, RNO, SPH, TLP held distribution flat qoq
Disclosure: The information in this article is not meant to be financial advice, I am not your financial advisor and I am posting my comments for informational purposes only.