Although oil prices are firmly above the triple digit mark, many firms related to the energy industry have not moved higher. The broad sector, as represented by the popular Energy Select Sector SPDR, is pretty much flat on the year despite a nearly 3.7% gain in the price of WTI crude over the same time period.
Yet while this is somewhat disappointing to energy-focused investors, it is nothing compared to the terrible performance of the solar industry as of late. The two solar ETFs—the Guggenheim Solar ETF and the Market Vectors Solar Energy ETF—are both down more than 4% on the year even though oil prices have moved higher. Additionally, from a one year look, the results are even more depressing; both funds have lost nearly 70% in the past 52 weeks alone!
Furthermore, the industry isn't exactly the best from a Zacks Rank perspective; of the 17 companies we rank in the solar industry, only three have a Zacks Rank of two or better. In fact, five firms have a four or worse while the
industry currently ranks
in the bottom 15% from a Zacks Industry Rank perspective.
Nevertheless, despite the gloomy Zacks Ranks and recent performance, there are some reasons to be bullish on the solar industry. Higher oil prices do generally make alternative energy more competitive as the cost differential between fossil fuels and clean energy shrinks, spurring many to take the plunge on solar instead.
Also, some of the stocks in these ETFs are becoming deep values—thanks in large part to the aforementioned losses. The PE for these funds is below 10 while price to book and price to sales ratios are both below 1.0, well below the metrics investors are seeing for other funds in the energy space.
Yet with that being said, I for one am afraid that solar is the power of the future but that future will never come. People have called for a bull market move in solar before, and they have been devastated by the results. I mean take a look at a
three-year chart comparing
TAN to the broad markets, the energy sector, and crude oil (as represented by USO)…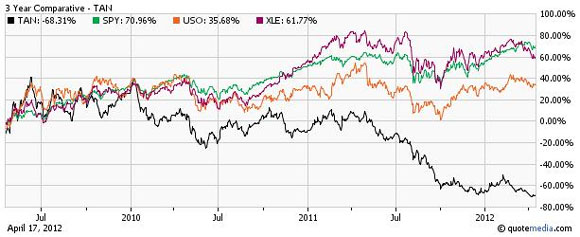 Yikes!

Even more troubling is that now investors seem much more focused on natural gas as a crude oil alternative, seemingly pushing solar power further down the road yet again despite the intense competition in the industry and the ever lower price of solar panels...

What is it going to take to turn solar around? Clearly high oil prices haven't been enough to make up for a lack of subsides in the developed world, so what will be the catalyst to finally move solar power off of its lows and back as a legitimate alternative power source?

What do you think? Does solar have further to fall or is the industry finally a value pick for investors?

Let us know in the comments below! –Eric Dutram, Zacks Investment Research