After having a strong performance the prior day, the markets experienced a broad pullback as growth data from China disappointed investors. Gold prices fell more than 1.5%, while silver dropped 3.3%.
On Friday, the National Bureau of Statistics in Beijing announced that China's economy grew at 8.1% in the first quarter of 2012, its slowest pace in about three years. Economists were expecting growth of about 8.3% and the whisper number was around 9%. In comparison, China grew at 8.9% in the previous quarter, and 11.9% in the first quarter of 2010. Song Yu, China economist at Goldman Sachs explained in the
Wall Street Journal (WSJ),
"Growth in the first two months was weak. We had some loosening of monetary and fiscal policy in March, but it wasn't enough to save the quarterly number."
Don't Miss:
The Federal Reserve Did It Again to Gold Prices
As the charts show below, gold continues to meet resistance at $1,680/ounce (oz) and declined to $1,655/oz on Friday. Meanwhile, silver has resistance at $32.50–33/oz and fell to $31.40/oz. Both precious metals have remained in a tight
trading range
as monetary easing expectations continue to fluctuate in media headlines.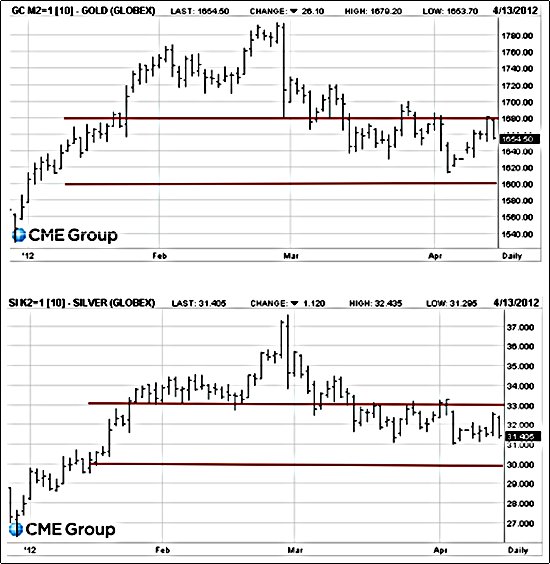 While the slowdown in China may provide more room for easing in the world's second largest economy, economists and investors appear to be torn about more monetary easing in the United States. According to a recent survey of economists by the WSJ, 36 out of 51 economists polled believed the Federal Reserve will not take further action, such as another round of quantitative easing. Growth is still providing economists with enough hope to remain optimistic. The report explained, "On average, economists estimate that gross domestic product grew a respectable, if not particularly strong, 2.2% in the first quarter. They forecast growth to accelerate throughout 2012 to a 2.7% quarter-over-quarter annualized rate by the end of the year."

However, central bank bond purchases and record low induced interest rates are the current foundation of the "recovery." Recent reports indicate that the Federal Reserve purchased 61% of the government debt issued by the U.S. Treasury Department in 2011. Since 2008, the Fed has purchased more than $2 trillion in bonds in two rounds of quantitative easing.

Despite what economists predict, investors are less confident that the Fed will restrain from further bond purchases in order to prop up the economy. According to a Citigroup survey released on Thursday, almost 45% of respondents said they did not expect the Fed to initiate more quantitative easing, down from 60% a month earlier. "The data has been a bit softer, especially the recent payrolls number," said Neela Gollapudi, a New York-based strategist at Citigroup, according to Bloomberg. "The strength of conviction that there was going to be no more QE at all would be less now than when it was in March, when everything seemed to be going very well."

Surveys continue to debate whether or not the Fed will provide additional easing, but gold and silver, the time-tested safe havens of the world, wait patiently as the inevitable devaluation of fiat currencies take place around the world.

Investor Insight: How Serious Are China and India About Their Gold?

Eric McWhinnie, Wall St. Cheat Sheet

If you would like to receive professional analysis on equity miners and other precious metal investments, we invite you to try our premium service free for 14 days.

To contact the reporter on this story: Eric McWhinnie at [email protected]