Short week and the Masters on TV equals short Week Thoughts post, with Winners and Losers charts at the end, so keep scrolling. Here goes…
Fears that the Fed may not keep the stimulus flowing, rising government borrowing costs in Spain and further signs of weak growth in Europe weighed on the market this week. But that didn't stop AAPL from closing the week at a fresh all time high. MLPs fared well Monday and Tuesday, but sold off with the market Wednesday and both the S&P 500 and MLPs finished flattish Thursday.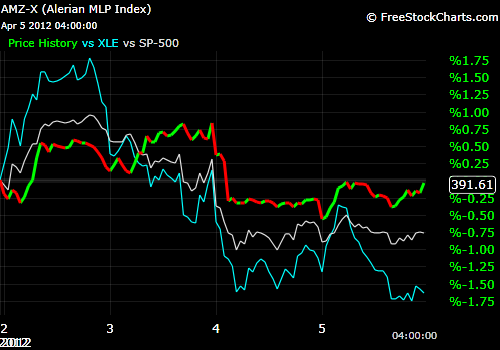 MLPs finished the week flat, while the S&P 500 finished down 0.7% and energy stocks (XLE) finished down more than 1.5%, on flat oil and weaker natural gas prices this week. S&P 500 is still way out in front of everything else, and gold is doing well despite a big drop this week.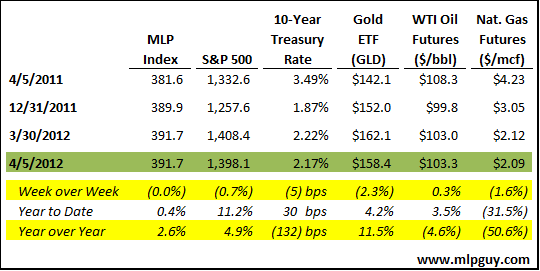 News of the (MLP) World
There were two E&P joint ventures announced this week, continuing the torrid pace of E&P acquisitions so far this year. I expect E&P MLP M&A activity to continue to be high as well-capitalized E&P MLPs will have the ability to pick up properties from struggling public corporations and private companies whose borrowing bases get reset to lower natural gas price decks, which continue to get lower as natural gas storage levels are 61% higher than their 5 year average. Speaking of E&P Acquisitions…
Linn Energy JV – LINE announced $400 million joint venture with Anadarko in Wyoming (press release) (no position)
$34 million in first 12 months EBITDA implies initial purchase multiple of 11.8x
$85 million expected EBITDA by 2016, which implies 7.1x fully baked EBITDA multiple assuming $600 million of total capital
Reserve life estimated at 28 years, with 7 percent decline curve
First 12 months production: 1,600 bbls/d
2016 expected production: 3,800 bbls/d
Thoughts: Price seems rich, but is slightly accretive near term that grows as production ramps through 2016. No equity immediately needed to fund this deal given $700mm+ equity deal in January and $1.8 billion in new debt issued for $1.2 billion Hugoton acquisition. LINE continues to extend its lead as the largest E&P MLP by far, the $1.8 billion acquired assets so far in 2012 is more than the market cap of each of the other MLPs with the exception of EVEP.
Atlas Resource Partners JV – Announced 50% JV in Mississippi Lime Play for $18 million (press release) (no position)
50% JV in 14,500 net undeveloped acres in Oklahoma
Potential for gathering & processing infrastructure opportunities for affiliate APL
Williams Partners Equity Offering – WPZ priced $545 million equity offering(press release) (no position)
Priced at 3.09% discount to last trade
Clearly anticipated by the market, which beat down WPZ's unit price from $61.06 on the day prior to announcing the $2.5 billion Caiman acquisition. So, this deal was done at a 10.7% discount to that price. I bet WPZ would have preferred that it were still 2007 so they could have done a PIPE and financed the deal prior to announcing the acquisition.
ONEOK Partners Bakken Investment Grows – OKS to spend an additional $140 to $160 million in Bakken (press release) (long OKS)
Will construct 270-mile gathering system and related infrastructure in North Dakota
Will be completed in 2H 2013
Total investment in Bakken to reach $1.5 billion to $1.8 billion between 2011 and 2014
Plains All American expects to exceed guidance (press release) (no position)
EBITDA for 1Q expected to be 15% to 20% higher than PAA's February guidance
Implies EBITDA of $470 million, compared with $400 million in guidance
Outperformance driven by "strong fundamentals, generally favorable market conditions and solid execution in all three business segments". Pretty vague, but oil differentials and storage demand probably contributed.
Sempra Energy might form MLP – SRE indicated at an analyst presentation that they are strongly considering the formation of an MLP, potentially to house its eventual LNG export terminal and its ownership stake in the Rockies Express Pipeline.
Winners and Losers
No surprises this week, coal, propane and commodity sensitive gathering and processing MLPs still struggling, with the exception of PVR, which was up 4.2%.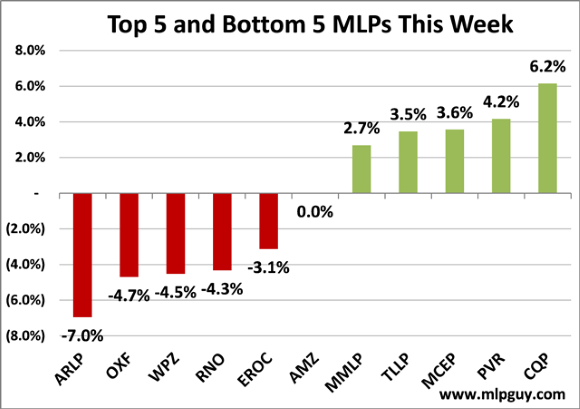 No change in the bottom 5 for the year this week, not much change at the top either.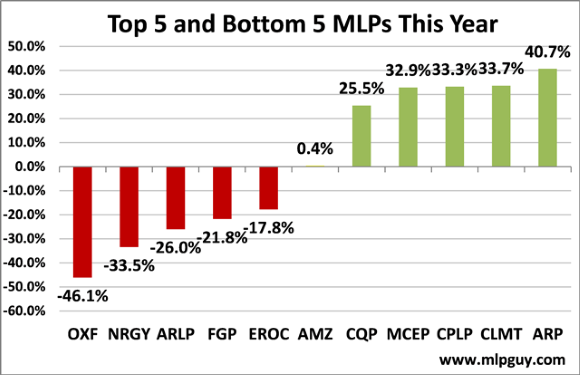 Disclosure: The information in this article is not meant to be financial advice, I am not your financial advisor and I am posting my comments for informational purposes only. Long OKS.