The gold stocks have frustrated investors for several reasons. First, the sector has had a general inability to keep pace with gold and that struggle has been particularly incensing over the last year in which gold has gained. Second, the substantial rebound in the equity market has provided no lift. We know that the gold stocks can be vulnerable when gold falls and when the stock market is plunging. Yet, the gold stocks did not respond as expected despite the reverse favorable conditions in the past year. In the words of a friend, these stocks couldn't advance if a rocket ship landed up their ass! It is time to bail, right? Wrong! Considering the extreme negative sentiment and our technical work, we believe the market made an important long-term low last week.
First, let's look at the large caps, which have really struggled over the past six months. Sure, the HUI broke to new 52-week lows but the market has been so oversold for so long that this breakdown didn't initiate downside follow through. Veteran observers of the sector know that there are numerous false breakouts and breakdowns. Over the past two weeks, the HUI has formed bullish hammers, which is a sign of a reversal. More convincing is the fact that the market bottomed at the 38% retracement. Finally, consider the 40-month moving average. It provided key support at the 2007 bottom, resistance in 2008 and early 2009 and then support in early 2010.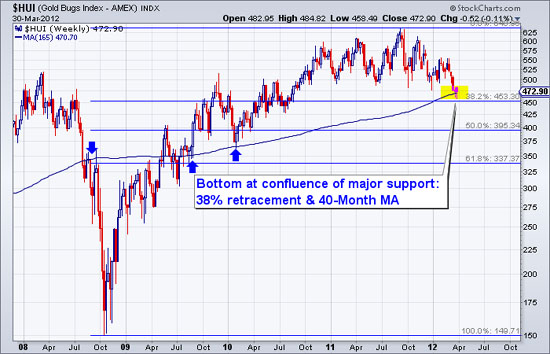 Moving along, we show a daily chart of our proprietary gold stock index, which contains the 10 largest and strongest companies. This market was able to hold its December low after a pair of retests in the last two weeks. An advance above 75 and a weekly close above 75 this week should confirm the bottom.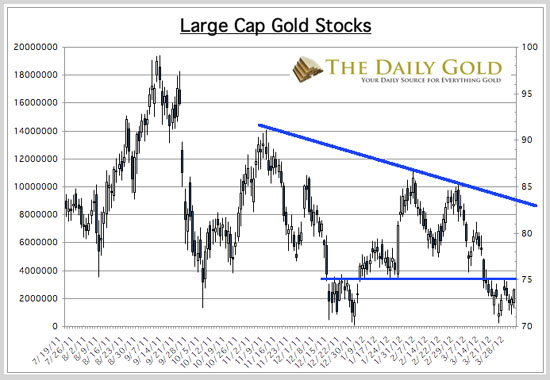 If that is not enough evidence then consider the junior market. In reality, the companies that comprise the GDXJ and ZJG.to ETFs are mid caps and small caps and not juniors. That being said, these ETFs offer us insight into another important part of the sector. The weekly chart below shows both markets potentially completing important double bottoms. More important, while the HUI (large caps) made new lows GDXJ and ZJG.to did not. That is an important positive divergence.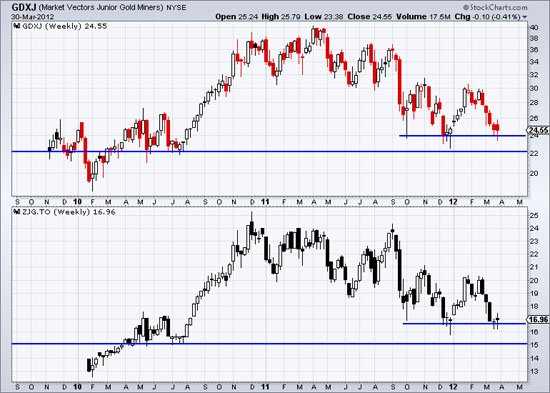 The reality is that the gold stocks have been correcting what was a substantial two-year recovery. Pull out a historical chart of this sector and you will observe that it often is either in a state of a strong impulsive advance or a consolidation that lasts months and months. Remember, the 18-month consolidation from 2004-2005? Remember the consolidation from 2006 to 2007? Apparently, most gold bugs and gold investors do not remember how accustomed this sector is to significant drawdowns and persistent range-bound activity. We admit it is difficult to keep it all in perspective.

All one can do is maintain a level head and accumulate at times like this and take profits when the market and sentiment are extended. Now we see sentiment that echoes the 2008 crash. Anecdotally, there is talk on several gold-bug forums of throwing in the towel, giving up and considering other sectors. The more extreme gold bugs are out with their "only physical" mantra, which comes precisely at the wrong time. Through careful stock selection and basic market timing, an investor can utilize the equities to far outperform. That is what we focus on in our premium service. Consider learning more.

Good Luck!
Jordan Roy-Byrne, CMT
[email protected]
The Daily Gold