The struggle of the mining stocks has surprised many including us. We thought record profits and a bullish environment would catapult the miners out of a consolidation and into a major breakout. The perception of an enduring recovery and the endurance and persistence of the wall of worry stage has left the gold stocks unloved and under-owned and for far longer than we expected. We do have to remember that the miners exploded in 2009 and 2010 and it is normal for a bull market to spend months in consolidation. As a result we hear calls of market manipulation and intervention and calls to abandon gold stocks and only own physical metal. We heard these calls in 2008-2009 and now we hear them again, which would only prove disastrous for those who heed such advice. The miners are not only extremely oversold but recent price action suggests a bottoming process is beginning.
Let us start with sentiment which is an important factor in deciphering potential bottoms.
SentimenTrader
has a new indicator based on put-call ratios, short-interest and analyst expectations which evaluates the overall sentiment of a sector. As we can see, the gold stocks are presently rated as bullish from a contrarian perspective.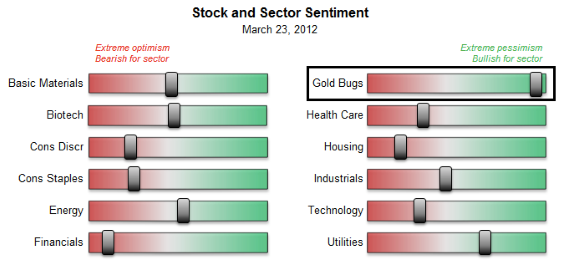 Another reason we are expecting a bottom is the relative strength in the leading miners. Gold Corp, Barrick and Newmont comprise about 42% of the HUI and GDX. Therefore, their status and performance carries much weight within these indexes. From the chart below, one can see that GDX printed new lows in October, December and again last week. While the market printed new lows, Gold Corp, Barrick and Newmont rebounded from strong support. The strong underlying support in these names bodes very well for the entire sector.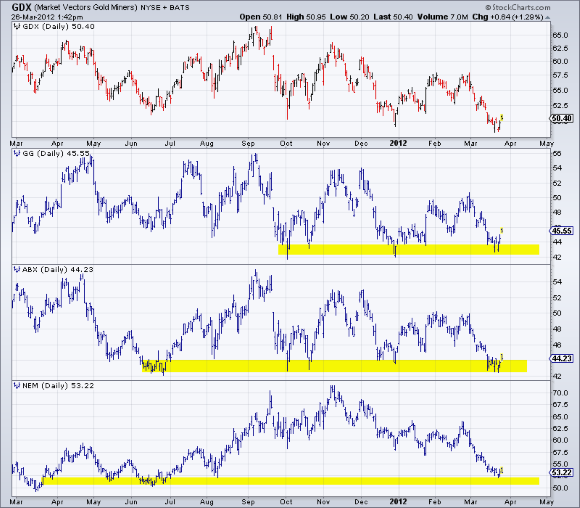 Recently, we bemoaned the poor construction and performance of the HUI and GDX which do not replace the laggard companies soon enough. Poor operational performance of some companies is a reflection of a tough business and not gold stock fundamentals. We solved this problem by creating our own large-cap index of the 10 largest and best performing gold stocks. This index helped us predict a 15% decline in the market. Days ago our index bottomed at the December low and has subsequently shown good follow through on Friday and today.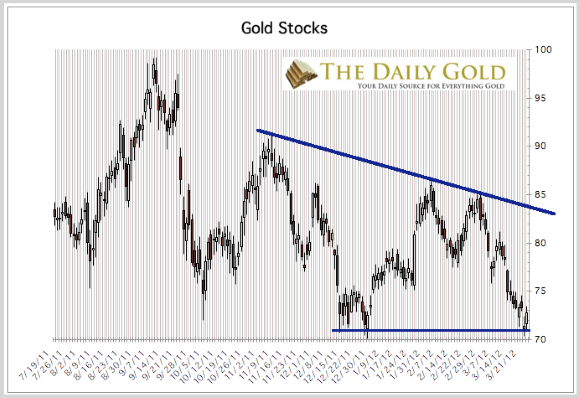 Certainly it has been a tough few months and a tough last 12 months for gold stock investors. However, the good news is two-fold. First, there are plenty of companies that have performed well and continue to perform well in this difficult environment. Second, the long-term correction and consolidation that began at the end of 2011 may be finally coming to an end. In recent months we believed a breakout was coming but instead, the market only continued to consolidate.

Our work tells us that the market has begun a bottoming process which could occur in stealth fashion and similar to what occurred in 2005. While amateur gold-bugs panic out of their positions, the real professionals are quietly accumulating the best of breed companies at a discount and accumulating select juniors at great values. The reemergence of the precious bull market will take some by surprise but not us. Consider learning more about our premium service, which provides the guidance of a professional in focusing on market timing and stock selection.

Good Luck!
Jordan Roy-Byrne, CMT
[email protected]
The Daily Gold