It's now 6 months since gold hit its current all-time high. How long 'til the next...?
THANKS TO HINDSIGHT
, the bull market in gold which followed Richard Nixon unpegging the US Dollar, and therefore the rest of the world, from its last pretence of a Gold Standard sounds as inevitable today as Jimmy Page's solo in
Stairway to Heaven
, also a 1971 classic.
But the gold price's rise from $35 per ounce to $850 in less than a decade hardly ran that smooth at the time.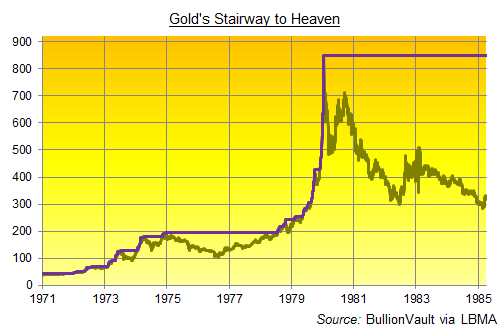 Hitting a new record high of $70 per ounce within a year of floating free from the Dollar, gold took 6 months to reach and breach that high again. The gold price then took a further six months to break the next July's top at $127...then almost 7 months to break spring 1974's high at $179.50...and then more than three years to top that winter's peak of $195.25 per ounce.

Knowing not to sell but hang tight wasn't easy. Not least because US investors had only just got in at the top. Nixon's successor as US president, Gerald Ford made buying gold legal for the first time in three decades on the last day of 1974. But planning ahead, international bullion dealers had already pushed the price to that peak of $195 per ounce just 1 day earlier. So come the middle of 1976, America's earliest buyers had lost 45% before costs.

Who could have said for sure that they would recover not only that loss, but make a further 355% gain on top, when gold finally peaked at the start of 1980 – the same year Zeppelin broke up? And who could have guessed that second peak would then prove gold's ultimate climax – way up there, as high as heaven itself – for nearly three decades, longer even than a live Jimmy Page solo?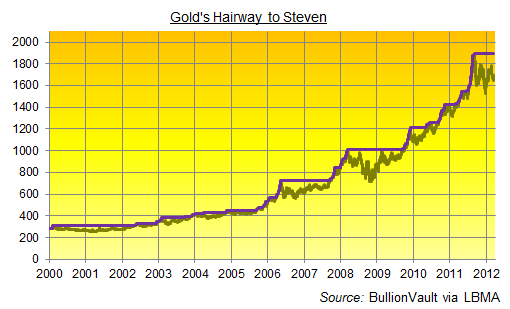 Fast forward to spring 2012, and it's now six months since gold hit what remains, for now, its latest all-time peak – a London Gold Fix on 5 Sept. 2011 of $1895 per ounce.

Just how long might gold owners wait to see it get there again? To date, the 21st century bull market has enjoyed seven breathers longer than this one so far. Ignore the first (it took the gold price very nearly back to 1999's two-decade low beneath $253), and the average wait in these extended pauses has been nearly 11 months.



As you can see, higher prices are harder work to recover. The one before this – which began the day Bear Stearns imploded – took the gold price one-third lower for US investors. Its next peak (if not its final crescendo) came 180% higher from there.

Think of it more as Hairway to Steven than Stairway to Heaven. Because like the Butthole Surfers, investors either love gold or hate it, and the vast majority don't get it at all. It makes one hell of a racket, terrifying and surprising those who dare to go near it, pounding onwards and upwards, right until the moment it falters and stops.

"Eventually, there will be a crisis of such magnitude that the political winds change direction, and become blustering gales forcing us onto the course of fiscal sustainability," says Dylan Grice, strategist at Société Générale in his new Popular Delusions report for clients.

"Until it does, the temptation to inflate will remain, as will economists with spurious mathematical rationalisations as to why such inflation will make everything OK...Until [then], the outlook will remain favorable for gold. But eventually, majority opinion will accept the painful contractionary medicine because it will have to. That will be the time to sell gold."

In the meantime, investors and savers cannot know that they are buying an uptrend instead of the top. Gold took very nearly 28 years to recover the big top of Jan. 1980 – way up there at $850 per ounce. That topped the 25-year recovery in US stocks after 1929's Great Crash. We won't know if Japan sets a new record pause with its stocks and real estate until November 2017. But the 30-year bull market in US Treasury bonds is sure to leave a heavenly high-water mark when interest rates turn upwards from today's all-time historic lows.


Please Note: This article is to inform your thinking, not lead it. Only you can decide the best place for your money, and any decision you make will put your money at risk. Information or data included here may have already been overtaken by events – and must be verified elsewhere – should you choose to act on it.

Adrian Ash
BullionVault

(c) BullionVault 2012