There were three equity deals this week, and more than $800 million (M) of equity issued to the public, not including the $450M sold by OKS directly to OKE, and not including Kayne MLP Investment Company's $236M offering. It wasn't exactly Nostradamus-like to prophesize last week that we would see a lot of equity this week, but I would like to note that
I believe I had that one
.
The equity issued, combined with mixed earnings results (mixed to say the least in the case of OXF) and falling commodity prices, led to MLP underperformance this week relative to large-cap stocks, but MLPs did fine compared with energy stocks (XLE was down 0.9% this week). For more on the performance of the sector this week, click over to
my post from Friday afternoon
.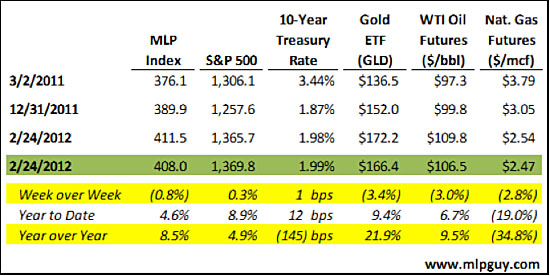 One final note on the equity deals: Re-offer discounts for overnight follow-on equity deals year-to-date have averaged 3.86%, compared with 3.49% in 2011. All three equity deals this week were priced at discounts tighter than 3.86%, and they all traded poorly in the aftermarket. The upsized OKS deal was priced at the tightest discount so far in 2012, at 3.2%.

But it wasn't just equity deals. There were two bond issues that priced and four merger and acquisition (M&A) deals announced this week. It was one of those weeks that made MLP investment bankers much happier than MLP investors.

One Last Earnings Blast

There were 15 earnings announcements this week, capping off MLP earnings season for the most part. Most of the announcements came from the small-cap crowd, and results varied (see below).
Good earnings: XTEX, CPNO, BBEP, RNO, VNR, CMLP (when combined with acquisition)


Decent earnings: EVEP, MWE (guidance lowered), DPM, WES


Weak earnings: EPB, MMLP, OXF
M&A Notes
LINE—On Monday, LINE announced the acquisition of $1.2 billion of natural gas properties in the Hugoton Basin. Current production for the properties is 37% NGLs, 63% natural gas; reserve life is 18 years (7% decline rate reported), and 730 billion cubic feet (Bcf) of reserves (81% PDP). Deal was roughly 7.5x EBITDA, and is expected to be accretive even with natural gas prices below $3.00. Rising natural gas prices would increase accretion (press release).


KMI—The judge in the KMI injunction case refuses to block the deal, despite harsh language for EP's CEO and for Goldman Sachs in his opinion (read more at NY Times Dealbook). KMI was up more than 9% this week on the combined positive news of agreeing to sell EP's E&P business to a private equity consortium last Friday and this legal news. Conversely, EPB investors had a rough week: The deal with KMI seems more likely than ever to close, and EPB had weaker than expected earnings. EPB was down 5.3% week over week.


CMLP—CMLP announced a $375M acquisition by CMLP and its parent company. CMLP will pay $135M for 35%, 20-year acreage dedication, expected to be slightly accretive to CMLP even at today's weak natural gas prices.


BWP acquired the remaining 80% interest in the Hattiesburg & Petal storage assets for $285M; BWP now owns 100%.


KMP and MMLP have announced a joint venture to develop a rail terminal to provide immediate NGL takeaway capacity from the Permian basin, first stage of the project will be operational by this May (press release).
Bonds

LINE was able to secure a big slug of debt financing this week, pricing $1.8 billion (B) of 6.25% senior notes. For whatever reason, the market seems to give LINE more access to capital than most MLPs. LINE holds the record (and the #2 spot) for the largest follow-on equity deal in MLP history. The debt issuance this week is one of the largest ever by an MLP as well. Those are the spoils of being the first and largest E&P MLP of this new generation of E&P MLPs (press release).

In a much smaller deal, Holly Energy Partners (HEP) was able to sell $300M of debt due 2020 at 6.5%. HEP's assets, refined product pipelines, have historically produced cash flow with less volatility than E&P MLPs, but scale matters when the market is doling out interest rates. Just ask EPD, the largest MLP there is, which issued debt with a 30-year maturity for less than 5% (press release).

Hosanna! A Buyer!

This weekend, while doing some of the mindless computer-based busywork you must undertake if you run your own business, I had on in the background (thanks to Netflix on my Roku box—if you don't know what a Roku box is, you're probably over 50) a PBS documentary by Ken Burns on Frank Lloyd Wright, the "greatest American architect of all time" (according to American Institute of Architects). Wright had a very long career, starting with houses in the 1890s and finishing with the Guggenheim Museum in 1959. In the middle of his career, he had gone years without being paid to design a building, and had resorted to opening a school of sorts where people would pay to apprentice with him.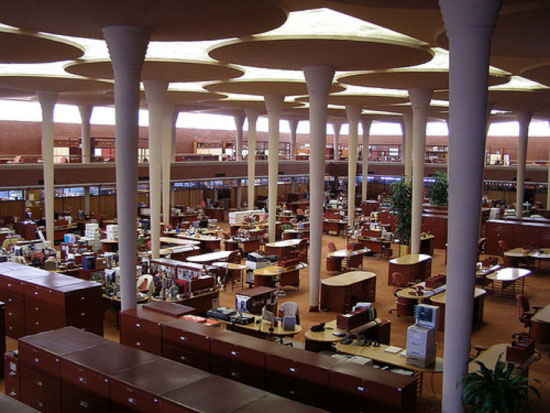 (Inside the great workroom at the Johnson Wax headquarters, designed by Frank Lloyd Wright.)

When the dry spell ended, he received a letter confirming the commission. He tacked it up on the wall and scrawled across the letter, "Hosanna! A Client!" That quote from Wright sums up how I am feeling this week, after executing the agreement to sell my house here in Boston.

Each day since the initial offer I awoke incredulous that someone was willing to pay me more than I paid for my house four years ago, and more than I will pay for a house twice its size in Austin. But with the final agreement in place and a closing date set, it seems very real. The feeling must have been something like the previous owners of Tres Palacios felt when Inergy agreed to buy them for more than 10x EBITDA in September 2010. It is only fitting in a week that saw so many MLP deals announced, that I would announce my own.

Hinds Howard, MLP HINDSight

Disclosure: The information in this article is not meant to be financial advice, I am not your financial advisor and I am posting my comments for informational purposes only.