MLPs had a quiet week, up 0.8%, the 4th straight positive week for the Index. Click here to read my post about the week's winners and losers, and how the index fared compared with a melt-up in gold and oil resulting from geopolitical tension with Iran and geo-financial exhaustion with Europe and Greece.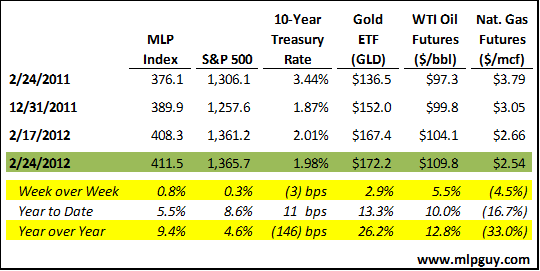 The MLP Index benefited this week from solid earnings announcements, rising oil prices and a lack of equity issuance. As a result of a sort of no-catalyst week for MLPs, the Index largely tracked the S&P 500 again this week.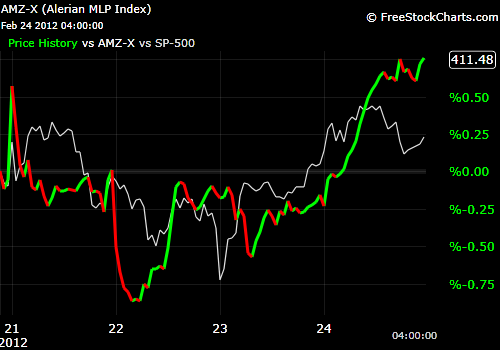 Last week's earnings were mixed depending on asset type and asset location of the announcing MLPs. A few notable names that announced last week help illustrate the point:

NGLS strong earnings

Higher than expected NGL volumes
Reiterated guidance even if ethane prices remained flat

EROC weak earnings

Weaker results than expected in E&P on weaker prices
Weaker midstream segment results resulting from lower volumes and processing margins
Solid coverage of 1.3x for the quarter

WPZ earnings

Solid quarter, EBITDA slightly higher than consensus
DCF beat street expectations as a result of lower maintenance capex
High NGL margins the driver
2012 guidance revised higher

PVR solid earnings

Weak results in coal segment (lower prices, lower volume)
Solid results in midstream segment despite lower prices
2012 guidance better than 2011 actual, but not by much

TOO earnings

Strong results in shuttle tanker segment, weaker results in other segments

APL earnings

Slightly weaker than expected results
2012 guidance seemed to disappoint

LINE earnings

Beat expectations on better than expected production for recently completed acquisitions.

This week's MLP earnings calendar is dominated by small cap MLPs. Most of the big names have announced earnings already.

MLPs with earnings this week: EVEP, GSJK, DPM, CMLP, XTEX, WES, BBEP, CHKM, OXF, CPNO, MWE, MMLP, RNO, VNR.
I'll be interested in particular to hear about natural gas drilling curtailment effects from dry gas focused MLPs like CMLP, CHKM and XTEX.
Also it will be interesting to hear from CPNO and MWE about the NGL market and their thoughts on NGL prices.
Finally, everyone will be curious to hear about the Utica from EVEP.

Not that I'm Complaining, but Where are the Equity Offerings?

For investors that are waiting for better entry prices, potentially from follow-on equity offerings that knock prices down to attractive levels, last week offered nothing, no equity offerings for the second straight week. It's fairly typical to see fewer equity offerings around earnings season. Despite not have a public offering since February 10th in the MLP space, this year has seen more equity issued year to date than at this point last year (if you don't count KMI IPO in Feb 2011), thanks to 9 follow on deals in January, including the largest one ever by LINE ($703 mm). Year to date, MLPs have issued $2.8 billion of equity compared with $1.1 billion through the same time period last year.

So, we're on an equity issuance break, which is fine with me. That will not last. Each week when there is no equity issued increases the backlog, which may lead to a massive amount of issuance in a short time period like we saw late last year.

From July to October of last year, equity issuance slowed considerably, the result of challenging equity capital markets, when volatility was peaking and MLP prices were trading lower. The opposite has been true the first 2 months of the year, we've seen benign markets and all time high valuations. So, its my bet that MLPs are gearing up to issue equity en masse as soon as possible. So, if you have cash burning a hole in your brokerage account, I expect you to have buying opportunities around equity offerings in the next few weeks.

KMI Sells EP's E&P Business, Contingent on Close of EP Acquisition

Big news came out late Friday afternoon, when El Paso announced the sale of its E&P business to a consortium of large private equity firms for $7.2 billion (press release). This is a positive for KMI, which is currently in the process of buying EP. This sale represents another step in KMI's plan to acquire EP, and the proceeds will be used to reduce the cash KMI will need to fund the acquisition of EP. The $7.2 billion is in line with expectations of value that I heard / read. KMI seemed to react positively in advance late Friday, and perhaps the reaction next week will be muted as a result.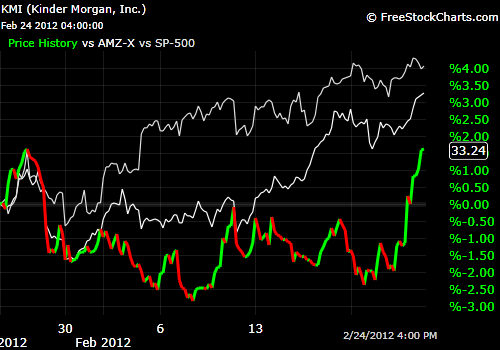 Other News of Note:

APL Added to Swank Index – Swank Capital announced that Atlas Pipeline Partners (APL) would be replacing Inergy (NRGY) in its Cushing MLP High Income Index, a response to the announcement by Inergy of its intention to reevaluate (cut) its quarterly distribution next quarter. The change will be effective after the close of trading Wednesday, Feb. 29th.

EXLP Announces $184 mm Drop-Down – EXLP to acquire compression (contracts and compressor units for 40 customers) and processing assets (a 10 mmcf/d processing plant in the northeastern U.S.) from parent company Exterran Holdings for approximately $184 million.

ARLP Acquisition – Alliance Resource Partners (ARLP) announced the acquisition of the coal assets of Green River Collieries, LLC (Green River), located in Western Kentucky. The transaction includes approximately 40.0 million tons of coal reserves, currently producing approximately 2.1 million tons of coal per year.

VNR Exits A-Basin – Vanguard Natural Resources, LLC (VNR) announced the company would be exiting its non-operated (and non-strategic) position in the Appalachian Basin, in exchange for retiring 1.9 million common units previously held by the Nami Group, a founding partner of Vanguard. 1.9 mm units is equivalent to approximately $52.8 million in VNR units at today's prices.

Hinds Howard, MLP HINDSight