On the back of rising commodity prices, a reprieve from equity offerings, and benign broader stock markets, MLPs had a very good week, up 2.7% compared with the S&P 500, which was up 1.4%. This represented the biggest one-week price change for MLPs so far this year, which isnít saying much given that we just finished the seventh trading week of the year. The MLP index is at fresh all-time highs, adding to the numbers I listed in
my column
on the subject of all-time highs earlier this week. MLP GP holding companies had an even better week, led by NSH (up 9.5%) and ETE (up 4.9%).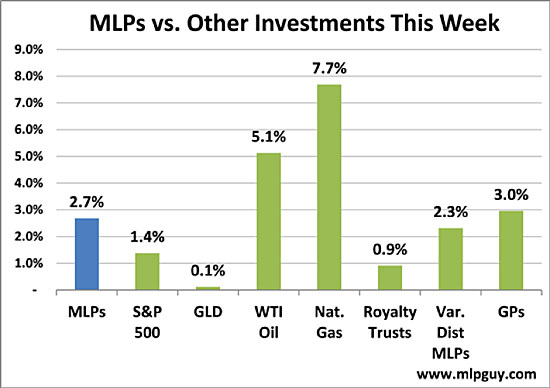 For the week, 57 out of the 70 MLPs I track had positive weeks. The biggest winner this week was Holly Energy Partners (HEP), driven higher by surprisingly solid results (especially volumes in its third-party refined products pipeline segment) and visibility into more drop-down acquisitions. Other winners included a rare positive week for propane MLPs, with two in the top five (Suburban and Amerigas). Coal companies dominated the short list of losers this week, with Oxford Resource Partners dropping more than 10.8% to lead the losers.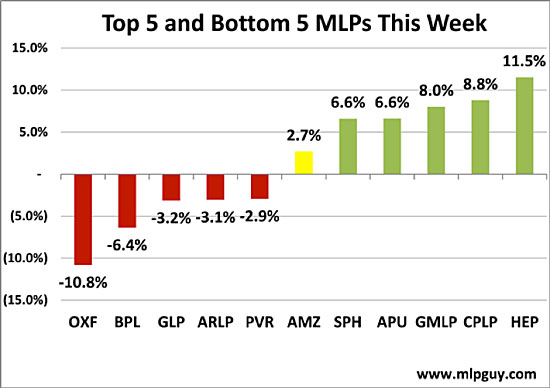 Buckeye (BPL) was another notable loser this week, falling 6.4% this week, following last weekís $250 million (M) PIPE equity offering, which was priced at an 8% discount to the prior close. Read more about BPL at the Wall Street Journalís Deal Journal Blog, which highlights how BPL is responding to S&Pís negative outlook by making more acquisitions. BPL hopes that funding its latest deal with equity will help its case.

Year to Date

Even with the strong week, MLPs (up 4.7%) continue to lag other risk assets, but are in very good shape with distribution season complete and earnings season almost over.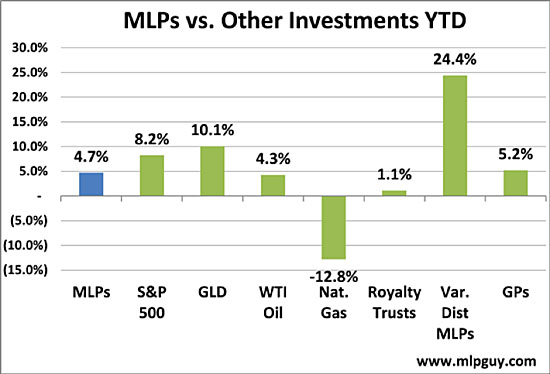 In terms of individual MLPs, small caps continue to lead the way. HEP and EXLP joined the top five, replacing AMID and CQP. The composition of the bottom five is almost the same as last week, with just one change: EROC has been replaced by BPL. Variable distribution MLP Rentech Nitrogen (RNF) had another strong week (up 5.4%) and continues to lead the industry overall with a 55% increase year to date.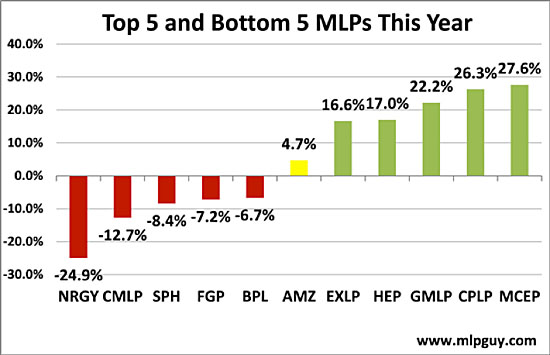 MLPs appear to have caught a bid here relative to the market, and with the earnings season almost finished, catalysts going forward will be on commodity price changes (particularly NGLs, which have declined substantially year-to-date), equity offerings and the broader marketís swings. MLPs are well positioned to continue to perform well, but the action in MLPs this year is very similar to that of last year, which saw an intra-year 20% correction, so be on the look out for signs of another correction.

Other News of Note

Same Story, Different Quarter for ETP

ETP reported results this week, including adjusted EBITDA of $479M, slightly less than consensus expectations. ETP continues to struggle to drive earnings from its volume-challenged intrastate and interstate pipeline system. Intrastate volumes were down 0.4% year over the year and interstate volumes were down 2.7%. ETPís propane operations, not surprisingly, did not perform well either, as warmer weather and high wholesale propane costs cut into volume and margins.

While those negative trends continue, ETP was propped up this quarter by excellent midstream and NGL segment growth and margins. ETP continues to focus new capital expenditures on processing and NGL-focused assets in Texas, and is securing those projects with fee-based contracts where it can. ETPís Lone Star junior venture will construct its second NGL fractionator at Mont Belvieu with 100,000 barrels per day (Mb/d) of capacity, estimated to cost $350M and be in service in the first quarter of 2014 (press release). ETP is also planning to expand its Rich Eagle Ford Mainline pipeline and build another processing facility in the South Texas.

With NGL economics propping up declining margins on other segment, ETP should be able to muddle through until it can restart growth with drop downs from the Southern Union merger. I expect distribution growth to restart as soon as the next distribution, after 14 consecutive flat quarterly distribution payments. The situation is improving for ETP unit holders, but the real beneficiary going forward when ETP issues the massive amount of equity it will need to complete the drop-downs will be ETE (we are long ETE).

New Atlas MLP Gets Approval for Spin-Off

Atlas Energy, L.P. (ATLS) announced formal approval for distribution of Atlas Resource Partners, L.P. (will trade on the NYSE under ticker ARP). See all the details (press release) or read the full registration form 10 here, but the idea is that ATLS will distribute 5.24M units (19.6% of the L.P. units of ARP) on a pro rata basis to its current unit holders, creating a separate public company that will start trading on March 14. ARP will have incentive distribution rights with a maximum tier of 50% (high for an E&P MLP). ARP will have 187 billion cubic feet equivalent of net reserves that includes working interests and overriding royalty interests in wells in the Appalachian Basin, Illinois Basin and Rocky Mountain region.

ATLS is very experienced in creating webs of publicly traded companies with confusing org charts. ATLS used to be the ticker symbol for Atlas Energy, Inc. (before that it was called Atlas America, Inc.), the parent company of Atlas Energy, L.P., which trades under the ticker symbol ATLS today. The current ATLS owns the general partner of Atlas Pipeline Partners (APL), and the prior ATLS at one time had an E&P MLP called Atlas Energy Resources, LLC that traded under the symbol ATN, that went public in 2006, before it merged with its parent ATLS in 2009.

Hinds Howard, MLP HINDSight

Disclosure: The information in this article is not meant to be financial advice, we are not your financial advisor and I am posting my comments for informational purposes only.