We are always paid for our suspicion by finding what we suspect.
- Henry David Thoreau
If I believe everything I read in my e-mails, gold is having a very difficult time of late. This comes after it expectations grew as a result of the surge in price from 1,523.90 to 1,765.90 in a manner that could best be described as non-stop. Nothing brings out greed in an individual like a $240.00 jump in the price of gold. He or she immediate begins to calculate the obscene amounts of money they are going to make, forgetting that it's not a real profit until it's taken.
Despair and fear are the other side of the coin and it is always close to the skin with the average gold bug.
I suppose this is due in part to the fact that gold is heavily manipulated and the average gold bug knows this and feels powerless to do something about it. In a normal world you would go to the authorities and file a complaint, and assuming you were justified, you would receive satisfaction.
In the world we live in the people violating the law are the ones who have sworn to uphold the law.
That's a tough row to hoe.
Here is a picture of what happened to gold at 9:30 am, and it's the same thing that happened yesterday morning, and the morning before that, and the morning before that: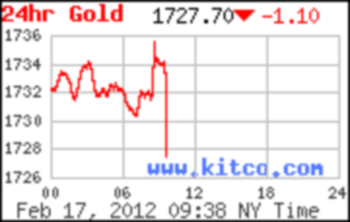 Spot gold was trading at 1,735.00 and then a few minutes later it was at 1,723.00. Meanwhile stock and commodities were higher and the dollar was down. There was no reason what so ever for the decline other than someone wanted to push it down. We've see this time and again over the last two weeks and it does get tiresome.

I want to be honest and say that manipulation of the gold price is nothing new to me. I became aware way back in 2002 so I accept it as part of the game. I am smart enough to know, at least I think I am, that suppression of the gold price is a short-term detriment but it cannot in any way alter the primary trend of the gold bull market. Gold has been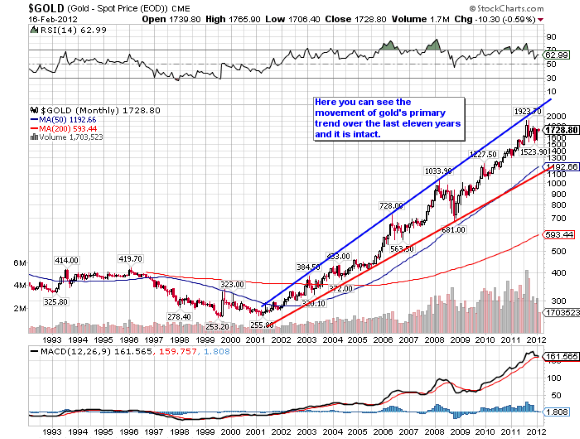 in a bull market since 2001 as you can see in this historical chart. The Fed and the bullion banks have intervened to beat the band and yet the primary trend moves higher and I'm here to tell you that it will stay that way for years to come.
As some of you know by now bull markets run in three phases. The first phase sees the so called smart money take a position, the second phase sees the institutions jump in, and the third phase is where the general public piles on and drives the price higher than most though possible. This is what happened with the NASDAQ from 1997 to 1999. Right now gold is making the transition from the second phase to the third phase and almost no one has caught on to this. Regardless of the phase we are in the primary trend remains pointed upward and any variations come within the secondary trend. Here you can see the last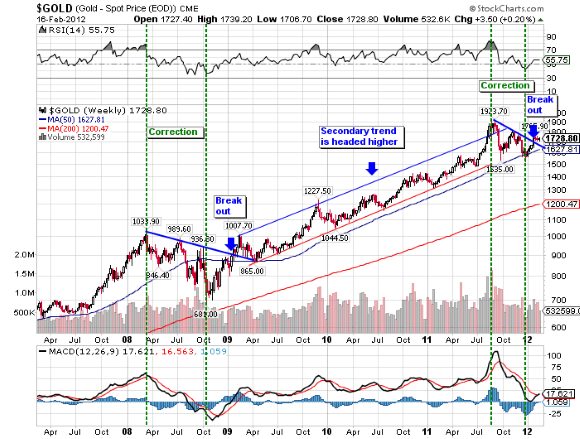 three shifts in the secondary trend, two corrections and a move higher sandwiched in between, and I also highlighted the most recent break out to the upside. I am convinced this break out is the beginning of the long awaited third phase of the gold bull market.

Now I want to take a close look at the most recent action, the last run higher and the short decline that followed, as it has everyone sitting on pins and needles: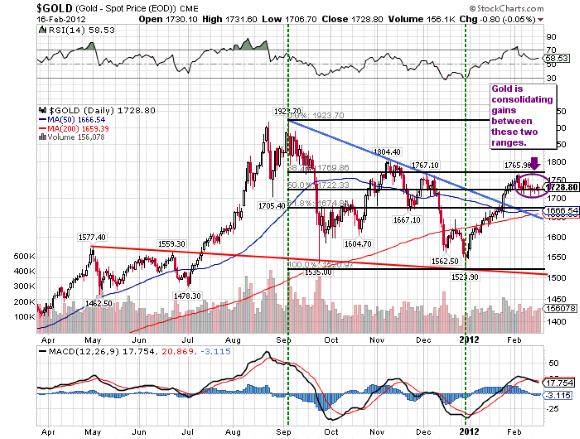 Here you see the last 19.7% correction in its entirety, the bounce off of strong support at 1,522.10, and the subsequent move back up to the 1,769.80 area of resistance. This is resistance because it represents a 61.8% retracement of the previous decline. Now let's break it down even more and look at just the last ten days: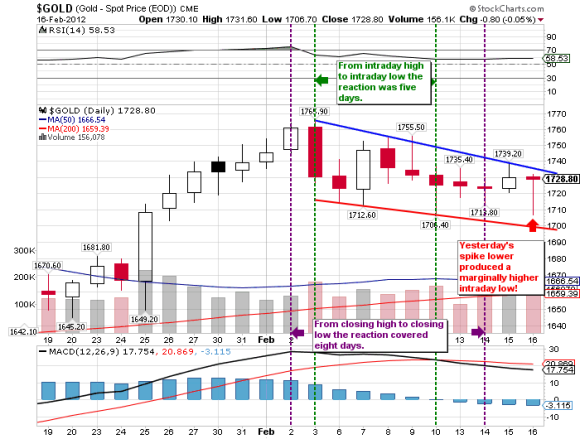 Using intraday high to intraday low gold fell from 1,765.90 on February 3rd to 1,706.40 on February 10th for a loss of 59.50, and that is a 3.3% decline over five sessions. If I measure the fall from the closing high of 1,761.00 on February 2nd to the closing low of 1,723.30 on February 14th, we have a loss of 37.30 or 2.1%. So here we are! We've seen gold's price decline by 2.1% to 3.3%, depending on how you measure it, and that has the gold bugs ready to throw in the towel.

I obviously have a different perspective with respect to what is going on. Gold rallied from the December 29th intraday low of 1,523.90 almost non-stop to February 3rd high of 1,765.90, and now we are consolidating gains. I think we are lucky that the decline has been as shallow as it's been. After rallying 242.00 the yellow metal gave up 59.50, or 24.5%, over five days and to me that smacks of strength! As long as gold suffers no more than a marginal close below good support at 1,722.30 it will remain that way. If it does close below 1,722.30 the absolute worst thing that could happen is that gold falls down to 1,667.00 although it would have to break down through good support at 1,708.00 in order to do that, and that latter number has stopped all intraday declines for the last two weeks.

In conclusion I remain convinced that gold is experiencing a seven to nine day reaction that ended on the 14th, or it will end today with a marginally lower close at or around 1,722.30. Yesterday's intraday low on a downward spike was marginally higher than last week's intraday low and that is never an accident! Both gold and silver continue to find buyers on each and every dip and that tells me that someone out there with deep pockets is convinced it's going higher. Yes, someone is capping gold but this is a bull market with both the primary and secondary trends headed higher. Under such conditions you stay long and buy dips where liquidity allows you the luxury of doing so. That's why I recommended that you buy at 1,708.00 last week. Gold is going higher regardless of intervention, so just sit tight and stop and smell the roses once in a while.

Disclaimer: All the reports and content in the entire Unpunctured Cycle web site (including this report) are for educational purposes only and do not constitute trading advice nor an invitation to buy or sell securities. The views are the personal views of the author. What's more the author may already hold a position or positions discussed in this article. Before acting on any of the ideas expressed, the reader should seek professional advice to determine the suitability in view of his or her personal circumstances. All material in this article is the property of Unpunctured Cycle.

Giuseppe L. Borrelli
www.unpuncturedcycle.com