MLPs had a slightly positive week, compared with a slightly negative week for stocks and gold, and a mixed week for oil and natural gas. There was more Greek "news" that I tuned out for the most part, but there was not much other news this week.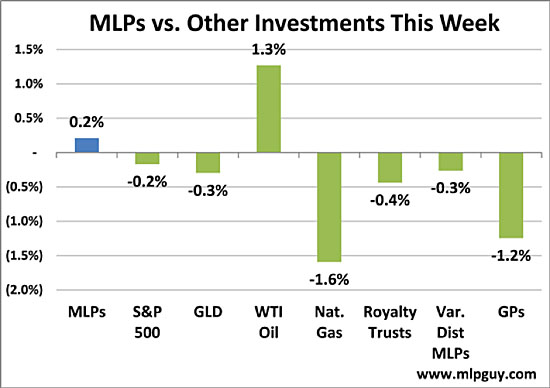 MLPs had a boring week as well. There were some positive project announcements out of PAA, BPL, CPNO, and BWP. EPD issued $750 million (M) in notes due in 30 years at a 4.85% fixed interest rate, lowering its already industry leading cost of capital. A judge in Delaware made headlines and interesting quotes in delaying his decision on the proposed temporary injunction filed by El Paso shareholders in the acquisition by Kinder Morgan, Inc. EV Energy Partners issued an upsized equity deal that was gobbled up by the market, and traded well in the aftermarket.

In the absence of a catalyst, correlation crept back into the market this week. The MLP Index tracked the S&P 500 closely, and finished about where it started the week.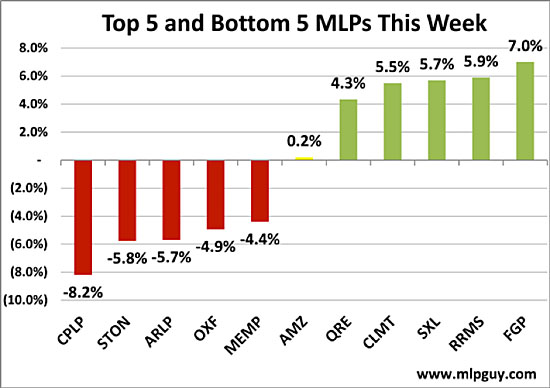 In looking at the winners and losers on the week, CLMT and FGP went from bottom five last week to top five this week, and SXL recovered after selling off in January. Another crude player, RRMS was also in the top 5. MEMP, which is an upstream MLP with 98% of production from natural gas, sold off hard this week, as there is a growing disparity among upstream MLPs that either have or donít have natural gas exposure. Also, coal MLPs had a rough week, which landed OXF and ARLP in the bottom 5.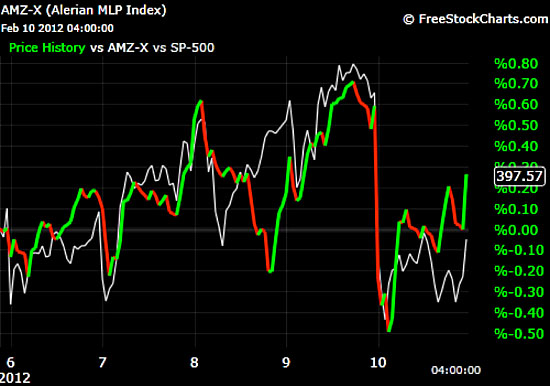 Year to date, MLPs are trailing the S&P 500 by a lot early on. But the comparison below doesnít include distributions, which narrow the gap on a total return basis. This year, I am not alone in thinking the MLP index might fail to outperform the broader market, but I expect the winners in the sector to do very well.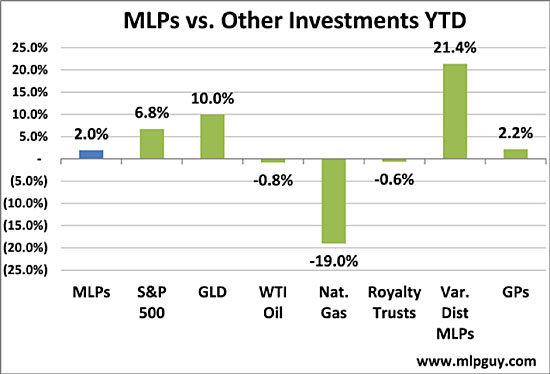 MCEP, which is an upstream MLP that gets almost all of its production from oil, jumped to the top after back to back strong weeks on the back of oil strength and I guess continued discovery of this MLP that just went public in December. Propane MLPs have staked out the bottom 5, and I expect them to stay there for the rest of the year, barring some massive recovery in propane fundamentals or some MLPs in other subsectors blowing up in some way.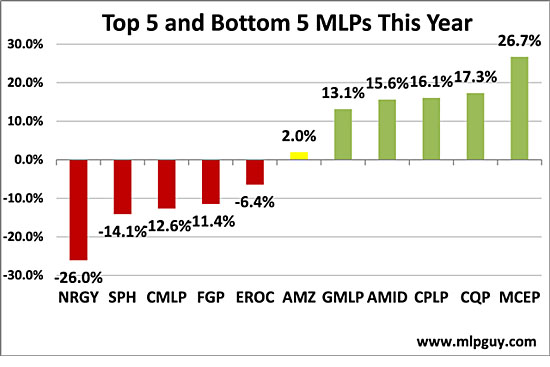 Anyway, thatís my snap take on the week that was in the MLP space. Weíll take boring weeks, with incremental positive organic growth project announcements and just one equity deal. Who knows what will happen next week. Maybe there will be more fireworks as natural gas edges closer to sub-$2.00, and we get closer to seeing dry gas c-corps running out of capital. Maybe there will be a big fracking legislation scare. Maybe weíll have $1 billion of equity issued. Maybe. . .maybe not.

For now, Iím going to go out and enjoy the mid-50s weather in Boston in early February.

Hinds Howard, MLP HINDSight