Commentary
Currently gold is trading off events created by the ongoing Greece financial drama. Behind the scenes thereís the possibility of quantitative easing programs coming back into play, not only here in the U.S., but abroad as well. England may announce one as soon as tomorrow.
Greece is "the" event of the moment. It has captured financial world's full attention. The rumor mill has been and continues to run rampant about possibilities concerning the impact of a Greek default or. . .a Greek bailout. Few want to see Greece default. Recent "rumors" are encouraging, as the European Central Bank (ECB) is rumored to have reached a decision to swap bonds from the European Financial Stability Fund for Greek bonds. The difference between the face value and value paid for the new bonds could potentially reduce Greek debt by much as Ä12 billion (B) overnight. However, none of this works if Greece doesn't do a lot more to shrink its spending.
Gold has benefited as Federal Reserve chairman Ben Bernanke continues to push Congress to make a decision on Bush tax cuts and while keeping alive the hope that a QE3 might still be needed. Chairman Bernanke's statements that interest rates are going to stay low, near zero into 2014 has succeeded in forcing investors to look beyond government debt to get higher returns. Need proof? Look at what stock indices have been doing.
The Bank of England meets tomorrow and is rumored to be considering bringing up the idea of another round of quantitative easing to spur its economy on.
Gold has moved up sharply since the first of the year. In the April contract the $1,750/ounce (oz) area is offering price resistance, but given that prices as recently as Dec. 29, 2011 were trading near $1,526/oz, the move up has been dramatic. Given that the rally began during the Christmas holiday, it probably took place with a lot of traders left standing at the "train station." The good news is that trains run on schedules and there's always another one coming down the track.
This week to date has witnessed the loss of upside momentum in gold. The trend has not confirmed it has turned down, but the price pattern has clearly changed. For the first time in nearly seven weeks the pattern has changed from one of higher highs and higher lows to that of a higher high and fresh lower low.
Daily Gold Chart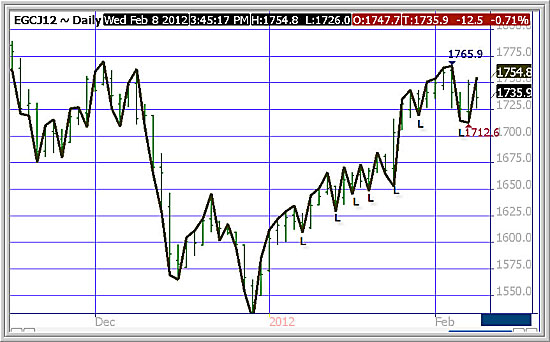 What do you see of interest on the above chart? My hope is that you see the change in the pattern of higher lows. . .itís been broken. Iíve labeled each low with an L for you. As you can see, the most recent low of $1,712.60/oz, labeled in red, is a lower low.

What is going to be very important now is where the current high ends up. If prices donít first take out $1,765.90/oz, but take out $1,712.60/oz, a short-term downtrend pattern will be in place.

Seasonal Charts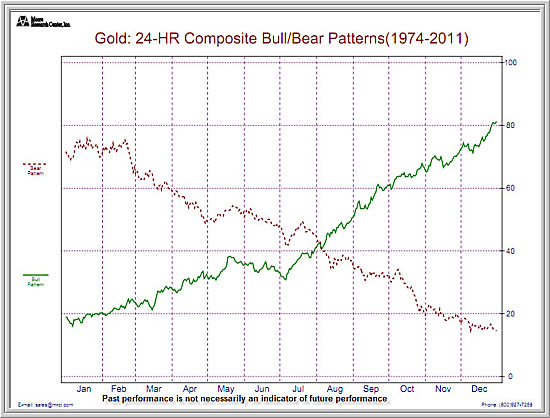 The above chart is produced with permission of the Moore Research Center, Inc.

Itís pretty clear by looking at this chart that gold is following its historical bull pattern. Since Dec. 29, 2011, gold has rallied approximately $225/oz, which certainly qualifies this statement.

Summary

In trying to figure what's next for gold, it's important to understand that going forward, there are going to be different events impacting different timeframes in gold. I don't know all the events coming down the road, but do know that Greece and a few other issues are events now in play.

The event most impacting gold right at this time is Greece. In a nutshell, it's all about whether or not Greece gets bailed out. The offer to bailout Greece has been on the table for months and Greece hasnít accepted the terms or met the conditions of the offer. As I see it, the main points are:

Whether Greece can come to terms with its creditors in order to proceed with a voluntary default of outstanding debt


Whether Greece can convince the majority of its lenders to accept the terms of a debt write-down


Whether Greece implements in a speedy manner the austerity measures that are conditional for a financial bailout


Whether or not Greece's parliament will pass vote on very unpopular austerity measures


Whether or not Greece can put in place guarantees to troika members to assure lenders that both the current and any future Greek government that comes into power doesn't renege on the debt swap and continue with the austerity measures agreed to until the Greek budget comes into balance
Assuming all these things gets done, and done soon as a default looms if payments on debt aren't paid by March 20, than gold will probably get another boost.

Down the road, if Europe follows the U.S. model, there will be further bailouts where needed and the ECB will have to eventually embark on a plan to lower the value of the euro currency, just as the Fed has done to the dollar.

A higher dollar is not often friendly to gold, since other assets pay dividends where gold doesn't. At some point if investors felt interest rates were going higher, they'd most likely move funds to those asset classes.

The current Daily Chart pattern is no longer clear-cut, and that is bothersome to me. A correction is ok as long as gold prices don't close under the 18-day moving average of closes. If it does and the Swingline Study stays in a pattern of lower lows and lower highs, a larger downside could easily develop.

In my Twice Daily Updates, available through subscription, you can keep up with my thinking and specific entry, stop and profit objectives.

By clicking here you will be taken to my subscription page or you can go to www.iraepstein.com and look on the left hand side of the page for the "Oral and Written Subscription" link.

Gold's 10-Oz Gold Contract

Gold trades in 100 oz, 33 oz and 10 oz contracts. The margins for each are based on what the 100 oz contract is set at. Margins can and do change so we keep our website updated as best we can. You can click here to see what current metal margins are.

As gold increases in price, so does its margin. Higher margins often give cause to trade in a smaller-size contact.

For those who want to trade a smaller-size contract to trade or build positions with, this one may fit the bill. Margins are 1/10th the size of a full-size contract.

I intend on using this contract in my trade recommendations, after it builds more of a following.

If youíd like more information about trading gold, simply call us at (877) 973-2077. The key to keeping up with my trade recommendations is through my Twice Daily Written and Oral Updates. That is where I put out specific trade recommendations covering all the markets I cover with twice daily updates to them. I rarely put out specific recommendation in this gold report since itís easier to use my Twice Daily Updates than this report, which is limited to but once a week.

We provide both client and non-client subscriptions. You can read more about what the subscription offers by clicking here.

Ira Epstein, The Linn Group

Disclaimer: This publication is strictly the opinion of its writer and is intended solely for informative purposes and is not to be construed, under any circumstances, by implication or otherwise, as an offer to sell or a solicitation to buy or trade in any commodities or securities herein named. Information is taken from sources believed to be reliable, but is in no way guaranteed. Chart data is courtesy of LGP-IraCharts. No guarantee of any kind is implied or possible where projections of future conditions are attempted. Futures and Options on Futures trading involve risk. In no event should the content of this market letter be construed as an express or implied promise, guarantee or implication by or from The Ira Epstein Division of The Linn Group, Inc. or The Linn Group, Inc. that you will profit or that losses can or will be limited in any manner whatsoever. No such promises, guarantees or implications are given. Past results are not indicative of future performance.