China has been hungry to power its country for more than 1.3 billion (B) residents, and takeouts of commodity-related companies is one way to fill its tall energy order.
We told you about one
merger and acquisition (M&A) deal out of China. Last year, Sinopec acquired Canadian energy company Daylight Energy for $2.1B in cash, a whopping 120% premium to Daylight's share price prior to the announcement. With this purchase, Sinopec gains access to more than 300,000 acres rich with oil and natural gas.
It's no secret that China
has been increasingly relying on imports
of crude oil, natural gas and coal, but the country has been actively seeking other means to acquire these commodities. A growing grab for global resources has encouraged "Chinese domestic entities to acquire overseas resource assets, especially in geopolitically more stable regions," says BCA Research.
This Chinese takeout development has been on the rise over the past decade, according to BCA. The number of overseas acquisitions—most of which have been in commodity-related sectors—has climbed from only a few in 2000 to more than 300 in 2011. Total deal value per year has also grown substantially, from about $1B in 2000 to almost $60B last year.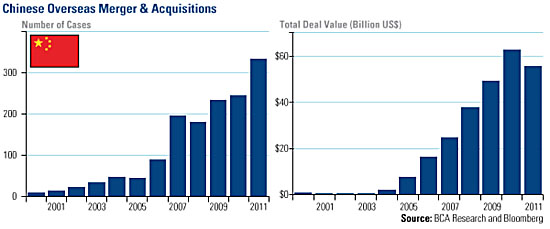 Years ago, China did not have a global footprint, but over the last few decades the country has transformed itself into a dynamic global power. It boasts the largest automobile market and the largest consumer of steel, copper, mobile phones and energy. It has built 18,000 miles of high-speed rail connecting 250 cities, with 5,500 skyscrapers in those cities. This tremendous infrastructure growth has amplified and globalized M&A activity, which has a positive effect on commodity-related stocks.

For commodity equity investors, BCA says to "expect Chinese firms to play an increasingly important role in global capital markets," as the Asian giant looks for cost-effective ways to power buildings, fuel vehicles and keep lights burning.

Frank Holmes, US Global Investors