Men are created different; they lose their social freedom and their individual autonomy in seeking to become like each other.
—
David Riesman
Yesterday was the big day, as the Fed made pronouncements over the health and direction of the U.S. economy. The Federal Open Market Committee (FOMC) said Wednesday that the long-term inflation goal is 2%, as measured by the annual change in the price index for personal consumption expenditures. That's the most explicit the Fed has been in terms of setting an inflation target.
Eleven of the 17 Federal Open Market Committee participants believe a rate hike would not be appropriate before 2014, according to the first-ever rate forecasts published Wednesday.
Three members want the first hike by this year, three want them in 2013, five want them in 2014, four more in 2015, and two in 2016. The Fed also forecasts GDP growth between 2.2% and 2.7% this year, an unemployment rate between 8.2% and 8.5% and PCE inflation between 1.4% and 1.8%; the growth forecast is down from November levels, as are the jobless and inflation views. The Fed sees longer-term rates reaching between 4% and 4.5%.
That's what they said, along with some words to the effect that the economy continues to show slow improvement. Then, of course, we have the Bloomberg crowd, whom this morning spin the Fed comments to mean that the U.S. is the
"only economic bright spot in the world".
I damn near fell off my chair when I heard that! Let's think about what the Fed said yesterday in the context of what they've done since the credit crisis began and what they'll do until at least the year 2014. The Fed began with QE1 in March 2009 and since then they've injected more than US$4.5 trillion (T) while holding interest rates at historic lows. Debt has risen from US$10T to US$15T over that same time period. Meanwhile, growth has fallen from 3.5% to 2%, and we'll be lucky to see that, while unemployment has risen from 7.2% to 8.6%. Now they are saying that they will have to maintain rates at near zero into 2014 and they imply that there will be more QEs to follow.
I look at all they've done and all that they're going to do and I have to ask myself what do they have to show for it? The answer is "not much," and now I have to ask myself what are the chances that they'll do considerable damage to the economy from here on out? The only answer I come up with is
considerable!
The first casualty will be the U.S. dollar and we saw a clear sign of the damage to be done yesterday once the announcement was made: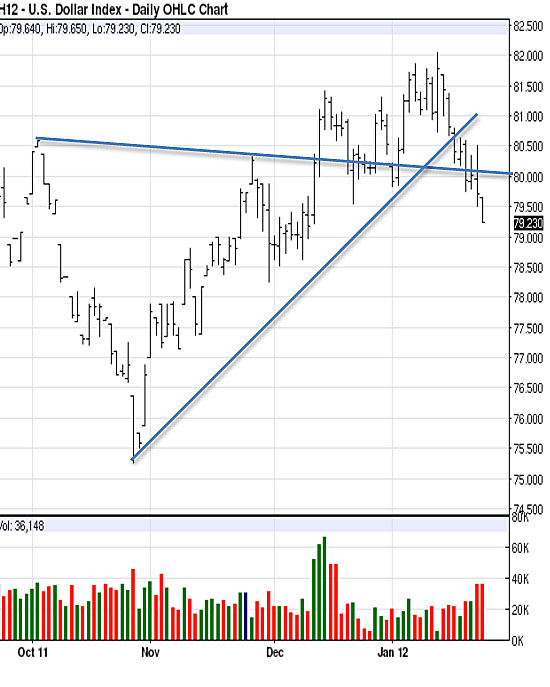 The March U.S. Dollar futures contract was higher before the announcement and had in fact made a higher high, but then reversed to close well below the previous day's intraday low. That's a downside reversal, and as if that wasn't bad enough, the dollar is down another .36 this morning at 79.35 and that is below what was strong Fibonacci support at 79.45.



No matter how you measure it, the U.S. dollar has now broken down and I am convinced that the top is in and now it will grind lower, slowly at first but eventually it will become violent. The violence will come about once all the Middle Eastern nations start trading oil in anything but dollars, and that day is close at hand. The fact that India is now paying for Iranian oil in gold tells you just how far countries will go to avoid the greenback! That brings me to the next topic of conversation, the real beneficiary from the Fed's pronouncements, and that is gold.

The February gold futures contract was selling off early yesterday morning, enough to trade below the previous day's intraday low, but then surged on the news to close well above the previous day's intraday high. This, of course, is a bullish upside reversal! It ended yesterday's session closing up $35.60 at $1,700.10/ounce (oz) and has clearly broken out to the upside as you can see here: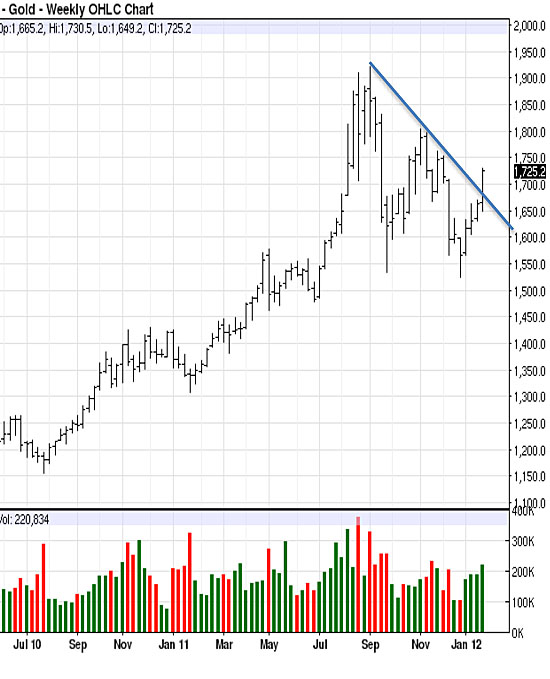 This morning we are seeing even more follow-through as the February gold is up another $25.10 at $1,725.20/oz. There is now no doubt whatsoever that gold (and silver) has bottomed and it will now work its way higher. With respect to silver, we can see that it continues to trail gold as it has yet to break out to the upside, but it is close: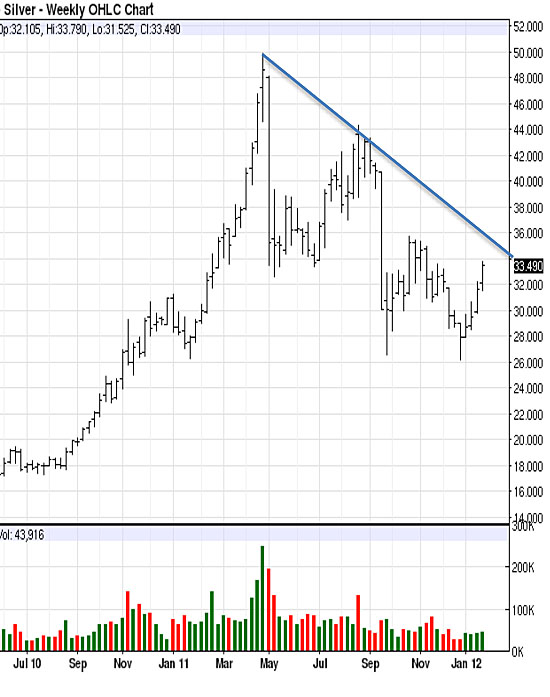 Knowing that the bottom is in allows us to accumulate gold and silver secure in the knowledge that over time they're headed higher. Those who had the courage to buy the test of strong support at $1,522.10/oz in December are now being rewarded.

The question now is where are gold and silver headed to from here? A short-term answer (weeks/months) can be found by looking at the Point & Figure chart for gold: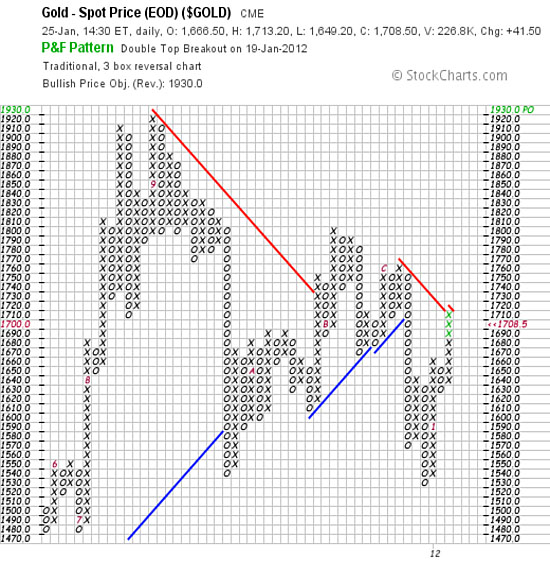 and you can see a bullish price target of $1,930.00/oz. I am of the opinion that we'll realize that price target by mid-May and with no more than a 5 to 7% correction along the way. Unfortunately, there is a lot more going on than that and to view gold as simply a run up to $1,930.00/oz is to miss the big picture completely.

When gold bottomed at $1,523.90/oz on December 29, 2011, it marked the beginning of the third phase in a bull market that began way back in 2001 with a retest of the 1999 bottom. This third phase will be marked by the entrance of the general public into the gold market. The only thing I can liken it to is the public entering the NASDAQ craze and driving it from 1,492 in 1998 to 5,048 two years later. The general public right now has little or no knowledge that gold exists, but they will become aware and it won't take as long as most think. I have a price target of $4,500.00/oz and I am convinced that we'll reach that target by mid-2014. Of course there will be reactions along the way but they will be shallow (10% to 12%) compared to previous reaction (17.5% to 25%) and shorter in time. By comparison, silver will see a minimum of $165.00/oz and could go much higher, and will more than likely be a bit more volatile.

Right now no one owns gold outside of institutions and the so-called "smart money" that filled out their positions years ago. That means the potential for much higher prices is tremendous. Those that haven't purchased, or added on to existing positions, should purchase now even though gold is closing in on overbought territory. Gold is nowhere near the extremely overbought levels we saw in August and we've seen that things can stay overbought for weeks at a time. Finally, the positions that you have now, or are about to accumulate, should be held until the bull runs its course. There should be no attempt to sell tops and then buy bottoms. If you get the occasional correction, simply add on! People are still fearful of gold and it will take time to move from fear to greed so I would just sit tight and enjoy the ride.

Giuseppe L. Borrelli, www.unpuncturedcycle.com

[email protected]

Disclaimer: All the reports and content in the entire Unpunctured Cycle website (including this report) are for educational purposes only and do not constitute trading advice nor an invitation to buy or sell securities. The views are the personal views of the author. What's more, the author may already hold a position or positions discussed in this article. Before acting on any of the ideas expressed, the reader should seek professional advice to determine the suitability in view of his or her personal circumstances. All material in this article is the property of Unpunctured Cycle.