On March 11, 2011 an earthquake hit off the coast of Japan (NYSEArca:EWJ) and sent a tidal wave across the northern part of the island, causing massive damage of the Fukushima Nuclear Power Plant. A crisis of epic proportion hit this island nation—the only place on earth to have had two nuclear bombs dropped on it.
Within hours, every media outlet on the planet converged on Japan. Most of the U.S. media took a swing through the wardrobe warehouses of 1960s sci-fi movies, donning themselves in ridiculous outfits with Geiger counters hung around their necks as they leaned into the hurricanesque "nuclear winds" on camera. Maps and images of the 1986 Chernobyl incident were plastered on the TV screen. A parade on nuclear "experts" were dragged in front of the cameras predicting everything from a generation of two-headed cows roving across Japan to a nuclear cloud engulfing California. I even saw one "journalist" with a Geiger counter in Kansas alarmed at the reading, which would have been the same 6,000 years ago.
I am by no means making light of the horrific disaster that struck Japan and shocked the world. I vividly remember the acute fear of March 28, 1979, when I was 70 miles from the Three Mile Island (TMI) nuclear plant as it was going into a meltdown. Fortunately, the only "fallout" of that incident was the worst hangover of my life.
But, we had another fallout after the Fukushima incident. Stocks related to the nuclear power industry lost a third of their value in a week and continued downward after that. The future of the nuclear power industry was dubious.
Much has been learned since that incident almost a year ago—reinforcement, containment and appropriate regulation and information. Nuclear power across the world is the only current means of economically generating the enormous demands. There are 30 cities in China larger than Chicago. Three of them are triple the size of Chicago. For reference, there are only two cities in the U.S. larger than Chicago.
Millions of users are being added to the power grid every year in China (NYSEArca:FXI), let alone the rest of the world. After TMI, all construction of nuclear power plants in the U.S. was cancelled. Numerous nuclear power plants were taken off line and closed. Controversy halted nuclear power plant construction for nearly 30 years. Safe nuclear power is making a comeback and is now 19.6% of power generated in the U.S.
Global X Uranium ETF (NYSEArca:URA) tracks the Solactive Global Uranium Index and is perhaps the best way for investors to have exposure to renewed growth of nuclear power.

Uranium is the nucleus of nuclear power (NYSEArca:NLR) (okay, bad pun). Companies that specialize in uranium mining are highly profitable and on the move. The top three holdings of this ETF—comprising 40% of its composition—are Canadian corporations (Cameco Corp. [NYSE:CCJ]). By geographic distribution, Canada is 55.33% of the composition of the Solactive Global Uranium Index. Australia (two of the top holdings) is 23.02% of the index. The U.S. is 14.05% and the UK is 6.71%.

Not only are many new nuclear plants coming on line, but existing plants need regular renewal of this precious resource.

Even with the explosive move of over 27% in the past month, this ETF is still over 50% off its 52-week high just before the Fukushima incident. Prior, it had been in a strong uptrend since its inception in November 2010. URA has a lot of room to move.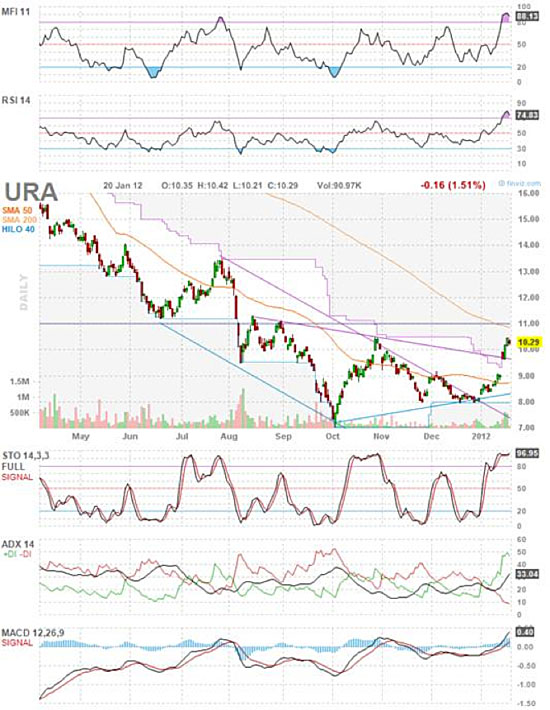 Don't run out before the close today and buy a truckload of URA. It is currently overbought, but this was on significantly increased volume—a positive sign (rather than just a melt-up on price). Additionally, it has had two significant breakouts: 1) Price broke out of the wedge pattern to the upside; 2) The +/- directional index shows a true takeover by the bulls.

Although price was weakening, the MACD has been building strength for the past several months. We are further encouraged by the price action having built a base at $8 and achieving higher highs and higher lows. This is a chart we like.

URA is currently at a near-term price resistance and if it gets any legs to the upside will soon hit a double resistance of longer-term price resistance and the 200-day moving average. A retreat from there, back to the current price level, would be a new support level and an excellent buying opportunity.

Put URA on your watch list as second derivative of high oil prices.

David Gillie, ETF Daily News

In full disclosure, I have no position in URA at this time.

ETF Digest writes a subscription newsletter focused on technical analysis of exchange-traded funds. ETF Digest was founded in 2001 and was among the very first to see the need for a publication that provided individual investors with information and advice on ETF investing. Even if you're not a fan of chart analysis, ETF Digest provides insight and commentary into which global markets are "working" and why.