The answer to the above question is: I donít know. Nobody does, although safe to say it wonít go negative. . .The more interesting question is: How long before it recovers? And is that time period measured in months, quarters, years or decades? Iím betting years at this point, and Iím not alone. . .
In the meantime, low natural gas prices are not a major concern for many MLPs, particularly midstream MLPs focused on liquids-rich plays. There are high hopes for the major NGL players heading into earnings. One such player, ONEOK Partners (OKS), on Thursday announced a 9% increase in its Q4 distributable cash flow guidance, after increasing that guidance on November 1 by 15% (
press release
). Another MLP leveraged to natural gas liquids margins is Targa Resources Partners (NGLS), which priced a $150 million (M) overnight equity offering this week. Of the four marketed equity offerings this week and of the seven total equity offerings so far in 2012, NGLS was the only one to close higher than it priced on the next trading day. NGLS finished up 2.5% from its issue price after pricing the deal on Wednesday morning. Expect some very strong earnings from OKS, NGLS, EPD and others with leverage to natural gas liquids (NGL) prices.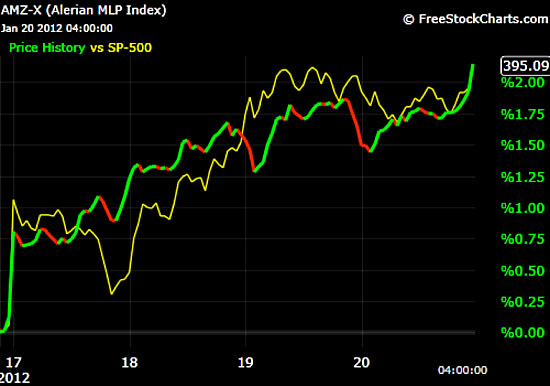 This week, the MLP Index tracked the S&P 500 very closely, and both finished the week up 2%. Amidst the low-volume stock market melt-up, the 10-year treasury rate popped up above 2% for the first time in a few weeks.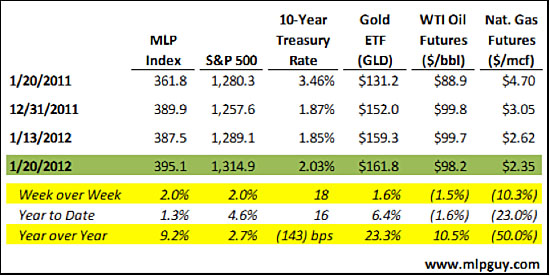 Thatís it for me this weekend. Only so many hours in a day. . .

Hinds Howard, MLP HINDSight

Disclosure: The information in this article is not meant to be financial advice, we are not your financial advisor and I am posting my comments for informational purposes only. Long EPD and NGLS.