Lately we've been writing about the precious metals stocks. In particular we believe the equities have made a multiyear bottom and look ready for a solid 2012 and 2013. Part of the reason is the action in the metals (gold and silver) suggests an important bottom is in place and a rebound is underway. Based on our work, we anticipate a slow but gradual rebound in both metals.
The current bottom in gold bears similarities to what we saw in 2006. First, we show the bottom in 2006. Note the previous bull flag (blue), the double bottom pattern and the final low occurring at the 300-day moving average. Going forward, gold rallied for five months and recovered over 75% of the losses.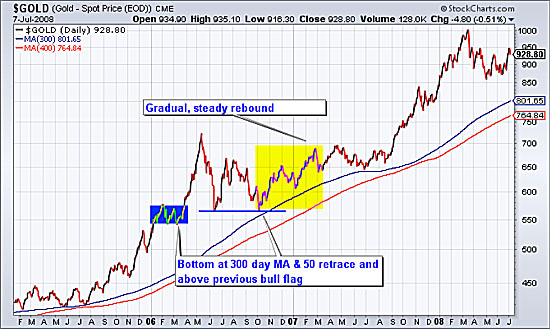 Note the similarities between the past and the present. Both corrections occurred in five months, both occurred in a simple A-B-C pattern where A and C were nearly a double bottom and both bottomed above the previous bull flag at the 300-day moving average. Thus, we would not be surprised to see gold rebound in a gradual fashion into the spring. It will be a while before a new high but we do see gold getting back to $1,800/ounce (oz) in the first half of this year.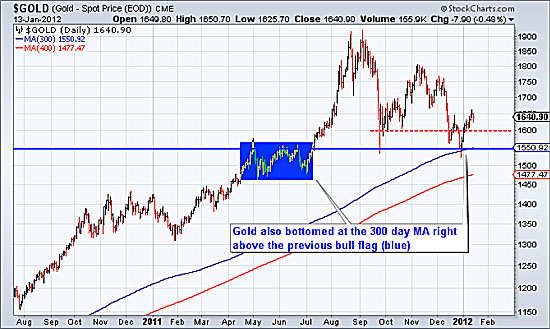 While silver corrected more than 40%, we believe it made a major bottom at $26/oz, which hosts a major confluence of support. First, note the 600-day moving average, which provided important support in 2007, late 2009, 2010 and recently. Secondly, $26/oz was the bottom in both January and on the spike low at the end of September. Third, $25/oz was the key rebound peak after the crash in 1980 and has been a very important price point in the last bull market and this bull market. Finally, the 50% retracement of the current bull market is $26/oz. Need I say more about the importance of the recent bottom occurring at $26/oz?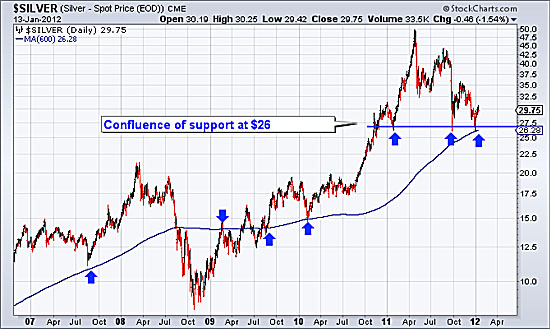 Clearly, bubble callers have not consulted the latest commitment of traders (COT) reports for gold and silver. In fact, I doubt most of them even know anything about the COTs. The current structure of the COTs is very supportive to gold and silver bulls. (Source: SentimenTrader.com).

First, we look at gold. Note that commercial short positions and speculative long positions are at levels last seen in early 2009.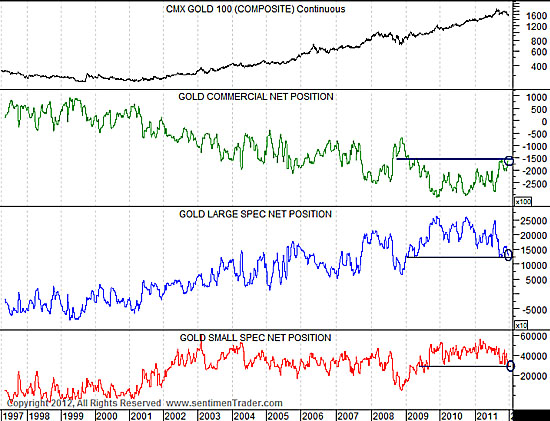 The COT structure for silver is even more encouraging. Recently, the net commercial short position in silver was at an eight-year low. The speculative long position was at an eight-year low and the small trader long position was at its lowest point during the entire bull market.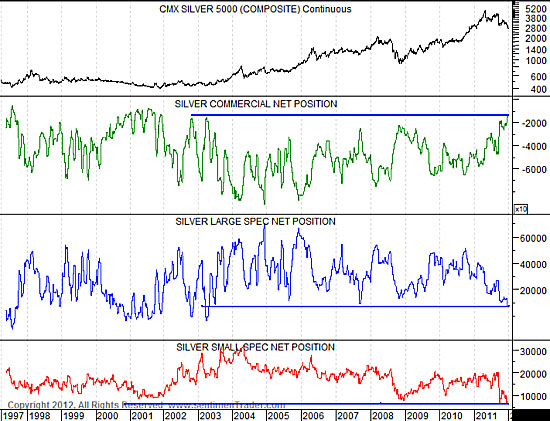 Public opinion, also courtesy of SentimenTrader.com, shows 58% bulls on gold and 39% bulls on silver. A few weeks ago these figures were at multiyear lows. Let me ask you: Months after a peak in a bubble, is the public as cleaned out and pessimistic as the data shows for gold and silver? No. In fact, it's the public that remains optimistic and continues to buy after the initial peak. That is hardly the case at present.

Simply put, there are only two conclusions a reasonable person can posit. Either the bull market in precious metals is over and a small reflex rally is coming, or the bull market has made a major bottom. We believe the latter. The bull market is far from over for obvious reasons. Considering the evidence it seems highly likely that gold and silver have made major bottoms.

That being said, gold and silver have incurred technical damage and it would be excessive to expect more than a gradual recovery. We believe the current bottom in gold is similar to the bottom in 2006. Gold recovered its losses steadily, but it would be nine months until the market began an impulsive advance that resulted in new highs. Silver rallied back to its highs, but in total it was nearly 11 months before it began an impulsive advance to new highs. Essentially, we expect these markets to be in consolidations for 2012. It just so happens that we are starting from the low point, which, based on the evidence, is likely to be a major low. Those with patience should accumulate physical now. Meanwhile, those who are looking for growth and capital appreciation should consider the mining stocks.

If you'd like professional guidance in riding this bull market and uncovering the winning companies, then consider our premium service.

Jordan Roy-Byrne, The Daily Gold

[email protected]