According to the most recent data, commercial banks' overnight deposits at the European Central Bank (ECB) reached a new record high of 464 billion (B) euros. Another record high in ECB deposits shows that European banks would rather lose money than take the risk of lending to each other. It is also the latest reminder that nothing is solved in the Eurozone crisis. However, the U.S. financial markets have been able to decouple from Europe, for the time being. Even more decoupling can be seen in precious metals.
Investor Insight: Are Investors Getting Physical With Gold and Silver?
On Friday, the euro sank to a new 16-month low, and touched $1.2696 before climbing slightly higher. The euro has not closed below $1.27 since September 2010. The euro also fell to a fresh 11-year low against the Japanese yen. The weak euro has given a boost to the U.S. dollar. The dollar index reached 81.50 on Friday, and currently trades slightly above 81. Although a stronger dollar has been a headwind for gold and silver in the past, the two precious metals have been performing quite well in 2012.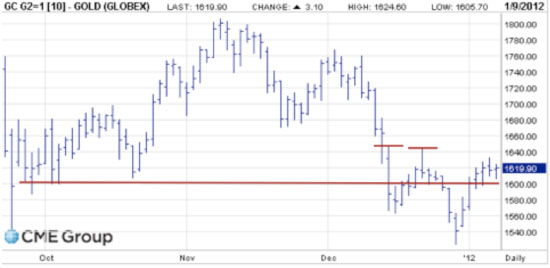 As the chart above shows, gold prices are currently finding support near $1,600/ounce (oz), while meeting resistance between $1,620 and $1,650oz. "Gold held $1,600 and the attention of the investor as inflationary and better payroll figures helped gold and silver decouple from copper and crude and the euro," says George Gero, senior vice president at RBC Capital Markets. "Gold investors see opportunities in any selloff to become bargain hunters." Meanwhile, silver prices are finding support at $28/oz, and meeting resistance between $30 and $31/oz.

Investors continue to find pullbacks in gold and silver as bargains because the world still faces an insolvent issue. Although the euro is edging higher on Monday, with German Chancellor Angela Merkel and French President Nicolas Sarkozy meeting to discuss growth in the Eurozone, talk is cheap. Germany recently sold six-month zero-coupon bills at a record low yield of -0.012%, but Italian yields are back above the critical 7% level. "EU leaders have to understand that mere lip service to growth will not induce growth in the Eurozone," said analyst Sony Kapoor, managing director of Re-Define, a London-based think tank. "Many of the more troubled economies are at serious risk of their debt snowballing out of control under excessive austerity." U.S. dollar strength aside, as worldwide debts continue to spiral out of control, gold and silver stand to benefit.

If you would like to receive more professional analysis on equity miners and other precious metal investments, we invite you to try our premium service free for 14 days.

To contact the reporter on this story: Eric McWhinnie at [email protected]

Eric McWhinnie, Wall St. Cheat Sheet