All bull markets have to endure a plethora of corrections and all bull markets have to endure a handful of major corrections. The gold stocks are no different. In fact, due to nature of the mining business and the high-beta status of these stocks, it is very easy for investors to forget that they (the gold stocks) are in a real structural bull market. Corrections and crashes are commonplace and yes, even in a bull market. Yet in 2011 the gold equities did not crash. They merely digested and consolidated the massive recovery gains from 2009 and 2010. This persistent consolidation has left many scared, frustrated and distrustful of the sector at precisely the wrong time. Gold stocks have quietly completed a major bottom, the first since 2008.
There are several strong reasons why we believe the gold stocks have completed a major bottom. As we discussed in our last article, the bullish percent index (number of stocks on a point and figure chart buy signal) dipped to 10%. The last time this happened was in 2008, when the gold stocks bottomed. The two big downturns in 2008 occurred with the bullish percent index at 30% and 70%. Presently, the entire sector is oversold and thus there is very little room to fall but much room to rebound.
As we see in the chart below, GDX bottomed at the 40-month monthly average, which also supported key bottoms in 2001, 2005, 2007 and 2010. Furthermore, the market bottomed right above $47, the 38% retracement. Most important, instead of following through on its apparent breakdown, the market reversed back above previous support at $52 and is set to close at a three-week high.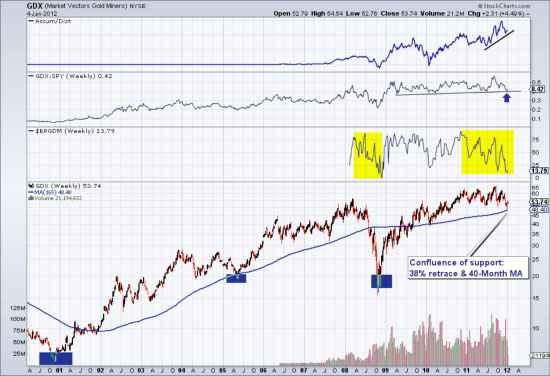 We also want to note how the market has made major bottoms in 2005, 2008 and at the very end of 2011. Including the low in 2000, that is four major lows for this bull market in its first 11 years. This is similar to a few previous bull markets, which include the NASDAQ ('80s and '90s) and the gold stocks ('60s and '70s).

We see some similarities with the NASDAQ of the 1980s and 1990s. After the genesis of its bull market in 1982, the NASDAQ would form major bottoms in 1984, 1987 and 1990. It wasn't until after that fourth low (in the eleventh year) that the trend began to accelerate.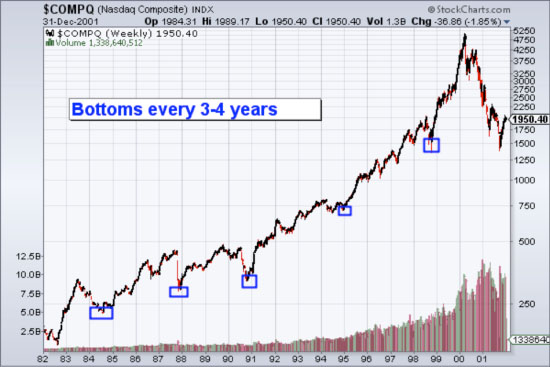 With data from BGMI.us, we show the Barrons Gold Mining Index, and specifically the bull market, from 1961 to 1980. As you can see, the gold stocks would often make key lows every three years. Major buying opportunities occurred especially in 1960, 1963, 1969, 1972 and 1976. Note that the bull market began to accelerate after its fifth major low in late 1972.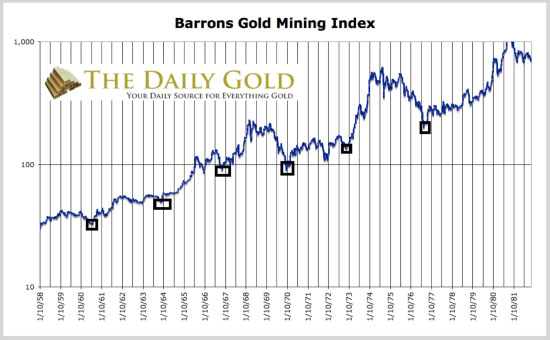 The gold stocks have just made their fourth major low since this bull market began. The bull is moving into its 12th year, yet many feel like giving up on the gold stocks. They don't have the understanding or the patience that is required to make money in this sector and in a bull market. They are dismayed by the fact that the metals have far outperformed over the past five years. However, this is nothing new. Check the previous chart and you'll notice that the gold stocks made little progress from 1966 to 1972. The same can be said for the NASDAQ from 1987-1991.

Given all we know, this is likely to be your best buying opportunity for the next few years. The market appears to have bottomed, the technicals are improving, and valuations of both producers and juniors are quite compelling. Sounds like a major low to me! If you'd like professional guidance in riding this bull market and uncovering the winning companies then consider our premium service.

Good Luck!

Jordan Roy-Byrne, The Daily Gold

[email protected]