Another correction has fallen upon precious metals and sentiment has turned extremely bearish in the past month. Mark Hulbert has reported that gold bugs are throwing in the towel, with his Hulbert Gold Newsletter Sentiment Index (HGNSI)
hitting a record low of just 0.3%
. This reading means that the average gold timer is essentially keeping all of his gold-oriented portfolio out of the market.
While inexperienced investors may view this as confirmation that gold has topped, this is precisely the time when it historically likes to blast higher and leave behind the weak hands that panicked out of their positions. Goldís recent ascent toward $2,000/oz has attracted droves of new investors that have jumped on the bandwagon, often speculating with leverage. These investors tend to be easily shaken out of their holdings and are most vulnerable to the same recycled arguments heard during every correction about the gold bull market being over. Iíve seen dozens of headlines lately from analysts that have stuck a knife in the gold bull and pronounced it dead. Many of these claims are coming from the same pundits that called a top for gold at $500, $800, $1,000 and so on. They will be right eventually, but my money says it will not be this time around.
The fundamental reasons to own precious metals have not faded one iota. In fact, they have only become stronger and more convincing in the past year. The money supply, in U.S. dollars and every other variety of fiat, is still increasing rapidly as central banks crank up the printing presses in order to provide liquidity, stimulus and fund the addiction of deficit spending. The debt-to-GDP ratio of the United States has been steadily climbing and is now reported to be above 100%. This is the level that most respected economists consider to be the point of no return. Of course, when factoring in unfunded liabilities, Uncle Samís true debt-to-GDP ratio is likely closer to 500%. Not to be outdone, the true debt-to-GDP ratio of the UK is
estimated to be near 1,000%
!
Central banks are still buying gold aggressively, real interest rates remain negative and every other fundamental reason to buy gold remains intact. The recent strength of the dollar versus the euro has generated some perceived downward pressure. But this is nothing more than a short-term battle between fiat currencies. They will both succumb to the same fate eventually, although it appears that the euro may be the first to fall.
Despite this being the strong seasonal period for precious metals, gold is down roughly 12% and silver is off 16% from their respective November highs. The technical damage has exasperated the decline, as many funds and automated trading systems were stopped out. Let's take a closer look at the chart and see what we might be able to glean about the current correction and future price action.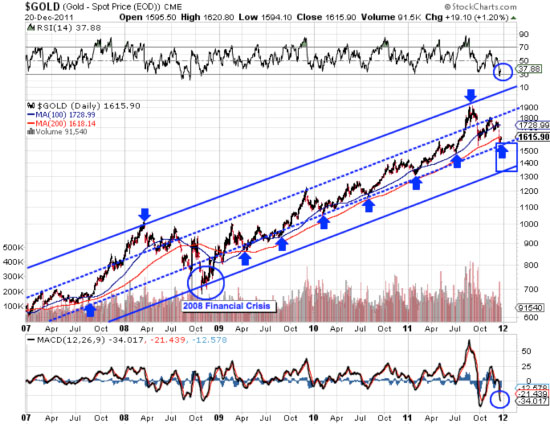 The first thing to point out is that gold is still trading within its inner trend channel (dotted blue line), so the upward trajectory is still solidly intact. The pain from the recent decline has been magnified by the fact that gold had previously rallied by more than 25% in just under two months. This pushed gold outside to the upper line of its outside trend channel and into overbought territory. A move this powerful has not been seen since 2008. This helps to explain why the recent drop has been perceived by many investors as much worse than it actually is.

The gold price has now found support at its 200-day moving average and bounced strongly today. This technical support is just above the lower line of the inner trend channel and has held up on six separate occasions since 2008. I think this support will most likely hold again, as the only time it failed was during the extreme conditions created during the financial collapse of 2008. Even going back as far as 2000, any dips below the 200-day moving average or long-term trend channel were very shallow and short-lived. Absent a complete break down of the financial system, gold has much greater upside potential than downside risk at this juncture.

While our financial system is actually more fragile now than it was back in 2008, there has yet to be any serious panic like the one that occurred in October of that year. Most investors still feel relatively safe in the stock market and believe the government propaganda about improving economic conditions. Central banks are coordinating to fend off another collapse and although I am not convinced they will be able to do it for long, mainstream investors seem relatively placated.

Whether gold holds at this critical support line or dives towards $1,400/oz depends primarily upon whether or not European banks go under and European nations begin defaulting. While I believe the central planners are running out of options, my money says they still have enough tricks up their sleeves to keep things afloat a while longer.

Election years historically produce a strong performance in the equities markets. Given that Obama is in bed with the large banks (Goldman Sachs was his largest donor), my guess is that they will do everything possible to continue kicking the can a bit further down the road. It is in their interest to do this, at least until they can get another puppet in office and deflect the threat of a true patriot such as Ron Paul gaining power.

While tax-loss selling amidst thin trading could create additional downward pressure to close out the year, I look for a sharp rebound in precious metals to start the new year and think we will most likely see $2,000/oz gold during the first quarter. But prudent investors need to keep an eye on the European financial crisis and have proper stop orders in place to protect capital. If the toxic derivatives mess goes critical, all bets are off and gold could easily fall to $1,400/oz or lower.

2012 promises to be anything but boring. With the proper investment approach and an eye to picking up severely undervalued miners when others panic, I believe the coming year could offer some enormous opportunities for precious metals investors. While the short-term volatility can be incredibly painful to stomach, this bull market is far from over.

Jason Hamlin, GoldStockBull Investment Strategies