The last of the human freedoms: To choose one's attitude in any given set of circumstances, to choose one's own way.
-
Viktor Frankl
An awful lot is being written about gold and most of it comes from the mouths of individuals who simply don't know what they are talking about. Here's a perfect example of "news" that came across Reuters this morning.
The Swiss franc and investments in gold will no longer provide investors with safe harbor from market turmoil and the Eurozone debt crisis, UBS's investment chief told the Swiss bank's client in a letter Friday. "As we enter 2012, neither gold nor the Swiss franc retains a safe haven status," UBS Chief Investment Officer Alexander Friedman wrote in the letter.
I'm not going to comment on the Franc but when I read something like this I have to wonder to myself if he isn't taking the other side of the gold trade? There really is no other explanation for a comment like that.
You have significant problems in Europe, the US Congress will agree to spend another trillion with no agreement on cutting entitlements or raising taxes, the Japanese are experiencing significant strain on their economy, and China's non-performing real estate loans will more than likely surpass 20% thereby wiping out their foreign exchange surplus. All the excesses of the past are coming due. It's due in Europe today, due in Japan tomorrow and due in the U.S. the next day. Of course the term
day
is metaphorical.
In the U.S. we have been conditioned to believe there is always this savior out there, some sort of backstop designed to make everyone believe a country can't default. I remember in my very first economics class, my freshman year in 1972, we were shown a movie. Some long since dead and buried guru can down the steps from his ivory tower and announced categorically that the United States can never go broke. "It's impossible!" We seem to take the same idea with respect to Greece, Portugal, Ireland and Italy. I think it's really important to think through that psychology and to start to call these beliefs into question.
If you want to know what countries are in the worst shape look first at their central government tax revenue, and then look at their overall debt.
Some of the countries are in this scenario where their debt is forty times their central government revenue and it just takes a tiny move to literally blow them up.
That is the case with Greece, Ireland and Japan, the only difference being that Japan has a printing press.
We are brainwashed from birth to look at
return on capital
and then some genius will look at gold and say it returns nothing. I think investors should instead be focused on
return of capital
. Gold cannot be created by the stroke of a computer key; instead it must be dug out of the ground at great personal risk and cost. If you own gold and control its possession you will always have a return of capital and that's more than you can say about any paper asset. Just ask the folks who invested with Lehman in paper assets that were 100%
guaranteed
! As far as the return on capital goes,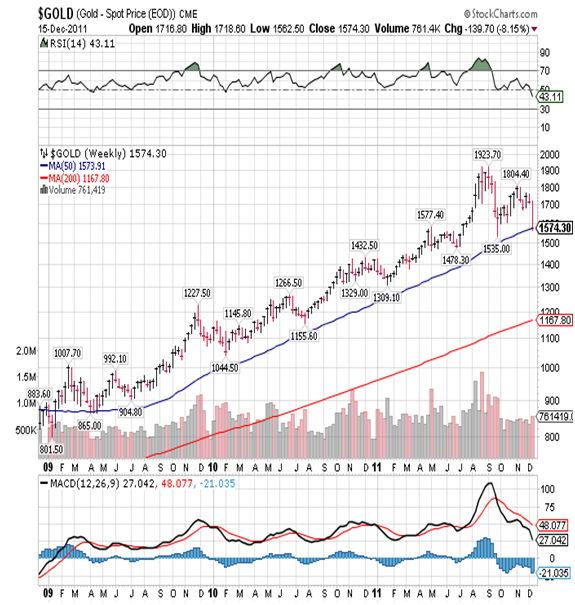 the yellow metal has also outperformed just about every class of paper asset I can think about. Over the last three years the price of gold has risen from 801.50 to its current level of 1,581.50, almost doubling in value.

Yes I know that gold was trading at 1923.70 back in September but I honestly don't care. The bull market in gold began back in 2001 and it will more than likely continue for another five to ten years. Corrections come and go but the primary trend remains firmly higher. With re-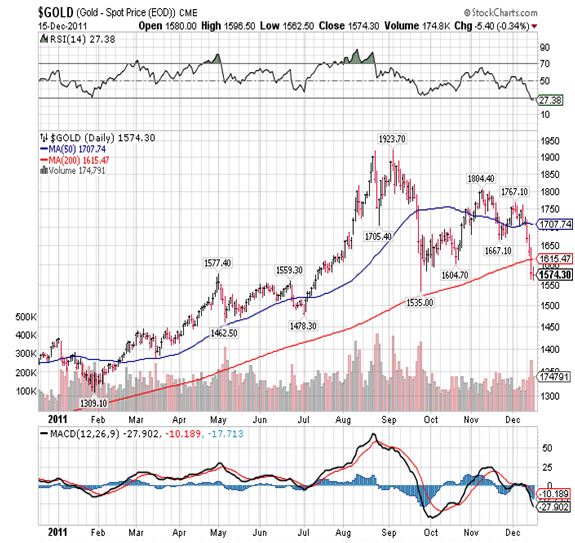 spect to the current reaction I view it as a buying opportunity, but the question is at what price do I buy it? To answer that question I do a simple bit of math. The last leg up to the September all-time high of 1,923.70 began on July 1st with the 1,478.30 low and the rise was quite steep. Under normal circumstances you would expect a 61.8% retracement. This implies a drop of 275.25 to 1,648.44 and we've obviously exceeded that since gold is currently trading at 1,581.50. A 75% retracement would imply a drop down to 1,589.65, but we did close below that level as well. Given the sharpness of the rally up to the all-time high it would not be unusual to see the price of gold retrace the entire move from 1,478.30 and I believe that's what it's doing.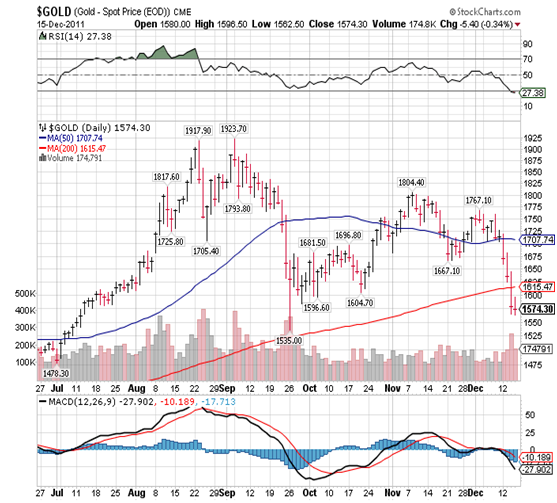 There is a second possibility and that is that gold will hold minor support at 1,533.97 and just below the late September spike down to 1,535.00. Either way it changes nothing if you believe that gold will run up to a minimum of US $4,500.00 once this correction is over, and that's what I see. Right here it is worth remembering what I told you about bull markets many months ago. They run in three phases:

The first phase is where the so-called smart money takes a position. That occurred between 252.00 and 475.00 and has been over for some time.
The second phase is where the institutional buyers jump in and take a position. That began at 475.00 and is still going on today.
The third and final phase is where the general public piles in and is almost always the most profitable (and volatile) of all the stages. This stage will begin once the current reaction comes to an end and we see a new all-time high.
Phase three will in my opinion drive gold up to US $4,500 and should not experience any more than two or three 15% reactions along the way. Once you see gold make a higher high, above 1,767.00 you can sleep comfortably knowing that you are on your way.

I have been buying gold for myself as well as my clients since 2003 and I continue to buy it on a regular bases. Originally all of my transactions were in the paper futures market. I no longer recommend that and I am buying more and more physical gold or use an ETF that I trust. Why? Gold is not a trade; rather it is something I want to own for a long, long time. If you look at the COMEX in the US you'll see that they have about $80 billion in open interest between futures and futures options. In the warehouse they had $2.5 billion of deliverables. So $80B in open interest -- $2.7B in deliverables or about 3%. My clients are going to own gold for a long time and I am their agent so I have a responsibility. So as an agent I am going to go and get the gold and you let all the others worry about the rest.

One day China or India will send a representative to the floor of the Exchange and they'll buy U.S. $5 or U.S. $10B in paper gold and then let's see what happens. Let's see where the price settles that day and what happens to all the others who immediately follow suite and present their claims to an empty COMEX warehouse. That's the day I will walk to my vault, open it, and look at a real gain on capital! I highly recommend you do the same, and if you don't know how, contact me and I'll point you to someone who can help.


Giuseppe L. Borrelli, The Unpunctured Cycle
December 16, 2011
www.unpuncturedcycle.com
[email protected]