Back in August, with gold running to parabolic wave-three sentiment-induced highs, I warned of a major top and multimonth correction. We all know that the fundamentals for the shiny metal are stronger than ever, but you must keep in mind that the market prices all knew that well in advance. Coupled with excessively bullish sentiment that was capped off by a
USA Today
cover with "Gold" on it, it was easy to see a major sentiment correction and therefore price decline was at hand.
If we fast-forward a few months from my then blasphemous call for a top and multimonth consolidation, we can see that gold has lost favor with the taxi-driving crowd and the shoeshine group both. What has in fact happened is we have had what I call a fourth wave triangle pattern, which works to consolidate prior gains. Triangle simply lets the economics of the underlying security or commodity catch up with the prior bullish price action. In this case, gold was in a powerful wave-three stage advance from its October 2008 $681/oz lows, and over a 34-Fibonacci-month period of time. When everyone on the stage was convinced this act would continue, it was time for the curtains to draw.
The fourth wave so far has been characterized by a typical pullback in terms of price and also time. The drop to the $1,530/oz range is a normal 31% Fibonacci retracement of the entire 34-month advance. In addition, the pattern that has clearly emerged lines up as a typical fourth-wave triangle pattern, which has five total waves within. Waves 1, 3, and 5 are down, and 2 and 4 are up. We are currently finishing wave 4, to the upside from the low $1,600s/oz, and likely to see a wave 5 near term to the downside. As long as gold holds above $1,681/oz levels, I expect we will see a breakout north of $1,775/oz to confirm that wave 5 in gold has begun.
Targets for the fifth and final wave of this suspected 13-year cycle of gold begin at $2,360/oz and then we will update from there. Below is the chart I sent to my paying subscribers last Thursday and we can see that this pattern is still playing out. Aggressive investors would be wise to get long on the metal on this final pullback, with a stop below $1,680 to be conservative.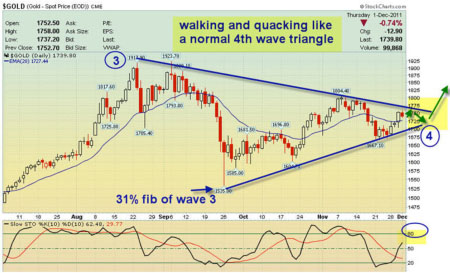 If you would like to have forecasts for price and pivot points in advance on the S&P 500, gold, and silver that keep you on the right side of the markets, check us out at www.MarketTrendForecast.com.

David Banister
www.MarketTrendForecast.com