My dad's not cheap by any means.
But he will drive six miles out of his way just to save 20 cents on gas.
"It's not even worth it anymore," I tell him. "You're eating the 20 cents driving that far out to another station!"
I even tried explaining that oil will run to $150 on Hormuz fears as soon as Israel hits Iran and that the fear of a war hasn't even been priced in.
In fact, according to
The Wall Street Journal
:
"Leaked information suggests that Iran is seen as geared to developing nuclear weapons, which could increase the risk of a military attack on Iran's nuclear facilities. We believe this justifies a certain risk premium on the price of oil."
Oil will only spike from here. As I tell my father, we should be happy we're paying less than $3.50 a gallon right now.

But it's what The International Atomic Energy Agency (IAEA) is saying that has us most concerned. . .

For the first time ever, a study from the agency suggests Iran may have "military nuclear aims. . .the report gives detailed information—some new—suggesting that Iran conducted computer modeling of a kind that would only be relevant to a nuclear weapon," the BBC reported on the study's release yesterday.

At this point, it's unreasonable to believe Iran has no nuclear intentions or that an Israeli attack is unlikely.

Maybe that's why Goldman Sachs is buying up December 2012 crude oil contracts—though they'd be wiser to follow investors into domestic oil producers like those found in the Bakken.

These same producers have sharply reduced our dependence on foreign oil. U.S. net petroleum imports have fallen to 47% of consumption from 60% in 2005.

If Goldman were smart, they'd realize this is only the beginning of a 20-year boom.

Oil-Rich Behemoth

The Bakken is by no means a boom-and-bust region.

We're talking about an oil-rich behemoth that holds more oil than Prudhoe Bay on the North Slope of Alaska. . .

Land that could hold as much as 11 billion barrels of oil, according to Lynn Helms, head of North Dakota's Department of Mineral

Resources.

This is a whole new industry for the United States.

It's why Statoil ASA just bought out our Brigham Exploration play for $36.50 a share—or more than $4.4 billion—in an all-cash deal.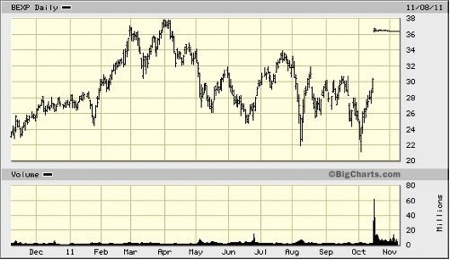 It's why Hess Oil announced plans to invest more than a billion a year for the next five years.

It's why many more billion-dollar buyouts will happen.

It's why the rail industry is about to see a boom all its own. After October, rail shipments came in 19.4% year over year—and up 34.4% over two years. Production grew so rapidly in the Bakken that companies had to build a rail line just to move oil to the market. . .

There wasn't a big enough pipeline to handle all the gushing oil: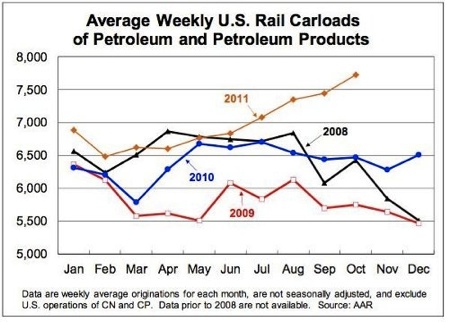 It's what turned a small rural town into "the town the recession forgot." The 3.7% unemployment rate is one of the lowest in the country.

Thousands of out-of-work Americans are flocking to the region from across a recession-ravaged nation for jobs. . .and they're finding six-digit salaries.

The Bakken region boasts some of the busiest towns in America. McDonald's is offering $300 signing bonuses. Hotels within a two-hour radius are booked solid months in advance with oil executives. People are sleeping in their cars because housing can't keep up with demand.

The $20 Trillion Report's Keith Kohl was one of the first to point to Brigham Exploration (NASDAQ: BEXP) as a buyout target when it traded at less than $3 a share. He just sold it at a takeover price of $35.

We've boarded planes and traveled to the region to see it with our own eyes. We've rubbed elbows with oil executives. We've interviewed some of the top drillers in the area. . .

We've done the research. We've done the work.

And we're still finding some of the most undervalued buyout targets the region has to offer.

Keith tells me he's about to unveil three more "sorely-undervalued buyout targets" in The $20 Trillion Report this week. I'm told one of them is a $5 stock in early stages of development.

"It could be a prime takeover target well above $10 within months. Another could be our next Brigham-runner."

You don't want to miss this next round of American Boomtown profits. Get your hands on Keith's full report tomorrow when it hits your inbox.

Stay ahead of the herd,

Ian L. Cooper
Analyst, Wealth Daily