Silver did what was expected of it last week, by reacting back to support in the $33.50 area, although it very briefly touched $32 intraday on Tuesday, and then, also as expected it bounced back. On the 4-month chart the action last week looks like a normal reaction, that may be a bull Flag, within a young uptrend that was signaled by the clear break above important resistance in the $33 area, which marked the top of the now completed intermediate base pattern.
Silver looks good here, and like it is preparing to break clear above the 50-day moving average, which is falling just above the price and currently acting as a constraining influence. The next up-leg is expected to see it run at the more serious zone of resistance in the $37.80–$39.50 area, which will be a bigger obstacle, as at this level it will run into supply from earlier buyers who were fleeced during the recent plunge and remain unnerved and ready to sell when they see prices improve.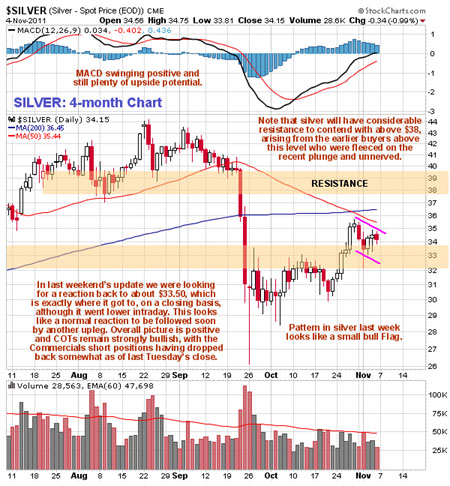 The COT chart for silver remains strongly bullish with low Commercial short and Large Spec long positions and we saw some improvement in these figures last week.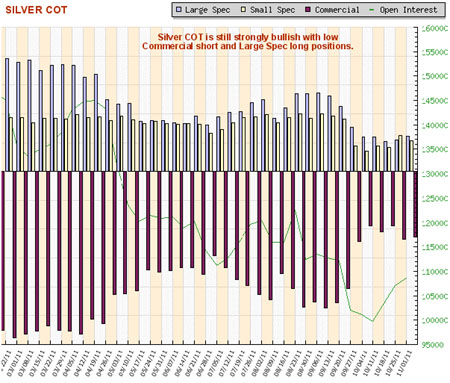 Long-term, the outlook for silver remains bright for reasons which are discussed in the Gold Market update, which boil down to governments and politicians, faced with insurmountable debt problems, continuing to employ QE for the foreseeable future in an effort to kick the can down the road for as long as they can, regardless of the inflationary—or hyperinflationary—implications.

Clive Maund