As a general rule, the most successful man in life is the man who has the best information
As demand for food rises, so does the requirement for crop nutrients.
Potash has unique characteristics:
High-quality, economically viable deposits are rare
Major offshore markets have little or no indigenous production capability


Barriers to entering the business are significant


Potash has been historically under applied relative to nitrogen and phosphate


Limited new operational capability is expected
Higher crop yields are needed in order to feed today's global population of seven billion so strong fertilizer prices are sustainable. Over the next fifty years, as we add another 4.5 billion people to the world's population, global demand for food will increase almost 70% if population growth predictions are correct.

The sheer amount of people being born every year, the loss of arable land and the change of diet among a newly prosperous, urban population in developing countries are the most important factors stoking the rise in global food demand.

A rising income means more money in the household budget. The new middle class consumers forgo plant-based calories in favor of adding more protein from meat and dairy products to their diets. It takes up to eight kilograms of grain to produce one pound of beef—less for pork, chicken, milk or eggs—between 2kg and 6kg. As meat consumption soars, more grain is needed to feed more livestock.

In 1995, the Chinese ate an average of 25kg of meat per person, by 2007, the Chinese were consuming 53kg of meat per person.

Enlarging and diversifying the meat supply is a first step for every developing country.

The Protein Ladder

5.Grain fed beef
4.Grass fed beef
3.Milk, other dairy products
2.Pork
1.Chicken and eggs

Rice, Beans and Bread

In 1980, the world ate 133 million tons of meat and drank 342 million tons of milk. By 2002, consumption had increased to 239 million tons of meat and 487 million tons of milk. The United Nations Food and Agriculture Organization (FAO) estimates that by 2030 global annual consumption of meat will stand at 373 million tons and 736 million tons of milk.

The more people there are on this planet and the more Asians, and others, decide they want a western style diet the more grains/oilseeds are needed to feed them. And many of those very same grains are needed to raise the animal protein, the beef, pork and chicken they want.

Potash Corporation of Saskatchewan Inc. (NYSE:POT), the world's largest fertilizer producer by market value, doubled its third quarter earnings, reporting 94 cents per share or $826 million (M) compared to 38 cents per share or $343M a year ago. During the first nine-months of 2011, the company's earnings have doubled from $1.39 per share during the same period last year to $2.73 per share today. Net income of US$826M was the second highest Q311 profit in the company's history—gross margin reached US$1.1B. Potash production was 1.9 million tons, a third quarter record for Potash Corp.

The company said demand was strong from both North American and international customers.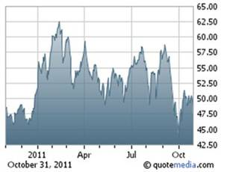 "Crop prices remained at historically high levels [in the third quarter] and farmers continued to strive for increased production to capitalize on the economic opportunity in agriculture. As a result, demand for our potash, phosphate and nitrogen products remained strong." -Bill Doyle chief executive of Potash Corp.










The cost of fertilizer as a percentage of corn revenue is 13%, 18% is the norm.

Global grain stocks remain at extremely low levels. Potash Corp. said at the beginning of the year that it would take two years of record harvests to get inventories back to comfortable levels, 2011 has been referred to as a lost year.






According to figures compiled by Bloomberg potash prices averaged 27% higher in the third quarter compared with a year earlier.

"Global potash prices have surged in 2011, driven by a tight global supply/demand balance, and with producers heavily committed through year-end, we view current price levels as being sustainable."-Don Carson, analyst, Susquehanna Financial Group

Western Potash Corp. TSX – WPX has received an independent positive prefeasibility study from AMEC Americas Ltd. on its 100% owned Milestone property in Southern Saskatchewan. AMEC is a leading international engineering and project management company that currently manages multiple potash expansion projects in Saskatchewan with a capital value of several billion dollars.

AMEC was chosen to carry out the Study because of their technical expertise as engineers and EPCM contractors, as well as their experience in potash mine construction, potash processing and their expertise in producing potash feasibility studies.

This Study confirms that the Milestone Project shows significant positive economics and that the asset is of sufficient size and grade to support primary and secondary solution mining for more than forty years at a production rate of 2.8 million tons per year (Mt/yr). The Milestone Project hosts a potash resource, which consists of 64 million tons of Measured Resource (contained KCl), 180 million tons of Indicated Resource, and 701 million tonnes of Inferred Resource. The Study was based on, and supported by, the NI43-101 Technical Report "Updated Technical Report Concerning Mineral Resource Estimates Subsurface Mineral Lease KLSA 008 Saskatchewan", dated June 8, 2011 and filed on SEDAR on June 10, 2011.

An assessment of project economics was also included in the Study. Assuming a discount rate of 10%, the resulting project Net Present Value is $4.14B CAD, while the Internal Rate of Return is 22.7 %. The economics were modeled using pricing based on a CRU market report. This report provided average yearly potash price estimates for the period from 2015 through 2025. The average for those years, equating to $US 511/t, was used for the 2025 to 2055 period. The economic model assumes a flat US$ exchange rate, CAPEX based on 100% equity, and tax and royalties calculated using a flat rate of $28.90/t CAD. A complete list of the assumptions used in this model can be found in Table 1. Since the analysis is based on a cash flow estimate, it could be expected that actual financial results may vary from these predictions.

Table 1: Model Assumptions

Target Annual Production rate: 2.8 Mt/yr


Life of Mine: 40 years


Years of Construction: 3


Construction Start-up: 2013 Mining Start-up: 2016


Years to Full Secondary Production: 6


Long Term Potash Price (FOB Gate): $511/ton USD


Assumed Exchange Rate: US$/CAD$ 1.00


Taxes and Royalties: $28.90/ton CAD


Sustaining CAPEX Rate %: 2.0%


Base Case: 100% Equity


OPEX: $62.35 ton CAD


Initial CAPEX: $2.458 Billion CAD


Port CAPEX: $300 Million CAD


Total Initial CAPEX: $2.758 Billion CAD


NPV (10): $4.14 Billion CAD


IRR: 22.7%


Payback Period: 5 Years

The Study includes all facilities required to operate a potash solution mine, including a cavern and well field layout, a two-train multiple effect evaporization-crystallization plant, a dry processing plant, product storage, load out and all other necessary site infrastructure. This design was detailed to a sufficient level to allow the capital cost estimate to be upgraded to AACE "Class 4" standard. The annual production rate can be expanded to a higher annual production rate, achievable through a higher level of capital expenditure.

This Study was intended to provide a high degree of project definition, building on the Scoping Study completed in 2010. The Prefeasibility Study commenced with the completion of tradeoff studies where important design options were investigated. Ultimately a single plant design was identified, which was carried through the Study.

Agapito Associates, Inc. was contracted by the Company to complete the Solution Mining Design for the Study, which included a solution mining plan and schedule, well field design, cavern layout and recovery modeling, and subsidence analysis. AAI's experience includes work for Intrepid Potash Inc. in the U.S., Rio Tinto and Vale at the PRC project in Argentina, and work for several prospective potash projects located in Saskatchewan.

Capital and operating cost estimates were generated with a target accuracy of Aplus or minus 20%, typical for this level of Study. The initial CAPEX estimate for the plant is $2.758B CAD, including allowances for port infrastructure, water supply pipeline, and off site railway. An allowance of $300M CAD has been included for port infrastructure, which was excluded from the Company's Scoping Study completed in 2010. Removing this allowance for port from the current Study results in an approximate 2% reduction in initial CAPEX when compared to the Company's Scoping Study.

Construction is assumed to take place over a three-year period, with production beginning in project year three. Full primary and secondary production will be achieved over a six-year ramp up period.

The Project unit operating costs were estimated to be $62.35/ton CAD at full production capacity. These operating costs include estimates for labor, maintenance, power, natural gas, water, consumables, diesel, and uncapitalized well field operations. Operating costs do not include taxes, royalties, or the costs associated with transportation to port and ship loading. Sustaining capital has been projected to remain flat at 0.5% of replacement cost for the first 10 years of operations. Sustaining capital ramps up from 0.5% to 2.0% of replacement cost between years 14 and 23 of the Project.

The Study resulted in significant advancement of the level of definition of the project. The Milestone Project remains economically very strong with no known limitations that may prevent a successful and profitable project outcome. The Study recommends immediate commencement of a Feasibility Study, which will adhere to the AACE "Class 3" classification for projects.

"The PFS confirms the compelling opportunity that the Milestone project represents for the Company and the Province of Saskatchewan to develop a world class potash mining operation. In addition to the 40-year scope of mining contemplated in the PFS, the known resource is sufficient to support ongoing mining for an additional 40 years and beyond. We are pleased with the on time and on budget delivery as well as the thorough analysis of the available options considered for project optimization. The coordinated efforts of the internal and external teams are to be complimented for their work in delivering a comprehensive report, a critical step as the Company continues the process of de-risking the Milestone asset."- Patricio Varas, Western Potash CEO and President

Conclusion

"In my view, Milestone is one of the highest quality, lowest risk greenfield potash projects in the world with excellent infrastructure in place, low political risk and a large, high grade, well-defined resource." -Jaret Anderson, analyst, Mackie Research Capital analyst

In 2010, Potash One and its Legacy potash deposit was bought by K+S for CAD$434M. The comparison between Western Potash's Milestone deposit and Legacy is eye opening:

Legacy throughput 2.9Mt/yr, Milestone throughput 2.8 million tons


Capital costs at Milestone the same as Legacy at $2.9B

Consider, when Legacy was sold potash prices were approximately 40 percent lower than today's and Western Potash sports a market cap of $220M versus the $443M paid for Potash One.

Potash, and Western Potash Corp. TSX.V – WPX should be on every investors radar screen. Is it on yours?

If not, maybe it should be.

Richard (Rick) Mills
[email protected]
www.aheadoftheherd.com

If you're interested in learning more about the junior resource sector, bio-tech and technology sectors please come and visit us at www.aheadoftheherd.com

Site membership and our AOTH newsletter are free. No credit card or personal information is asked for.

Richard is host of Aheadoftheherd.com and invests in the junior resource sector. His articles have been published on over 300 websites, including: Wall Street Journal, SafeHaven, Market Oracle, USAToday, National Post, Stockhouse, Lewrockwell, Uranium Miner, Casey Research, 24hgold, Vancouver Sun, SilverBearCafe, Infomine, Huffington Post, Mineweb, 321Gold, Kitco, Gold-Eagle, The Gold/Energy Reports, Calgary Herald, Resource Investor, Mining.com, Forbes, FNArena, Uraniumseek, and Financial Sense.

Legal Notice / Disclaimer

This document is not and should not be construed as an offer to sell or the solicitation of an offer to purchase or subscribe for any investment. Richard Mills has based this document on information obtained from sources he believes to be reliable but which has not been independently verified; Richard Mills makes no guarantee, representation or warranty and accepts no responsibility or liability as to its accuracy or completeness. Expressions of opinion are those of Richard Mills only and are subject to change without notice. Richard Mills assumes no warranty, liability or guarantee for the current relevance, correctness or completeness of any information provided within this Report and will not be held liable for the consequence of reliance upon any opinion or statement contained herein or any omission. Furthermore, I, Richard Mills, assume no liability for any direct or indirect loss or damage or, in particular, for lost profit, which you may incur as a result of the use and existence of the information provided within this Report.

Richard Mills does not own shares of any companies mentioned in this report.

Richard Mills does not own any shares of Western Potash Corp. TSX – WPX

Western Potash Corp. TSX – WPX is an advertiser on Richards website aheadoftheherd.com