MLPs kept a lot of bankers, lawyers and investor relations professionals very busy last week in an explosion of M&A and strategic announcements. Investors were busy digesting the deals and buying MLPs it appears. For the week, the MLP Index was up 2.4%, and is on a streak of 10 straight positive days. MLPs have now bounced 10.4% off the October 4th close.
The market backdrop was benign this week, even as the Euro drama continues and inflation data points from around the world tick higher. The S&P 500 close 1.1% higher than last week, GLD was down 2.5% and interest rates were roughly flat. MLPs continue to outperform other stocks year to date and since the market peak in late April. It was refreshing to see MLP press releases matter more than global macro news this week. . .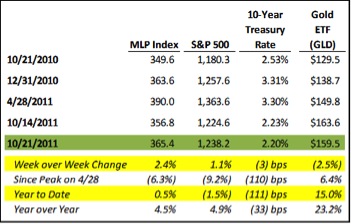 As we continue to power through earnings season this week, expect MLPs to continue to outperform the broader market. Quarterly results should be strong for gathering and processing MLPs in particular, but expect solid results throughout the MLP sector generally, although I'm still wary of natural gas storage and propane MLPs.

KMI / KMP / KMR / EP / EPB Deal

The Kinder Morgan acquisition of El Paso Corp for $38 billion (B) including debt (discussed here last week by me) garnered plenty of attention. It was the largest of the year in the energy space and allows Richard Kinder's company to leapfrog Enterprise Products Partners into the coveted spot of largest MLP in existence (combining market caps of KMI and KMP).

A few quick side notes on the KMI / EP deal to add to my thoughts from last week. Included in the agreement is a "no-shop" provision, a $650 million (M) breakup fee and a $95M golden parachute for EP's CEO. These deal points will likely incite some lawsuits, but they should ensure that this deal will not have the flurry of topping bids that the Energy Transfer Equity ($ETE) acquisition of Southern Union ($SUG) ended up having.

The lack of a bidding war is frustrating for EPB unit holders, the clear losers in the deal. EPB's units were the worst performing of the week, down 8.9%. Many analysts downgraded their units, but most have maintained hold ratings, as the 9% distribution growth rate and potential buyout by KMP make EPB pretty attractive below $34 per unit.

Other Strategic Announcements / Deals
ETP Sells Propane Business – In what would have been a big deal in a normal week, Energy Transfer Partners L.P. (ETP:NYSE) announced the sale of its propane business (the Heritage Propane legacy assets, the Titan assets and other acquired propane assets) to Amerigas ($APU), in a cash and stock deal valued at $2.9B.


ETP management has stated in the past that the propane assets were non-core, and they would like to sell them, but the tricky part is always how to make the transaction work from a tax perspective given the partnership's low tax basis in the propane assets. This transaction appears to solve that problem by exchanging the assets for equity.


The $1.5M in cash ETP receives will help reduce its funding needs. ETP had been trading poorly for several months, suffering from poor results and equity overhang. With some of that equity overhang eliminated and with the declining propane business jettisoned, ETP traded much better this week, up almost 7%.


APU announced it will have a one time 3% distribution increase following the purchase, and management is excited about the scale the combined company will have.


EPD Sells Storage Assets to BWP – In another intra-sector deal announced Monday, Enterprise Products Partners ($EPD) sold natural gas storage assets to a joint venture between Boardwalk Pipeline Partners (BWP) and its GP for $550 million.


ATLS Will Spin Off New E&P MLP – Atlas Energy L.P. ($ATLS) announced plans to form a new MLP called Atlas Resource Partners, L.P. and spin off 19.6% of it to current ATLS unitholders. ATLS will contribute its E&P assets and its partnership management business. ATLS was up 25.7% on the news.


CMLP to buy Gathering System – Crestwood announced the acquisition of Tristate Sabine, LLC, which owns natural gas gathering assets in the Haynesville and Bossier shales.


KWK Announces MLP Plans – E&P company Quicksilver ($KWK) plans to form an MLP and file an S-1 by the end of the year. The MLP will hold E&P assets, unlike KWK's previous MLP (CMLP, now independent of KWK) which held gathering assets.
Earnings Data Points
KMP Earnings – Kinder Morgan Energy Partners ($KMP) reported inline results, with strength in the natural gas pipeline segment driving the results. KMP also indicated the partnership would have full year 2011 results that exceed the budget / guidance.


NGLS Preliminary Results and Project – Targa Resources Partners ($NGLS) announced preliminary results that were below the street's expectations. The miss was driven by outages related to Hurricane Lee. NGLS also announced a new project to build a 200 mmcf/d processing plant for its North Texas system. Cost: expected to be $150 million over 2 years.


ETP / XTO Energy Project – Energy Transfer Partners L.P. (ETP:NYSE) announced long term fee-based natural gas gathering and processing agreement with XTO Energy for the Woodford Shale and Barnett Shale areas. As part of the agreement, ETP will build 117-mile pipeline and a new processing plant for total cost of approximately $360M over the next 12 months.
Big Movers This Week

Global Partners ($GLP) went from worst last week to first this week with a 25% gain, after GLP announced its distribution would remain flat and it would achieve its previously announced EBITDA guidance of $75-$85mm for 2011. As mentioned last week, it seemed like the market was pricing in a distribution cut and another disappointing quarter, so status quo is viewed as a surprise. Even with that 25% gain, GLP would need to go up another 33% to be breakeven for the year, including distributions, but at least GLP has climbed out of the cellar, and is no longer the worst performing MLP out there.

NKA and NRGY were both up on no news, but seem to be benefiting from MLPs with similar businesses that have made positive announcements of late, such as GLP and PNG.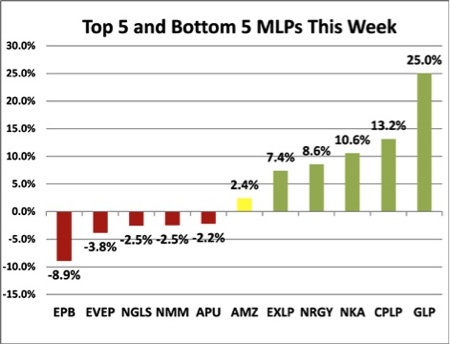 Also, in the land of the general partners, ATLS was up 25.7% and KMI was up 8.4% this week on their respective strategic releases.

Distribution Announcements

So far this quarter, 32 MLPs I follow have announced their distributions, and 15 (47%) have announced increases. Average quarter over quarter distribution change is +1.2%. This week's announcements:
CQP, SPH, TCLP, GLP, GSJK, TLLP, NMM, PSE, OXF, XTEX, OILT, Teekay LNG Partners, L.P. (TGP:NYSE), TLP and Teekay Offshore Partners L.P. (TOO:NYSE) held distribution flat


RNO raised distribution 5.5%


MWE raised distribution 4.3%


CMLP raised distribution 4.3%


EPB raised distribution 2.1%


NRP raised distribution 1.9%, first increase in 10 quarters (since 4Q08)


MMP raised distribution 1.9%


LGCY raised distribution 0.9%


KMP raised distribution 0.9%
Disclosure: The information in this article is not meant to be financial advice, we are not your financial advisor and I am posting my comments for informational purposes only.